Email has long been the preferred channel for customer support. In fact, 64% of customers have used email for customer service needs within the last year.
But if email support is the seasoned veteran of customer service, live chat would be the upstart rookie sensation. Live chat has seen a 300%+ growth in usage during the last five years. More and more customers are flocking to live chat because of the speedy interactions it creates, and research shows that customer satisfaction ratings are higher for chat than any other channel.
That's because customers receive faster response times and aren't tethered to a phone while they work. They can explore the rest of your company's website, work on personal projects, or casually surf the web while a support agent troubleshoots their issue.
This creates a comfortable, low-touch service environment that's delightful for both the customer and the support agent.
Not convinced? Let's go over a few reasons why you should add a live chat option to your site.
Why add a free live chat software to your site?
Customer service is known as a key differentiator for many brands and plays a principal role in brand loyalty. To offer great service, you should give your customers as many channels as possible to reach out to you.
Enter live chat. Instant and frictionless, live chat is a great way to create an omni-channel support system for your customers. It's a painless way for them to get urgent questions answered, which can help boost conversion rates.
Here are a few reasons you'll want to install a live chat software on your site:
Live chat is important, but the best part is that it's easy and effortless to implement. You can talk directly with your website visitors, boost customer satisfaction, and increase sales — all for free.
Live Chat Software Features to Look For
The software you choose will depend on your needs, but there are a few standard features you should look for when choosing a live chat add-on.
Be sure that you can:
Integrate the tool with your current website.
Turn chat visitors into leads in your CRM.
Keep a record of your chat history with individual visitors, preferably in your CRM but potentially in your CMS.
Customize the look and feel of the chat box with your company's branding.
Either determine online hours or set up an automatic chat flow with a bot.
Set trigger options that make the chat box automatically open, prompting conversation.
Now that you know why you should add live chat to your website and what to look for, let's review the best free live chat software options for this year.
Best Free Live Chat Software Solutions
HubSpot
Respond.io
Clickdesk
Chatra
Pure Chat
Userlike
Olark
ThriveDesk
Jivochat
Tidio
Drift
My LiveChat
Zendesk Chat Lite
Tawk.to
HubSpot's live chat software is integrated with its CRM, so your incoming chats will be automatically logged to your customer's contact profile. Your agents can look up previous chats and recall information that may be relevant to their current case. That way, if a customer is experiencing a reoccurring issue, your team can provide a different solution to ensure long-term success.
Another cool feature that HubSpot provides is its chatbot builder. You can create a chatbot, personalize its response logic, and install it onto your website for free. This lets you provide 24-hour support because you can keep your chatbot active outside of your normal working hours. Even if you don't have a human rep to transfer to, the bot can refer customers to self-service resources like your community forum or knowledge base.
Respond.io is an all-in-one messaging tool that can support live chat on your website as well as your social media pages. All incoming chats are routed to a central location, making it easy to manage inquiries regardless of their source. This helps your team provide a seamless, omni-channel experience to your entire customer base.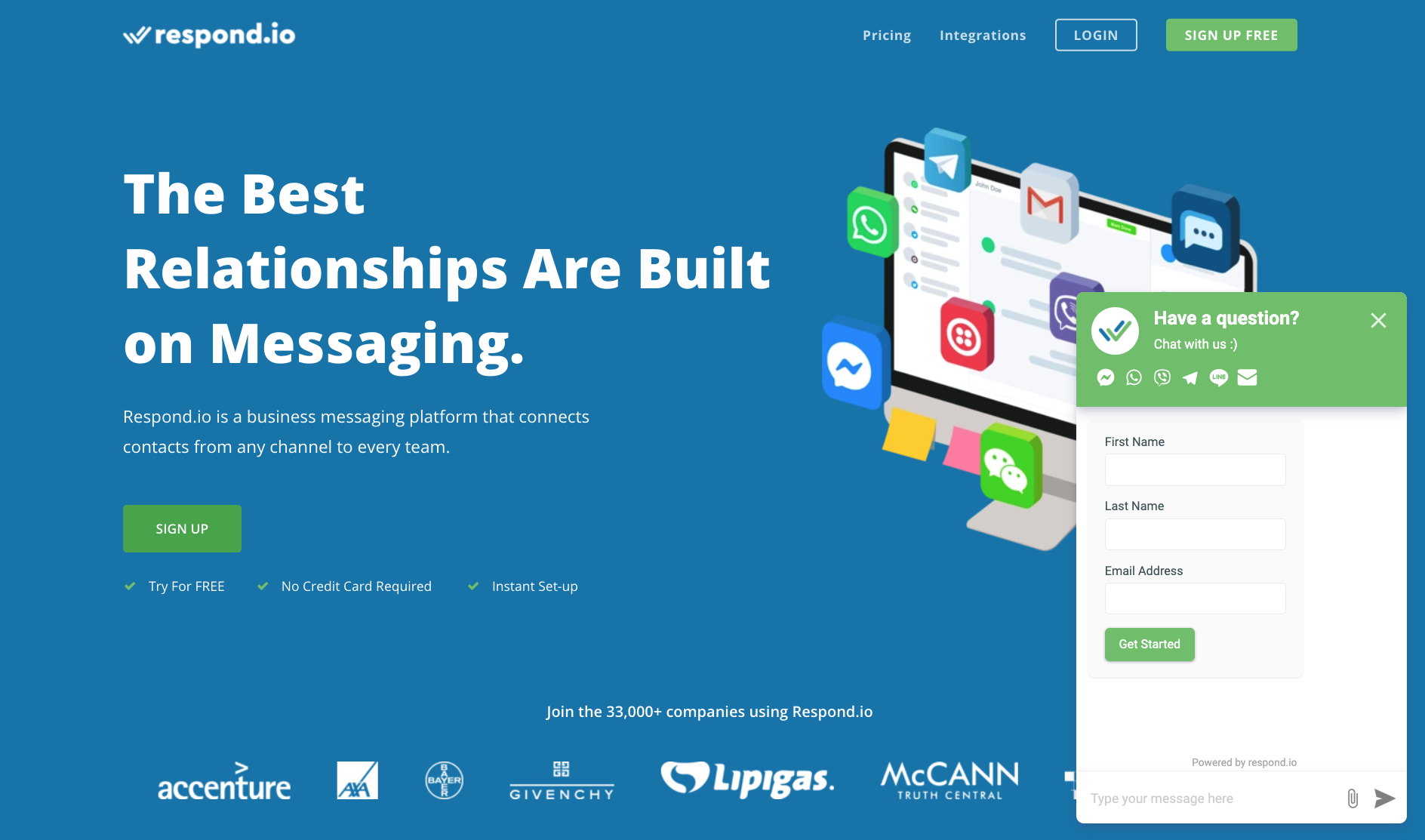 Respond.io's live chat software also includes an interesting AI feature that guides your chatbot's responses. It uses "Smart Replies" to respond to repetitive questions that it observes over time. This saves customers time and communicates consistent troubleshooting steps for common issues, so customers won't complain that one rep gave them different treatment than another when working on a similar problem.
Clickdesk is a live chat software that gathers extensive information about your customers. For example, it includes a "Maps" feature that identifies the customer's location when they open a chat. Your team will know exactly where a customer is chatting from and can assign a rep that's best-suited to assist that customer. This is particularly useful for international companies who may be working with people that speak different languages.
Clickdesk also offers pre-chat surveys, which are forms that are displayed before a chat is started. You can ask customers to provide their names, emails, and any other information you desire before hopping on a chat with them. This not only prepares your reps for the upcoming conversation but it's also valuable data that your team can use to build long-term relationships.
Chatra focuses on creating a delightful chat experience for your customers. It includes features like typing notifications and read receipts that notify customers whenever your team is reading and responding to their issues. This keeps customers engaged with your reps, which prevents miscommunication and abandoned chats.
One unique feature that Chatra offers is its offline messaging tool. When none of your reps are available, Chatra displays a message that lets customers know your team is busy and will get back to them soon.
Reps can also respond to chats via email, so they don't have to be logged into Chatra's software to continue a case. That way, if your rep just left the office and a customer has a follow-up question, reps can respond quickly without having to log back into their account.
When it comes to live chat software, Pure Chat is a very user-friendly option. It's easy to install and you only have to add a few lines of code to your website. If you're not happy with how it looks or performs, you can simply remove it at a moment's notice. This makes Pure Chat a low-risk option for live chat support.
Additionally, Pure Chat gives you the option to customize your chat widget. You can control how the widget looks so it aligns with your company's branding. And you can edit how the widget appears on both mobile and desktop interfaces to create a completely personalized experience.
Userlike is a German all-in-one customer messaging software that allows you to generate leads and provide professional customer support via all your messaging channels.
Messages from website chat, WhatsApp, Instagram, and more land in a central inbox, where your support team handles them with professional support tools such as canned messages, forwarding, live translations, and more. The customer profile shows you the location of your contact and lets you add custom fields to fit your business needs.
Userlike's advanced website chat is designed to build long-term customer relationships. Visitors can pick up conversations they've already started at a later time, send voice messages, or share their screens. To increase service efficiency, Userlike's AI chatbot works alongside your agents, handling simple tasks and FAQ requests so your staff can spend more time advising and upselling.
Olark offers some interesting reporting features for its live chat tools. It has real-time reports so your team can analyze chat volume, customer satisfaction, and agent activity as often as you'd like. Having this information readily available makes it easy for management to execute smart staffing decisions and allows your team to keep pace with customer demand.
Olark's reporting features also record and store transcripts within its archives. It includes a useful search function that lets you sort and filter chats, so you only see conversations that are relevant to your topic. With this tool, your team can easily review notable chat conversations and extract valuable pieces of customer feedback.
ThriveDesk is a live chat assistant specially built for ecommerce websites that allows you to offer more human customer support. You can reach more customers with a slew of built-in features including instant reply, file sharing from the chat widget, emojis, satisfaction surveys, reports for your ecommerce sales tracking, and monitoring.
ThriveDesk only shows a live chat window to customers if a rep is available to help. If there isn't a rep available, you can direct customers' support requests to your ThriveDesk email queue or greet them using chatbots. These alternatives allow you to keep the conversation going, even if customers exit the live chat.
ThriveDesk's WooCommerce integration allows you to monitor customer total order value, complete order details, shipping and license details of an order, cancel/refund orders with a click, and manage your ecommerce seamlessly.
Jivochat is a live chat feature that's part of a larger help desk solution. It empowers service reps to handle multiple chats at once, increasing your team's productivity and capability to handle rising customer demand.
As you can see from the image above, Jivochat's agent interface is what makes this live chat solution truly unique. It offers features like hotkeys, canned responses, and color-coded chats so your team can stay on top of multiple conversations happening at once. Chats can also be translated into 20 different languages, allowing your team to support users from all over the world.
Tidio is a well-rounded live chat solution that includes many of the features we've discussed above. It has chatbots that can automate your messages, canned responses for quicker replies, and an all-in-one shared inbox that routes chats to one collaborative channel.
However, Tidio's most notable feature is its ability to integrate with a variety of software. From HubSpot, to Shopify, to Wordpress, Tidio can supplement tools like CRMs and email automation services to create a personalized experience for your customers.
Drift has some unique features that make its live chat solution stand out from others on this list. For example, it has a built-in scheduling tool that allows your reps to transfer a chat to a phone call or video session if needed.
Another useful feature is its targeted messaging. You can categorize different groups of customers by their value to your business, then display personalized messages based on your relationship with them. That way, your reps know when they're speaking to your most loyal customers and can be sure to go above and beyond for them.
My LiveChat has proactive chat features that initiate conversations with customers. You can customize the tool to send outbound messages after a visitor completes an action on your site. This lets your team capitalize on timely opportunities to delight customers and deliver a personalized service experience.
Another feature that My LiveChat offers is live co-browsing. With this tool, agents can use the chat interface to navigate to the same page that their customers are on. This saves time during the interaction and reduces miscommunication that could potentially occur.
When you think of live chat, you usually think of Zendesk, which is considered a leader in customer service helpdesk solutions. Their live chat service comes in four pricing tiers, but you can get started for free with Chat Lite.
With Chat Lite, you can have one concurrent chat and offer visitors the ability to rate the chat after an interaction.The one limitation, aside from the amount of chats you can have, is that your chat history will be available for only 30 days. But don't pass on this one. Chat Lite still has plenty of features that will fulfill your needs, and Zendesk has extensive documentation to help you work out any kinks and troubleshoot any issues.
Tawk.to offers all the basic features you need without requiring an upgrade. With this service, you'll have multi-language support, unlimited agents, chat-to-ticket ticketing, different departments, chat ratings, and more.
While Tawk.to may seem smaller than big-name competitors such as Zendesk, they offer a robust help center and even an online academy where you can learn how to add a Tawk.to chat to your site.
Which live chat software is best for you? It totally depends on your needs. Free live chat is generally a better fit for sole proprietors, niche ecommerce businesses, and small companies with one or two customer service agents.
Improve Your Customer Service with Live Chat
Adding a live chat to your site is an easy and effortless way to put your customer first. But don't stop there. Creating a customer support strategy will help you delight your customer and turn them into recommenders and promoters — which will in turn boost your sales and make your company grow better.
Editor's note: This post was originally published in December 2019 and has been updated for comprehensiveness.