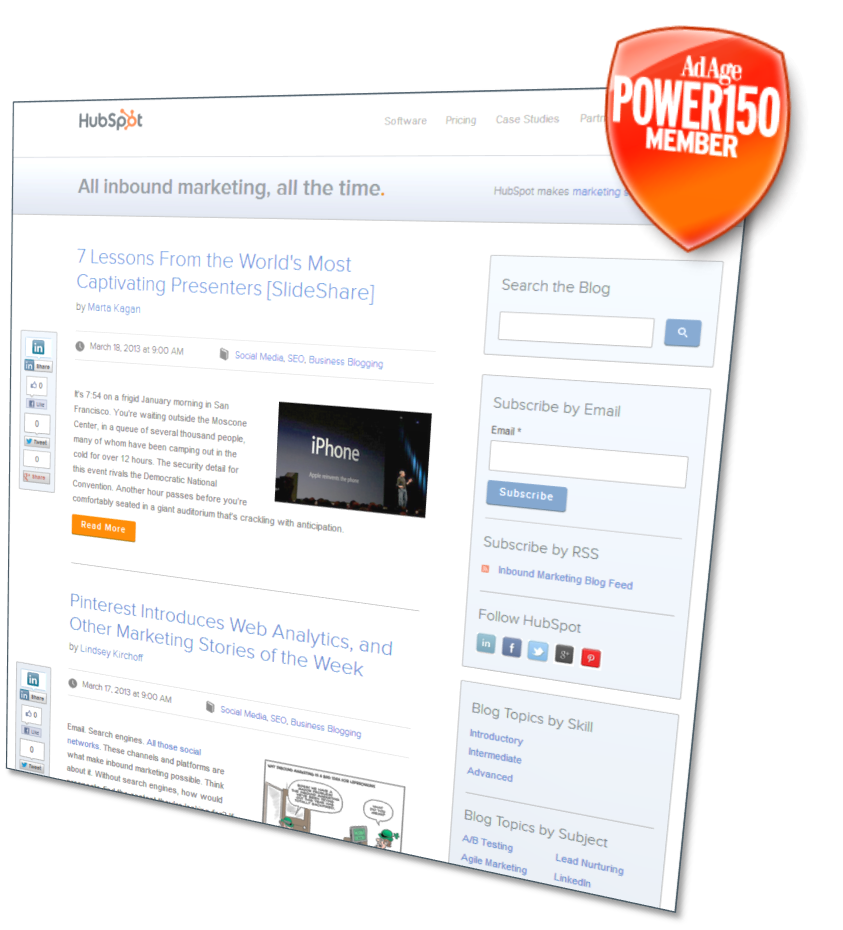 The award-winning HubSpot Inbound Marketing Blog has over 170,000 subscribers and attracts more than 1.4M monthly visits, so if you have exceptional blogging skills and would like to share your internet marketing expertise with a large audience of marketers and business owners, consider becoming a guest blogger!
Successful guest blog articles are comprehensive, action-oriented, how-to style posts that teach our readers about a particular aspect of inbound marketing.
Post topics may include (but are not limited to): business blogging, content creation, SEO, social media marketing, email marketing, lead generation, lead nurturing, lead management, marketing automation, and marketing analytics.
Guest Blogging Requirements for the HubSpot Blog:
Well-written and high-quality original article (we all know how Google hates duplicate content) related to inbound marketing
Article that reflects the writing style/tone of the HubSpot blogShort, 1-2 sentence author bio including a maximum of 1 anchor text link to your own website
Maximum of 2 additional anchor text links to your own website within the body of the article
Proper attribution of data, quotations, and other third-party content referenced in the article
No length requirements: posts should be as long as they need to be to be high quality and comprehensive (Too vague? Check out our existing articles for some guidance.)
Post submitted in HTML (preferable) or in a Word document with any image files (including attribution) attached separately
Not-So-Fine Print:
Submissions must meet the HubSpot blogging team's quality standards in order to get published.
Please avoid being self-promotional in the body of your article. Save that for your author bio.
We cannot allow you to republish your guest post to your own blog afterward (it's that whole duplicate content thing again), but you're more than welcome to link to it and share it like crazy.
The HubSpot blogging team reserves the right to edit and adapt your guest blog content as we see fit (but we'll let you take a peek before publishing, upon request).
How to Submit:
We highly recommend submitting a working title and a brief outline of your article idea in advance of writing to increase chances of publication. Please email your article idea to Pamela and Corey at blogging [at] hubspot [dot] com, and we'll get back to you if we're interested.