2% and 18 minutes.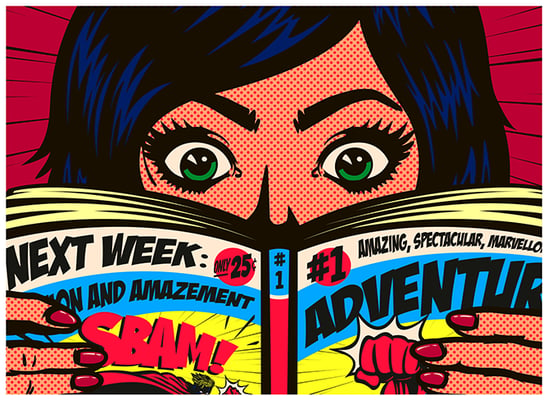 That's the average reach of a Facebook post and life of a tweet, respectively.
Crazy insignificant, right?
These are networks that millions of people spend time on every single day -- and they seem to offer such slim, fleeting opportunities for brands.
But it doesn't have to be that way. There's a method to turn a paltry social media conversion rate into something that can offer real benefits to your brand.
A method that's helped brands both large and small achieve up to a 68% conversion rate on social.
I'm talking about social commerce -- the current best way to make more sales and increase reach through social media channels. Let's take a deeper look about what exactly social commerce is, and the big problems it can solve for you brand.
What is Social Commerce?
This is not an overstatement: social commerce changes the way brands use social media.
Rather than generating interest and directing traffic to your site, social commerce allows brands to sell directly from their social feeds.
It effectively reduces the purchase journey down to two simple, frictionless steps. The first is when the user sees the product they want, the second is buying it.
It's important because -- as any commerce pro will tell you -- most purchase journeys suffer from huge leaks. Just take a look at the chart below. It accurately represents how few of your leads turn into customers.
By reducing the steps a user has to go through, you can effectively streamline the purchase journey and reduce the possibility of funnel leaks.
Social commerce:
Provides simpler purchase journeys and thus a lower abandonment rate
Removes confusing multi-part conversion paths
Doesn't disrupt the user by redirecting them to a completely different site
Just a simple checkout available directly from the user's Facebook, Twitter, Instagram, or any other social feed.
Here's how social commerce looks in real life. The video below shows a social commerce campaign Marvel ran.
When users commented with #AntManandtheWasp, an automated chatbot messaged them to discover their theatre and time preference before processing payment.
Over the last few years, the most successful digital marketing has primarily focused on making the user experience more logical and seamless.
Shorter forms have a higher completion rate.
Auto-fill is becoming commonplace because it generates more conversions.
And one-click purchasing is held up as the ideal ecommerce model.
Social commerce is yet another example of a solution that plays to the more streamlined needs of modern users.
But it's not only providing a conversion benefit.
Secondary Benefits of Social Commerce Solutions
So the primary benefits of social commerce are the more streamlined purchase journey leading to higher conversions (more on that later).
But there's also an impressive list of secondary benefits.
If you've been keeping an eye on social media developments over the last year, you'll know it's becoming increasingly difficult for brands to stand out. Ad costs are on the rise and algorithm updates are de-prioritizing brand content.
If you watch the Marvel gif above again, you'll notice that users are required to comment on the post to kick off the automated checkout.
That comment is key to the secondary benefits.
As soon as a person comments to start the checkout, the post is then redistributed to their network, increasing its reach.
With each subsequent engagement, reach is yet again increased.
Before long, your posts and ads are achieving much high impressions than they would if users weren't prompted to engage.
Social commerce is a great solution for any brand looking to increase social media sales and engagement.
It all sounds great, right?
But how does it actually work in real life?
Well, I've broken down a couple of social commerce campaigns that drove real results to help highlight its use.
How Brands are Using it To Massively Increase Conversions
I've tried to pick three examples that not only shows the potential power of social commerce, but also highlight different approaches to implementation.
So here's a quick overview of what I'm going to cover.
- The completely digital strategy Marvel used to achieve a 68% cinema ticket conversion rate.
- How Ben & Jerry's moved consumers from online to offline forgetter engagement.
- How Nike's social commerce strategy started in the real world before seeing completion on social media.
Marvel's 68% Conversion Rate
Marvel, despite being one of the biggest entertainment brands in the world, never rest on their laurels.
They're forever looking for ways to better engage with their customers.
And when they took a look at their current channels, they realized their social campaigns were due for an upgrade.
The problem with traditional social media marketing is that purchase journeys become incredibly complex and long-winded.
Prior to Marvel's investment in social commerce, users would have to go through various steps to make a purchase after viewing a social post that interested them.
I actually walked myself through that very process in writing this piece, and counted nine steps between viewing an Instagram post and landing on a page that confirmed my final purchase of movie tickets. Here's what that long journey looked like pre-social commerce:
Viewing the Instagram post
Following it to the page bio
Clicking through to Fandango
Confirming the movie (and ignoring ads for commuting and upcoming movies)
Confirming my location
Choosing time and cinema
Confirming the number of people
Confirming seat location
Payment information
I had to navigate through nine steps after seeing a cool post on Instagram.
Average purchase journeys have enough of a drop-off rate. On social media platforms like Instagram, that drop-off rate can easily become even more exaggerated.
Instagram is designed to keep users within the app, so any process that requires users to take multiple steps to exit the app and navigate somewhere else is going to leak leads like no one's business.
This step drop-off rate is exactly what Marvel wanted to combat.
They wanted to reduce the friction and maintain the experience Instagram users were expecting.
The below is one of the real ads they ran to promote Infinity War.
You'll notice users are asked to swipe up, and then comment with an appropriate hashtag.
Once they do, an automated checkout bot takes over and asks a few questions that lead them through those nine stages of the purchase funnel in less than a minute -- without leaving the app.
Here's how the chat sequence looked for those engaging with the Ant-Man and the Wasp campaign.
This conversational method of driving sales is not only more aligned with the user's expectations on social, but it also streamlines the purchase journey.
Users are kept on the platform they're engaged with and are able to complete their purchase in a fraction of the time.
Marvel results speak to the effectiveness of the campaign.
On the initial Infinity War campaign they achieved:
A 58% conversion rate
18X more comments than any other in-season content
But they also took it a step further.
They built a custom audience of those who engaged with the Infinity War campaign and retargeted them with a secondary campaign that promoted Ant-Man and the Wasp.
By retargeting an already engaged audience who were comfortable buying through social commerce solutions, they increased their overall conversion rate to 68%.
Not too shabby.
The moral of this story is that your customers are looking for more streamlined purchase experiences.
Bouncing them around from one site to another so they can complete numerous steps is too much of a chore, and leads to the terrible social media conversion rates.
Marvel's conversion rates were so high because they did three key things:
Made the purchase journey as simple as possible
Used (at the time unreleased) brand assets within the chat to keep users engaged
Retargeted their best audience with Facebook Ads for easier sales
5000 Free Samples Moved in 72 Hours
Whether you're just starting a new business, launching a new product line, or just need to inject a few new leads into your pipeline, there's one method that's more successful than most.
Giving stuff away for free.
But here's the thing. Free products will generate a lot of buzz for your products and brand, but they generate zero revenue.
You've got to have a follow-up sale in the pipeline.
Which is exactly what Ben & Jerry's did when launching a new product -- pint slices.
To drive interest and awareness of the new product, they ran Facebook and Instagram ads that were linked to a social commerce checkout.
Users who engaged with the ads would receive a chat sequence similar to the Marvel one above.
It would ask for their preferred pickup location and flavor.
Using that information it would then generate a free QR code which, when taken to the nearest vending machine, would secure a free pint slice.
Ben & Jerry's received huge engagement with this campaign.
In addition to moving 5000 samples within 72 hours, they gained 2.2X the customer insights they usually would through a similar campaign.
But it's the insights that were the most valuable.
Ben & Jerry's now had the details of 5000 people who both expressed an interest in the product and had tried it. People who would be the perfect target for the launch of a sales campaign.
All they now had to do was run a sales campaign targeting those 5000 people to see a healthy boost in sales.
Nike Flips Social Commerce On Its Head
This is one of my favorite examples of social commerce for a couple of reasons:
It's a great example of bridging the offline and online sales worlds
It's the opposite way around to many social commerce campaigns
It bucks the general trend of social commerce and focuses on higher priced products for better AoV
The campaign I'm talking about is Nike's promotion of Jordan's through Snapchat.
Nike started by targeting an audience they knew would be interested. Basketball fans.
Instead of targeting these people with Facebook Ads or another digital channel, they launched a campaign that started at an in person event - the after party for the NBA Allstar's game.
At the afterparty, Nike hid snap codes in different areas of the event space.
When scanned with Snapchat, the code would kick off a social commerce checkout within Snapchat.
The prize was an (at the time) unreleased pair of Jordan's.
Despite being a higher priced product, Nike sold out of this limited run within 23 minutes.
I like this example more because it bridges the offline and online world of sales.
Nike leveraged the device we all carry every day. But they did it at a time when interest in the product would be at it's highest.
The fact that this was a campaign type not used commonly also added something of a gasified element to the whole process.
It's a great example of understanding your audience's desires and how you can best serve them.
But Don't Rely Entirely on Social Commerce
Social commerce is one of the best ways to simplify the purchase journey.
It's an incredible method to improve sales and connect with a wider audience.
But it's not foolproof. In fact, despite all the benefits and case studies that highlight great gains there's one thing that social commerce isn't great at:
Selling high-priced items.
People aren't on social media to do serious research of the products they're thinking of buying.
They're there to procrastinate, have fun, and connect with friends. The most successful campaigns are those which focus on impulse purchases of products or services that fall in the <$100 range.
If you sell $1,000 electronics, this might not be the best method to drive sales.
But fear not, there's still a way to use social commerce in your strategy.
In short, you use social commerce to qualify prospects and bring people into the top end of a longer upset funnel. For example, let's say you deal in $10,000 audio systems. Your audience is made up of audiophiles and music aficionados. Hawking a $10k system off the bat isn't going to work. But selling a $50 pair of headphones with superior sound quality would appeal to the market and fits within the all-important impulse purchase price point.
Making that sale is much easier and fills your upsell funnel. Which is incredibly important because:
For those selling high-priced items, social commerce isn't going to transform your business by driving direct revenue, but it's going to fill your upsell funnel.
It allows you to more easily attract leads who, in time, will spend more with you.
Think of social commerce not just as a way to drive sales, but as a method to attract new customers and generate more qualified leads.
Social Commerce Is Going to Be Huge Across All Industries
Social commerce seems to finally be coming into its own.
It's finally providing real, tangible benefits to business beyond the vanity metrics of likes, shares, and comments.
But it's still in its infancy.
Over the next five years, it's a safe bet to assume that social commerce will become a more permanent fixture in the marketing strategy of brands both big and small.
If you've not yet managed to get your social commerce strategy off the ground, do so.
It's already driving great gains for others, but so few are leveraging the strategy that there's a lack of competition. Now is the perfect time to begin.