What makes you click on ads? Is it the cute picture of a puppy, the funny caption, or are you only motivated by a great deal?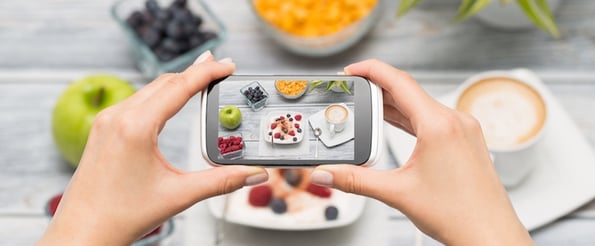 While there are plenty of studies and articles that allude to what makes social media advertising successful, ad performance depends largely on your ability to create ad content that feels natural or organic (aka native advertising). According to the Mobile Marketing Association, users spend 40% more time interacting with native ads than traditional display ads with double the brand recall.
Advertising on Instagram presents businesses with a unique opportunity because the Ads appear on the 500 million monthly active users' Instagram feeds without interrupting user experience, similar in appearance to the organic posts their friends are sharing. Additionally, Instagram Ads are displayed based on user Likes and Follows on Instagram and Facebook, giving marketers the opportunity to target their advertising efforts even more precisely.
In this post, we've featured Instagram Ads that impressed us (and in some cases, made us click) with actionable suggestions for your next Instagram Ads campaign.
Why Launch an Instagram Ad Campaign
HubSpot Co-Marketing Intern Ellen Bartolino penned a comprehensive checklist of the steps to take to launch a great Instagram Ads campaign on the Facebook Ads platform. It's still early to evaluate their effectiveness in terms of results and revenue, but some agencies and researchers are already seeing positive signs for marketers.
Brand Networks found that the overall cost per thousand impressions (CPM) on Instagram decreased from $7.04 in the latter half of 2015 to just $4.16 in the first quarter of 2016, and MarketingLand found that Instagram Ad costs are slightly lower than on Facebook with higher levels of engagement.
With Instagram Ads, marketers can target users to increase views of blog posts and other content, direct traffic to a web page, promote lead conversions, encourage app installs, or generate video views.
11 Examples of Instagram Ads We Love
Here's a somewhat meta example from Instagram's own Instagram for Business account, advertising the new capability to advertise on the platform. They use recipe website Food52 as an example of what their ad content might look like so users can visualize it for their own business Instagram accounts.
If you check out Food52's Instagram, you'll notice that the ad below isn't much different than the organic content they post, which helps ads blend in with the rest of the photos and videos their friends are posting.
Why it works:
It's a great food photo, using texture, contrasting colors, and lighting to actually make the viewer hungry. Food photos are some of the most popular on Instagram, with over 189 million photos under the #food hashtag alone.
It uses geometric shapes and lines to draw in viewer interest and engagement.
It's inspiration-driven: According to an EventBrite survey, 78% of millennials (who make up more than 50% of Instagram's user base) would rather spend on experiences than things, making this type of image more appealing than a shot of the website alone.
Check out this ad featuring Samsung Mobile's new Galaxy S6 Edge Plus smartphones, specifically the manual controls built into the camera to enable more precise photography.
The image shows three phones mid-shot to demonstrate new features and give people an idea of what it's like to actually use the product. The photos captured on each screen highlight diverse locations, which suggest that the camera can help you capture a variety of stunning shots -- no matter where you are.
Why it works:
The phones were shot on a white background, which helps the product stand out. According to the folks at SteelHouse, "This [shooting on a white background] is a common practice because, quite frankly, it works."

The photos in the ad

represent a simplified product demonstration.

This approach lets viewers dive into the new control features by showing each phone mid-photoshoot, with the unique white manual controls along the bottom of each screen.

The

clever -- and slightly humorous -- caption

features a play on words that makes it more memorable and helps to draw the viewer's attention to the new feature: the manual camera controls.

Ads that invoke emotion

, such as happiness and laughter, are more likely to be shared and engaged with by viewers.
Amy Porterfield is a marketing and social media consultant who produces educational resources for businesses and other marketers. In this ad, she's promoting a free webinar training in an effort to generate new leads and customers for her business.
Why it works:
The ad features a clear photo of the face of the company, which Wordstream suggests as an easy way to humanize and add personality to your brand.
The call-to-action (CTA) is clear: "free training" presents a clear benefit to users who have already demonstrated interest in marketing webinars, as Instagram Ads are served based on Facebook and Instagram interests. The ad presents an opportunity for viewers to hone their marketing skills at no cost.
Here's an Instagram Ad featuring the famous New York Times crossword puzzle. The ad challenges viewers to solve the puzzle, which draws them in to read more about the offer the New York Times is advertising and gets them excited about their achievement if they can solve the puzzle, putting them in a better mood and making them more likely to share or click the ad.
Why it works:
The ad is static, but it prompts an interaction when viewers want to solve the puzzle. This interactivity leads to greater levels of ad engagement among all of the other content on Instagram.
It employs nostalgia marketing for the 90's Nickelodeon TV show, "Hey Arnold!" This marketing tactic that makes your audience feel good about your content and your brand.
Monster helps job-seekers match with organizations seeking talent worldwide. In this video ad, Monster uses humor to show job-seekers how to explain gaps in employment to future employers using the movie Castaway: instead of complaining about being abandoned at sea, the fictitious job-seeker explains that he managed a "crew" while on the island.
Why it works:
The ad features video content, which research shows users want to see more of, particularly on social media.
It uses the curiosity gap to intrigue users and prompt them to learn more, because really, what does the movie Castaway have to do with job hunting? Not much, but by using this friendly demo featuring a well-known story to demonstrate how to fill in resume gaps, they've made the topic easy to understand and memorable.
Headspace offers daily 10-minute meditation and mindfulness sessions with the help of their app. This simple but effective ad features a countdown clock that shows viewers that their app can help take away anxiety in as little as ten minutes -- we're not sure if that's actually the case, but it's an appealing thought considering the fact that anxiety disorders affect 40 million people in the United States alone.
Why it works:
The ad uses warm, bright colors, which can prompt feelings of "courage and energy," according to the Blur Group -- useful sentiments for a company trying to prompt mental wellness app downloads.
The ad is cartoon-style, which Wall Street Journal cartoonist Stu Heinecke encourages due to its memorability and brand "stickiness."
It features provocative, emotional words, such as "anxiety," and "happier," which Harvard Business Review notes can drive campaign virality and memorability.
Blinkist helps readers gather key passages and lessons from nonfiction books that take only 15 minutes to consume. In this ad, they're promoting one of the books on their service that users can get condensed, and the book title is overlaid over an image of a person on their cell phone, presumably using it.
Why it works:
The ad uses geometric shapes to center user focus on the central element of the ad. Shapes like squares, diamonds, and rectangles convey conformity and symmetry that's visually pleasing and helps it stand out on an Instagram feed.
The caption appeals broadly to the many people who feel like they don't have enough time to read. Empathy is a great marketing tactic to make ads universally applicable and brands more memorable for responding to their needs.
This ad from bfresh -- a market dedicated to fresh preparation and whole foods -- is designed to inform locals that a new store opening in the Boston area. The simple, straightforward ad features a snapshot of the new location, which will likely catch the eye of folks that are familiar with the area.
Why it works:
This ad is geographically targeted, which adds another level of personalization to the ad, and this audience segmentation helps drive Instagram advertising ROI.
It promises future benefits, such as discounts and recipes, to its followers, who they're hoping are younger and interested in saving money and DIY food preparation.
ClassPass grants fitness enthusiasts access to multiple gyms and classes in their area within the same booking system. This ad cleverly communicates the discount promotion they're running while also giving viewers an idea of what they can expect from the service.
Why it works:
The cool color scheme (greens, blues, and purples) is widely preferred over other color themes by both genders, according to the American Journal of Psychology.
The graphics show, rather than tell customers how they can use the product with cool visuals of people doing different workouts.
The call-to-action is bold, clear, and compelling: Users can get a significant discount on ClassPass for a limited time only. This language employs the scarcity principle, wherein consumers associate a higher value if the product is in short supply.
Method Home produces eco-friendly cleaning products made from non-toxic ingredients that are also effective at home cleaning, and their playful branding is on display in their video Instagram Ad here. The video promotes a sweepstakes Method Home is currently sponsoring that is contingent on user engagement with the ad.
Why it works:
The ad is eye-catching: it's unusual to see plates, cups, and food traveling midair, and its uniqueness makes the ad, and the product, more memorable.
It uses empathy to relate to viewers. A lot of people can relate to the sight of dirty dishes piled in the sink, and the ad features the solution -- dish soap -- in a fun and interactive way. Ads that elicit emotion and positive feelings result in stronger brand relationships, which can ultimately improve your Net Promoter Score (NPS).
You're already reading our blog, but in case you don't know, HubSpot is a sales and marketing software company designed to help businesses grow. In this ad, we're promoting INBOUND 2016, our annual inbound marketing and sales event in Boston.
Why it works:
The ad uses celebrity social proof in its caption by name-dropping well-known industry leaders who will be speaking at INBOUND 2016. This marketing strategy compels viewers to learn more about hearing from famous people they may already know and love.
The branding is subtle: Remember, these ads are meant to look and feel like Instagram content so they aren't scrolled past quickly on users' feeds. The interesting shot of the INBOUND-inspired hedges does a great job of promoting the event without using our company logo or name.
Now that you've read our tips and seen examples in action of strong Instagram Ads, take a look at your Instagram and check out the Ads you're being served. What makes you click? Then, take the lessons and start applying them to your own Instagram advertising strategy.
What tips do you have for running a successful Instagram Ads campaign? Share with us in the comments below.