If you've been reading HubSpot content for awhile, you know as well as we do that inbound marketing works magic for lead generation. Indeed, one of the greatest benefits of inbound marketing is that it's continuous and compounding: By creating ownable assets to generate awareness, traffic, and thought leadership, you benefit from the content you've created and promoted even when you're not in the midst of a significant campaign or push. In fact, roughly 70% of the leads generated by the HubSpot blog are from old blog entries: Try doing THAT with paid advertising, and you'll be sorely disappointed.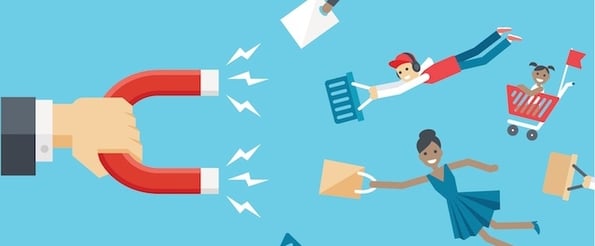 The Inbound Methodology
But what if you are a niche company, with a niche product that can only be used by a finite audience? And here's the kicker -- what if all of the people you're trying to market to are already in your database.
For example, your business sells machinery to the government and all three purchasing agents are already customers. Or you provide high-end big data solutions for Fortune 50 companies and already have all their CTOs in your cell phone. Surely, with a product and a market like that, you don't need to boil the ocean to be successful. You need to continue to sell more units more often to contacts you already have.
Marketers operating in highly specialized industries often ask us: Can our business benefit from an inbound approach even if we operate in a niche market? The answer is a resounding "yes." Below we've outlined how inbound marketing can be used to drive business results regardless of whether your target audience is three people or three million people.
Always Be Influencing
Most decision-making processes within organizations are non-linear -- they're heavily influenced by current business conditions, the personalities and business units involved, and the relationships and context everyone involved in the decision bring to bear on the project. As a result, smart marketers use content, social selling, and effective influencer relations to impact the selection process because they recognize that every individual, regardless of seniority or industry, is impacted by current trends, social media, the opinions of their colleagues, and leaders in their respective industries.
By way of example, one of my favorite articles on decision making comes from an interview with Ram Charan in the Harvard Business Review. Ram is a preeminent business advisor to companies like GE and 3M as well as a best-selling author. When asked about executive decision making, Ram is quick to note that the best CEOs in the world have "perceptual acuity -- the ability to sense what is coming before the fog clears" and are "compulsively attuned to the external environment," noting Ted Turner's ability to anticipate consumer appetite for the 24-7 news cycle as an example of unparalleled acuity in the media space. Charan goes on to note that "many CEOs do not hesitate to go directly to sources at the scene of the action or to tap informal social networks."
In other words, the best leaders in the world rarely rely on the past to predict the future, so relying upon your existing relationship with a CTO, CMO, or CEO to win the day is not prudent: You want to always be influencing the process and putting your best foot forward. Anyone can send a client fruit baskets and thank you notes; what sets your business apart long-term is your ability to demonstrate legitimate thought leadership and differentiate yourself from competitors.
Your blog entries should help you nurture existing relationships with prospects and customers, demonstrate thought leadership to influencers in your industry, and ultimately demonstrate to the world that you are the unquestionable experts in your space. The best leaders in the world leverage disparate sources to identify trends and market factors that will impact their business; the best companies in the world leverage this information to influence the process with impactful inbound marketing.
Inbound Helps You Actively Listen
Chances are, you call upon or visit your existing customers on a regular basis. Depending on your line of business, you might check in on your accounts daily, weekly, monthly, or yearly to offer assistance or thank your customers for their business. However, conventional account management often misses proactive upgrade opportunities within companies you already do business with and minor annoyances with existing vendors or systems that you may be able to address with your service or product. Even worse, one of your customers could be tweeting frustrations with your offer that you never respond to, and those minor hiccups could eventually lead to lost accounts and revenue.
Instead of waiting for your next calendar appointment to check in on a customer, take an inbound marketing approach to give you a 360-degree view of how your customers and prospects work on a daily basis. By understanding their pain points and day-to-day tasks, you can delight existing customers with new blog posts, feature updates, or support before they have to go looking for it.
At the end of the day, businesses move and evolve at a rapid pace, so proactively creating lists of your accounts to interact with on social media can help you identify signals in the market that your existing business could be in jeopardy, that there are proactive opportunities to upgrade your agreement, and to keep tabs on new executive arrivals that might influence the company's decision making moving forward, all of which can generate significant business for your organization.
Your customers, prospects, and leads are telling their networks about their business challenges, needs, and goals on a regular basis. Maybe the CEO him or herself does not post actively on Twitter, but the company's CMO might, or the company's LinkedIn Pages showcase hiring patterns that are relevant to your company's services. Either way, by the time you reach out for a check-in with your customers, they (or a related business unit within their organization) might have already made a business decision without your input or insight. Think about using social media to tune in and stay in the loop.
Empowering Your Internal Champion
If you are in the considered purchase business, chances are you are lucky to have an internal champion at most of the organizations you do business with on a regular basis. These people understand your product, typically engage with it on a daily basis, and have great rapport with your sales and marketing teams. Your company likely takes great care of this person and team with the likes of fruit baskets at Christmas or VIP treatment at a customer dinner, but what are you doing to empower them on a daily basis in their job?
One of my previous jobs was running marketing for a high-end corporate wellness company. We were fortunate to have some truly marquis clients in the Fortune 500, all accounts that continued to expand as a result of strong internal champions within the organization who went to bat for our approach time after time. Instead of resting and waiting for word from each internal champion for the next account we could compete for, we spent a lot of time and energy creating content to empower them.
For example, we created a video highlighting employee successes with our program and created two versions of the video: one that we could use to pitch additional external business, and one solely focused on helping the influencer make the case for the success of our program internally. We also created and shared content on internal employee social networks to build excitement and enthusiasm for our offering within each organization. Creating and sharing these pieces of content on our blog not only helped us empower our internal champion, but also helped us rank highly in search, resulting in both organic traffic and media coverage for the organization.
This impact not only made the job of internal champions at each company easier, but also served as insurance if and when those champions moved on to different opportunities. People are more apt to jump from job to job today than they were fifteen years ago, so you can no longer plan your business around one individual's tenure at an organization.
Market Traction
Stitch Fix is a West Coast-based startup that matches women with personal stylists, delivering a monthly "fix" to their door based on an online style profile. Like any great entrepreneur, Katrina Lake identified a target market, assuming her primary audience would be busy 20- and 30-somethings in New York and San Francisco with high interest in fashion but little time to shop due to demanding careers. The company began marketing its offering with inbound tactics, relying heavily upon Twitter and Pinterest to demonstrate thought leadership in the style world, and creating easily accessible (and highly shareable) content based on individual style Fixes.
In spite of her early predictions on the company's potential market, Lake recently told the New York Times "that concept really resonated with moms and people who were busy with their kids and families." The company's success with moms from Minnesota to Montana not only surprised Lake, it also helped convince investors that there was in fact a market for another style delivery player in the marketplace. Inbound marketing tactics not only helped Stitch Fix attract new customers, but also send a strong signal to the market that they could compete and win in an already crowded industry.
Creating and sharing content with inbound marketing creates a captive audience of people who legitimately care about the work you do, the industry you play in, and the problems you're solving. You can't just buy a list of those people; you have to earn their trust, loyalty, and respect. Doing so with content and thought leadership is an investment in your business -- not just for today, but for the next decade.
Your Competition Likely Has Your Contacts, Too
Chances are, if you bought a list of industry contacts or met them at industry events, your competitors have those leads in their database, too. To stay ahead of the competition, you can't run an isolated one-note playbook rooted in in-person meetings and periodic one-off emails. You need a toolbox full of tactics to keep your brand top of mind, whether your leads are asking for a vendor recommendation on LinkedIn, revisiting your website for more information, or perusing your blog for industry insights and updates.
Let's not forget that if your leads are in your competitor's database, and your executive decision maker knows both of you well from regular check-ins, he or she might decide at some point to revisit the all-knowing search engines for more information or to check out trends she should be in the loop on for future decisions. The number one company ranking on Google gets roughly 33% of associated organic search traffic, so failing to create and promote remarkable content leaves page views (and thus money) on the table on a weekly basis.
Influencers, decision makers, and executives are incredibly busy. Your job as a vendor is to be the signal that breaks through the noise, and by far the best way to make that happen is creating and promoting exceptional, relevant content across all of your marketing channels, and implementing an integrated system and approach to analyze what works and what doesn't.
Inbound marketing helps you stay ahead of your competition and on top of the radar for the leads you care about most. Moreover, effective content creation and promotion builds ownable assets that continue to deliver value over time -- so unlike trade shows, paid advertising, and events, there's no time limit or expiration date associated with the value you can extract from your effort.
Your Leads Are Busy
They may not visit your website every month. They may have been only half-listening when you talked about your latest product roadmap or initiative. They may have met with your competitors more recently than you. Regardless of whether they are in your database, they may not be in your back pocket, and assuming that you're at the top of their list at all times can leave significant business on the table.
With inbound marketing, every blog post is a chance to nurture your leads, every tweet is an invitation to converse, and each keyword you rank for increases the likelihood they'll come your way the next time they have new business to share. Inbound marketing offers a profound opportunity to connect with and help your leads succeed with your product on their terms, and to diversify your approach to align with how your leads shop and buy on a regular basis.
I'm a big fan of the Patricia Quipp quote: "It's not your customer's job to remember you. It is your obligation and responsibility to ensure that they don't forget you." Inbound marketing is the perfect opportunity to deliver on that responsibility, and one you should start taking advantage of today.