Who clicks on Facebook ads? Apparently women. Well, at least they click more than men. Some new research from Facebook marketing agency Social Code correlated click-through rate data with gender information of the audience that viewed the ads.
The results were quite interesting: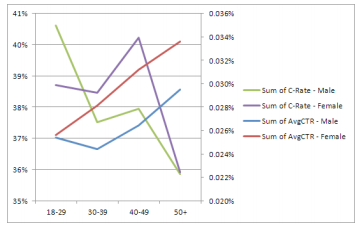 1. Facebook users over the age of 50 are 28.2 percent more likely to click an advertisement than 18 to 29 year-old users.
2. Women age 50 and older are even more likely to click advertisements, at a rate of 31.2 percent higher than young adults.
3. Older Facebook users are nine percent less likely to click the Like button on an advertisement.
4. Men over 50 years old have an 11 percent lower Like rate than younger males and a nine percent lower Like rate than people from all age groups.
Marketing Takeaway
Facebook ads work differently for certain audiences and businesses. Have a clear understanding of your audience before starting a Facebook advertising campaign. Once you begin a campaign, monitor data and response rates closely to determine how your ad copy might need to be updated or tweaked to improve performance. Additionally, don't rely only on Facebook ads. Also try organic methods such as contests and content curation.
Do you use Facebook's advertising platform in your Facebook marketing? What kind of results have you generated?