Facebook started as a way for college classmates to communicate, and it's since evolved into a hub for content creation, sharing, and advertising.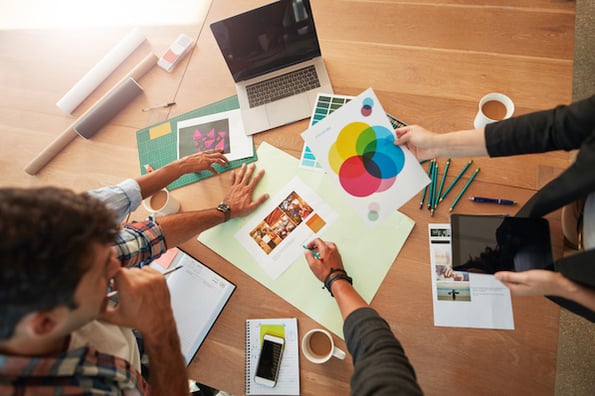 Over one billion active users engage on Facebook every day, which represents a tremendous opportunity for advertisers to leverage their content in front of potential customers.
The variety of targeting options available allow marketers to get the greatest value out of each ad dollar spent on this vast network, making it an ideal place to drive conversions, downloads, and lead generation. In fact, Social Media Examiner found that 55% of social media marketers use Facebook as their primary platform, and eMarketer learned that nearly 68% of all social media ad spending is on Facebook Ads.
We decided to consult with a variety of successful social media marketers to learn more about their strategies for Facebook Ad targeting. Whether you've been advertising on the platform for years or are just starting out with Facebook marketing, check out these lessons from the pros to maximize your social media advertising ROI.
Facebook Advertising Tips
Keep track of qualitative metrics.
Take advantage of Facebook's precise Ad targeting.
Test different creative assets for best results.
Pay attention to what visitors do after they click.
Don't force new trends into your Ad strategy.
Find inspiration from your competition.
Publish videos that are short and sweet.
Don't fixate on vanity metrics alone.
Focus on the mobile experience.
Experiment with video.
Diversify your ad format.
Pay attention to load time.
Convert high-performing content into ads.
1. Keep track of qualitative metrics.
"We focused on two metrics [in our Facebook Ads campaign] -- video views and offer redemptions. These help us to understand whether it's worth our investment to pay for direct customer acquisition."
"Video views are primarily an efficiency spend, looking at the gross number of video views we can get for our investment, at the lowest possible CPV (cost per view). In the offer redemption area, we can go a bit deeper and also calculate our CPA (cost per acquisition) for each person who redeems the offer.
Through all of this, we [also] look really hard at qualitative feedback. Facebook's Reactions allow us to see not only how many people 'like' our content, but also when people 'love' or uh ... [don't] love our content. We also aspire for our content to be shareable, so we look for post shares and for comments on Ads. To us, that's a leading indicator of content resonation."
2. Take advantage of Facebook's precise Ad targeting.
"You can target any audience [using Facebook Ads]. Almost everyone is on Facebook, and we all share incredible amounts of information about ourselves. Facebook compiles and organizes all of that data for their Ads platform so that marketers can go as broad or as narrow as they'd like."
"You want to target moms of young children in a 15-mile radius from a [children's] clothing consignment store? Facebook lets you do that. You want to get young men in the sales profession between the ages of 30 and 35 to click through to your site? Facebook lets you do that."
"Use the Audience Insights feature in your Ads Account to research all of Facebook, fans of your Page, or people in any custom audience to gain better insights into who they are and how to target them."
"You can upload [an email list] as a custom audience and serve special ads just to them."
Haidi Zhu, Head of Performance Marketing at WeWork:
[With Facebook Ads,] we start by analyzing the demographics of our current members to better understand who they are based on location, interests, industry, and more. We use this data to develop audiences to identify potential members and further segment down to deliver ads that feature the WeWork offerings, locations, and services that we strongly believe will benefit them most."
3. Test different creative assets for best results.
"It's easy to think you know what will capture your audience's attention, but you'll be surprised when you actually test it. I always compare at least two options and track their performance carefully. Then I put my spend toward the top performer to get the most bang for my buck. I often find that the creative I liked best actually isn't my top performer."
4. Pay attention to what visitors do after they click.
Alicia Palmieri, Senior Social Media & Content Specialist at 2U:
"2U uses the 'Learn More' call-to-action because it performs well with the type of thought leadership [education] content we share.
Our end goal when advertising on Facebook is to get people to view longform, data-rich content."
"Since we host most of this on our website, we work with our web analytics team to track behavior of people coming from our Ads. This helps us ensure that we're targeting the right people and providing engaging content that they will enjoy."

5. Don't force new trends into your Ad strategy.
"The social landscape is constantly evolving, and our social team is constantly adapting to meet the needs of our community and stay authentic in our social presence. It's great to be aware of trends, but you shouldn't force a trend or new network if it's not the right fit for your brand."
"You have to determine a trend's genuine value offer before diving in headfirst. If something isn't resonating with your audience, there's no reason to continue chasing the hype just to be seen doing it -- your audience could see that as a major turnoff."
"It's important to have a clear objective for your ads, clear KPIs and a desired cost-per-conversion."
"Identifying these metrics, setting up proper tracking and keeping a pulse on performance is key to determining ROI from social advertising."
"The principles of creating a good post and grabbing attention are the same no matter what the medium."
For example, providing clear value and connecting about [your audience's] real needs is something I always try to do.
"I'm less concerned about using a new medium like video or canvas just to use it, but I will try it if the technology gives us a better way to reach our audience."
6. Find inspiration from your competition.
Being able to tell what your competitors are promoting on social is invaluable. Comparing our Facebook spend with that of our competitors gives us a level playing field on which to evaluate the impact of our content."
7. Publish videos that are short and sweet.
Because [Facebook offers] such a small amount of real estate, it's important to get to the point quickly with one specific call-to-action, whether it's a discount to redeem, an event to attend or a prompt to learn more about your product or service."
"Avoid lofty or flowery language.
When considering images, faces and bright colors pop more (high-res only), and video can be super impactful for ads when kept to 30 seconds or less. Bonus points if your video has closed captioning so that users don't need audio to consume your message."
8. Don't fixate on vanity metrics alone.
"Facebook Ads can be a valuable tool, but only if you put effort into actually optimizing and measuring them. We're big fans of A/B testing here at Localist, and always have at least two iterations of an ad running, sometimes 10-20 versions, where we'll test things as small as capitalization, imagery, headlines, and CTAs."
"You also need to be mindful of what you're measuring. Success can't just be based on how many people click or view an ad -- what does 500 clickthroughs to a post mean to you and your company? Be sure to tie superficial metrics like this to an acquisition goal or metric that you actually value, like cost-per-download or cost-per-lead."
9. Focus on the mobile experience.
Try composing, or at least previewing, your Ad on a mobile device. Most people view Ads on a phone screen which is why those with stark, text-free images and simple messages get more engagement."
10. Experiment with video.
We are always eager to test new products and the latest betas to innovate with our marketing. This includes 360" video, renderings, and more, all developed by our in-house team."
"Because WeWork is truly something you need to experience in person, we've seen a lot of success with video to convey our brand and message within Facebook."
11. Diversify your ad format.
There are so many different ad channels on Facebook, and choosing which ones to invest in can effectively increase your reach and brand awareness.
"Not every type of ad will work for your brand. However, one of the best techniques to follow when creating paid content is to seamlessly blend into feeds, walls and timelines."
"It's necessary to learn the various ad formats so you can fit in well with organic content on the network. For example, if you only used text ads, the 'pop' or 'wow factor' would be much less than a video or brightly colored image."
There are messenger ads, dynamic ads, video ads, sponsored mentions, slideshow ads, collections, instant experiences, lead ads, and more. Different formats lead to different results, so Facebook will recommend formats that are most conducive for your objectives.
12. Pay attention to load time.
Sandra Rand, Director of Marketing at Tinuiti:
The longer your website takes to load, the more it adversely affects your conversion rate. Even if your CTR from Facebook Ads is pretty high, your advertising efforts and budget will be wasted if your website takes more than 7.5 seconds to load.
"For the retail e-commerce brand, the difference between 7.5 second load times and 11.5 second load times (which, if my math serves me correctly is a whopping FOUR seconds), meant a conversion rate that plummeted 60% and a revenue drop of 62%."
By connecting with your developers and eliminating unnecessary parts of your landing page, you can cut down on load time and boost your ROI.
13. Convert high-performing content into ads.
Dooley Tombras, President at Tombras Group:
Dooley Tombras claims that we are in the third phase of social media advertising, where companies need to strike a balance between editorial and real-time content.
"Pay to boost above-average performing content, let below average posts die, and when content blows up, put real advertising muscle behind it to drive sales. Only then does the post become accountable for driving sales."
Organic social is a powerful platform of mass reach and content distribution as well as a great space for content experimentation. When something really resonates with your audience, it's a positive sign to put advertising budget behind it.
Learn From the Pros
Now that you've learned different strategies for successful Facebook Advertising, apply them to your next campaign. A common thread among the responses we received for this article was the importance of constantly testing and evaluating results.
Don't hesitate to change tactics midway through a campaign to drive greater value and conversions from your Ads. If you're unsure where to begin with launching an Ads campaign, we have a step-by-step guide to start you off on the right foot.
What advice would you give for Facebook Advertising best practices? Share with us in the comments below.