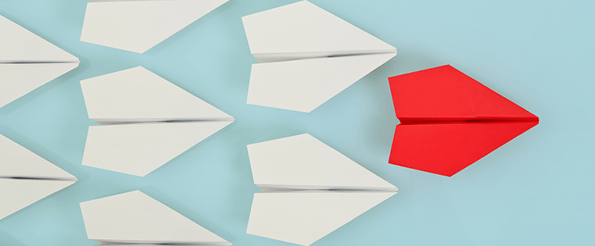 A more efficient agency means better margins -- something most agencies would like to see increase.
However, efficiency is only worth investing in when you know the future, when you can plan for stability.
Marketers are dealing with more unpredictability than ever -- trends spring up in one country, are adopted by a group on the other side of the world, and disappear before you even can grasp what to call the movement, much less capitalize on it. Social networks pop up, disappear, and evolve quicker than an agency can develop a strategy. Customers are sharing their feedback by the hour and changing their expectations by the minute.
Marketers can't keep up with their customers, and agencies can't keep up their clients and the pace they need to be at.
One problem is that the agency structure -- the internal workflows, systems for delivery, and client relationship structures -- are not built for more real-time or modern marketing. Many agencies still operate like they are solely delivering print and TV ads, where you can plan nine or 12 months out.
But too many firms approach becoming more agile by forming committees to develop more plans and more processes that simply force "agility" onto employees.
Jay Haines, founding partner of Grace Blue U.S., believes that the way for agencies to become more nimble and responsive organizations is through better management -- by hiring more agile leaders.
"Traditionally, we've had some entrepreneurs in our business, but it hasn't defined our business," Haines said. "Going forward, our business will increasingly be defined by people who will appreciate being called entrepreneurs -- people who want to win more everyday, as opposed to settling for the status quo because they know they've got huge retainers in place."
The future class of leaders need to be invested in and embody agile leadership so that agencies are able to meet the changing demands of clients and remain relevant.
Why We Need More Agile Leaders
Haines has built his career by being able to match the skills and personality of a person with the needs of an agency. He founded Grace Blue, an executive search firm specializing in the communications industry, in 2006 with two colleagues from leading global headhunting firm Kendall Tarrant. He relocated in 2012 to New York to launch the Grace Blue office and better serve the U.S. advertising market.
He has watched how the management needs of agencies and communications firms have changed in the past 10 years.
"Traditionally, people who are running a lot of the world's best agencies will wake up on day one of the new year and be able to see one-sixth of their revenue already," he said. "That is just not a model that's going to make sense going forward. The way the market is going to move, it's going to be to a much more project-driven mentality, and that requires a completely different type of energy."
This emphasis on project-based work and the decline of AOR relationships is also reflected in recent research conducted by RSW/US that found that 40% of marketers anticipate they will increase the amount of project-based work they assign out in 2016. In addition, 74% of marketers report using two or more agencies, and 52% said between 1% and 40% of the work they assigned to marketers was project based in 2015.
This type of work requires different processes and skills. An agency has to be able to build up and break apart teams quickly. It has to be able to pull in freelancers and other vendors to fill staffing needs as project-work and its volume is unpredictable. The agency also needs to get better at project scoping and project management -- one misstep and any profit on the project could be lost.
"A lot of this change has been triggered by clients saying, 'We don't want to work in this way anymore. We want to work with a broader portfolio of companies that give us very specialist skills,'" said Haines.
Agile leaders see this as an opportunity though, not a threat. They consider the possibilities to win more interesting projects from different types of brands and to become more specialized and expert in one area. They could also see the possibilities of doing more strategic work as marketers move more tactical projects in-house.
It all depends on your point of view.
"Agile leaders are people who think beyond the boundaries and beyond the confines of the norm," Haines said. "People whose instinct is not to behave in the same way that people have for the last 20 years. People who have a desire to behave a different way, create a different type of system, use a different model. It's quite a definitive group of people because while some people's instincts are to follow, some people's instincts are to lead."
But this change in thinking might prove hard for some firms.
"It is very difficult to fundamentally alter the structure of a very well-established entity because they work within certain rhythms and certain rules," Haines said. "In the absence of that kind of agility in the big agency model it creates a chance for those businesses of between 50 and 100 people who can just adapt on a dime and be in the right shape for the client at the right time."
The growing need for agile partners could increase the size of the market for smaller, more independent players -- this is one way to gain the attention of those coveted accounts.
3 Essential Traits of an Agile Leader
The Agile Coaching Institute described agile leadership as "a shift from managing for results to designing environments that create results." It's less about direction and more about creating a shared vision and empowering individuals, requiring a completely different mindset and approach. Here are a few of the traits found in agile leaders:
1) Agile Leaders Have the Energy Required to Effect Change
"Without energy you can't effect change, and change is a must for successful leadership," said Haines.
Energy, in this case, applies to both the individual leader and her ability to influence the energy of her team.
A team with a positive, driven, or supportive energy can drive higher performance for the agency.
The positive type of energy can also help with employee retention -- an important issue currently facing the industry. Campaign Magazine found that more than one-third of agency staffers said the morale at their agency was low or dangerously low. Turnover rates in the industry are around 30%, according to MediaPost, and this results in a huge loss for a business. For mid-level employees, it can cost up to 150% of their salary to replace them, while it can cost 400% of a person's salary to replace a senior-level or highly specialized employee.
Leaders also need their own energy, especially if the agency is throwing out legacy processes and ways of doing business. They have to be able to get buy-in from their team members, other leaders at their level of influence, and their own managers. They need to build trust in those around them, and their excitement, positivity, and opportunistic view should be contagious.
2) Agile Leaders Drive the Culture of the Organization
An agency's culture is one way to stand out and differentiate itself when most agencies provide the same services at similar prices.
It can be used to create a connection with clients in the pitch process, but it is equally (if not more important) if you consider that an agency can only be as good as the work its people produce. A company's culture has value, though this might be difficult to measure, because it drives performance: higher client satisfaction, higher retention, better work, etc.
"Now, it is the responsibility of any leader of a company to create an emotional connection between their brand and their employees," said Haines.
Agile leaders understand that they are largely responsible for creating or protecting their culture through their hiring decisions, how they motivate and reward individuals, and how they talk about the value of the work they do every day. Leadership manages the environment in which people can do their best work.
3) Agile Leaders Can Make Decisions Quickly
Being able to energize a team to accept and promote change is one step. Agile leaders also need to be able to implement those changes.
This isn't about changing things for the sake of change. It's more about auditing what's working and what's not working, making adjustments, gathering feedback and learning from the changes, and then changing things again -- all in an effort to create a more profitable and more engaging company.
"You have to decide and then evolve, decide and evolve constantly," Haines said. "It's a much faster reaction time. It's a much more high energy kind of role -- as opposed to a rather statesman-like, chairman-like type of leadership that has defined the last 20 years of the major communications companies."
This type of ongoing change needs people who can weigh the costs of a decision, the opportunities, the possible detrimental effects, and then implement the best possible solution. It also requires individuals who lack the type of pride that prevents people from admitting that a decision was bad so that the change can be undone and a new path forward can be forged.
Agencies need to be open to breaking down the existing infrastructure for more modern processes. And if they don't start to value this attitude, many firms will lose young leaders who embody the traits of an agile leader for other industries, such as technology, or to the brand side where attitude changes are happening more quickly, partly as a result of customer demand.
"I think agile leadership will create a much higher standard in our industry," Haines said. "It will make us sharper, quicker, more focused, and more creative."