When our jeans no longer fit, we buy new ones. When our coffee pot starts to make a funny noise, we head straight to Bed Bath & Beyond to pick up a replacement. Seems reasonable, right?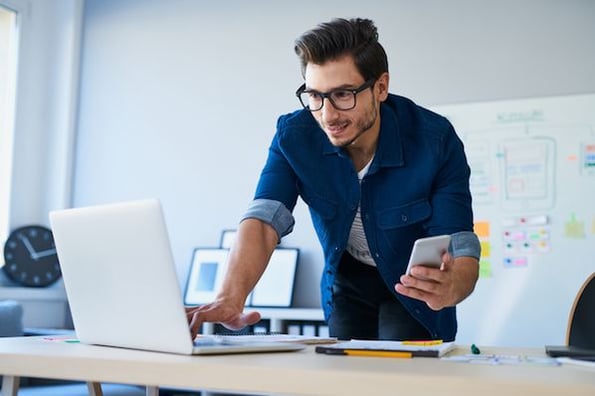 Companies should look at their own websites -- and their clients' websites -- as constant works in progress. Designs are not intended to be fixed, but rather, they should evolve to fit the needs of users over time. This concept reflects a website retainer model that we at HubSpot call growth-driven design.
This process requires consistent user testing, optimization, adjustments, and iterations. To get you started on the path of continuous improvement, we've collected a list of helpful user testing tools and resources that will have you analyzing your client's websites in an entirely new way.
Usability Testing Tools
CrazyEgg
Loop11
Mouseflow
Attensee
Hotjar
The User Is Drunk
The User Is My Mom
Morae
Userfeel
UserTesting
Google PageSpeed Insights
Five Second Test
Website Grader
Qualaroo
TryMyUI
1. CrazyEgg
CrazyEgg is a heat mapping software that enables users to gain a better understanding of how visitors are interacting with their website. With this tool, you can track multiple domains under one account and uncover insights about your site's performance using four different intelligence tools:
Heat map: Uncover where people are clicking on your site to determine what elements are converting and which aren't.
Scroll map: Identify how far down users are scrolling so you can optimize the content above the fold.
Overlay: See the number of clicks different elements on your page are receiving to evaluate performance.
Confetti: Distinguish clicks from different referral sources, search terms, and more to see where you should be focusing your efforts.
Pricing
CrazyEgg offers several levels of packages, from $29/month for Basic to $189/month for Pro. All products start with a free trial.
2. Loop11
Loop11 is an easy-to-use tool that allows users to create a new usability test by entering a few simple details. Once created, it allows you to customize your test template, assign tasks and objectives, and ask usability questions such as "how would you describe this website?" or "what features stuck out most to you?"
Once you finalize the details, you'll be able to source participants through a number of different avenues. For example, you can create a pop-up for your website and recruit testers using a service like Ethnio.
Pricing
Loop11 offers two pricing packages based on the size of your company: Rapid Insights, which costs $49/month; and Pro, which costs $149/month billed annually.
3. Mouseflow
Missing out on conversions? It could be your form design ... but how can you know for sure?
Mouseflow is an analytics tool that gives users the ability to record their visitors' experience with their website to identify patterns and trends by tracking user activity. You can analyze their activity by watching session recordings, viewing data from multiple heatmaps, creating a conversion funnel for your checkout process, and using the form analytics feature. This will help you track engagement, find out where users are bouncing, help you improve your conversion rate, and target your marketing efforts.
The best part? Mouseflow makes it easy for agencies to keep their clients informed by enabling multi-user accounts, session-based page support, as well as an easy way for users to download and share reports.
With access to these insights, you can optimize your website based on user behavior to create more meaningful interactions.
Pricing
Mouseflow offers four different set packages, ranging from $29/month for Starter to $399/month for Pro. The Enterprise package is fully customizable and its price varies based on how you use it.
4. Attensee
When a visitor lands on your site, they'll decide in moments whether or not it aligns with what they're in search of. This makes determining how to position your website content to ensure that it speaks to the right audience and in the right way a priority. Rather than guess-and-check, the Attensee software mimics eye-tracking -- without the extra hardware and cost -- to generate data that helps users understand which content is drawing and holding the attention of their visitors.
Pricing
Attensee costs $49/month and includes unlimited tests, unlimited surveys, and same-day results.
5. HotJar
Hotjar is an all-in-one analytics and feedback software that helps users identify opportunities for improvement using a number of tools including:
Heatmaps
Visitor recordings
Conversion funnels
Form analytics
Feedback polls
Surveys
User tests
Using the insights generated from these tools, users can then improve the usability of their navigation, remove ignored content, identify confusing areas, adjust page copy, etc.
Pricing
Hotjar offers more than six different packages, starting at $89/month and increasing based the number of page views from which you're looking to collect data.
6. The User Is Drunk

Richard Littauer is a UX professional and developer. Outside of his regular day job, Littauer developed The User is Drunk to provide users with an alternative view of the traditional user test.
You see, the difference between Littauer's service and almost all the others on the market is that he performs each test under the influence. He writes: " One of the core tenets of UX is that you've got to design like 'the user is drunk.' Any feature of your site has to be able to be used by someone who could be drunk -- because, invariably, the user will mess it up otherwise. Wonderful idea. The thing is, it is hard to test. I and a lot of beer will test this for you."
Littauer sends each website owner a document outlining the problems of the website and a screencast of him reviewing the site.
Sound offbeat? That's because it is ... but we tried it anyway. Here's what Littauer had to say about HubSpot's website.
Pricing
The User Is Drunk offers six different service packages, from $99 for more basic reviews to $999 for the "Drunk, Sober, and with My Mom" package -- a comprehensive usability test for, evidently, all the most critical situations in which your users would be visiting your website.
7. The User Is My Mom
Organized by The User Is Drunk's Richard Littauer and entrepreneur and developer Scotty Allen, The User Is My Mom employs Allen's actual mom to review your website.
While it may sound a little silly, the review is designed to uncover barriers and distractions that well-seasoned web users are often blind to.
"My mom tutors high school students and likes quilting and hiking. She yells at her computer, doesn't know what a Twitter is, and struggles to find windows she's minimized. You should design with your mother in mind. If she can't understand your site, others will struggle as well," states the website.
Pricing
The User Is My Mom has serviced websites for $100, but Richard Littauer encourages customers to email for more information and specific pricing.
8. Morae
Morae -- one of the leading usability software tools on the market -- offers a sophisticated suite of tools to help users collect data that can be used to inform their optimization strategy.
Recorder captures audio, video, on-screen activity, and keyboard or mouse input.
Observer allows users to observe a tester's website engagement in real time.
Manager makes it easy for users to bring their tests full circle by calculating metrics, generating graphs, and creating highlight videos.
Pricing
Morae's software suite is priced at $1,995, but users can invest in individual products starting at $15/month based on the type of testing they want to do.
9. Userfeel
Userfeel is an online usability testing service that provides users with a way to quickly understand how visitors are responding to a website or specific landing page.
A key element of this platform is its multilingual network of testers, which will be useful for those with global clients and campaigns.
To give you a better idea of what you can expect from your investment, check out this sample results page which includes a usability video as well as written responses to user questions.
Pricing
Userfeel costs $49 per user session for desktop tests and $99 per user session for tests on mobile and tablet.
10. UserTesting
UserTesting is designed to make it easy for you to connect with a real person and uncover real insights about your website's usability.
The tool is both fast and free, making it the perfect solution for marketers who are looking for a quick turnaround. All that's required is your website URL, name, number, and email address, and you're on your way to receiving a five-minute video of input that can be easily shared with your colleagues.
Pricing
While UserTesting offers an entirely free version of its service, users can upgrade for more features starting at $49 per video.
11. Google PageSpeed Insights
You might know that one of Google's criteria for ranking websites on its search engine is how fast the page loads on a computer, smartphone, and tablet. So, it's only fair that the search giant offers a page-speed testing tool to help you gauge how fast your website loads on these devices.
Google PageSpeed Insights is a simple dashboard that allows you to enter any URL you want speed data on, and, in seconds, receive a thorough report on the page's speed.
The tool gives you data on two specific metrics related to your website's page speed: First Contentful Paint (FCP) and DOM Content Loaded (DCL). These metrics measure how quickly a user's web browser starts to display the pixels of your website after the user clicks a button to get to it.
Pricing
Google PageSpeed Insights is free to use.
12. Five Second Test
UsabilityHub connects you with volunteer website testers to help you improve your website's user experience (UX). One of UsabilityHub's services is Five Second Test, which gives you feedback on your site based on each tester's very first impression of it.
Think of this tool as a five-second focus group, dedicated to your website's design and ease of use.
All that's required to use Five Second Test is a screenshot or sample page of your website and a question about the page you'd like each tester to answer. UsabilityHub then aggregates their responses in a feedback report just for you.
Pricing
Five Second Test is offers single users three different packages with varying features, from $0 to $199/month. The Teams package starts at $396/month for four users and increases based on the size of your team.
13. Website Grader
Website Grader is HubSpot's own usability tester, and grades your website's UX in four simple areas:
Performance grades the webpage's size (the lighter, the better), the number of HTTP requests it makes to load its own media (the fewer, the better), and how long it takes to load the page when a user clicks on it (the shorter, the better).
Mobile grades how responsive and flexible your website is to mobile devices that try to load it. If your website is optimized for a mobile browser, you'll score highly in this area.
SEO grades how well your webpage is optimized for search engines, and therefore how highly it ranks in Google search results.
Security grades whether or not your website has its SSL certificate (which gets you the "https" at the beginning of the URL). Got this certificate? You'll score 10/10 in this area.
Website Grader then produces a report similar to the one shown in the screenshot above just for your website, with your score for each of the four areas displayed on a colored scale.
Pricing
Website Grader by HubSpot is free to use.
14. Qualaroo
Qualaroo is a platform that integrates directly with your website -- along with several other software tools you might be using -- and gives you insight into your website's usability based on how your visitors behaved while on it.
The product also helps you develop brief exit questions that you can serve to your website visitors as they're leaving your website. You can truly get inside the heads of your visitors while your website is still fresh in their memory.
Pricing
Qualaroo is free to try for two weeks, and paid packages begin at $99/month.
15. TryMyUI
Like Five Second Test, the 12th tool on this list, TryMyUI connects you with volunteer testers and brings them through a structured tour of your website. Here's how the test works:
Design your test, including a list of tasks you want your desired testers to complete while using your website. This can include pages you want them to visit, calls-to-action you want them to click, etc.
Select your ideal tester, based on a number of demographic traits you want them to have as a user.
See your results in video form, watching the tester engage your website and navigate through each task you prompted them to complete.
Pricing
TryMyUI offers three different packages: Personal (free), Team ($299/month), and Enterprise ($1,000/month). Each package has many varying features.
As you can see, there are so many ways to test and optimize the usability of your website today, you can't afford not to give one a try. Chances are, one of your competitors is in the middle of a usability test while you're reading this sentence. What are you waiting for? See some of the best website designs below, and get to testing your own.