I regularly get asked by my HubSpot customers, "What type of social media posts should I publish? Should they be a product posts? Should they be funny post? Opinion posts? ... What types of posts get the best engagement, and how can I leverage this to my advantage?"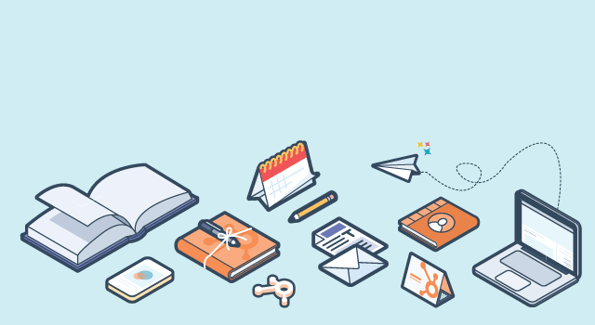 These questions usually begin when HubSpot customers start to feel a little bored or unsatisfied with the content they are publishing on social media. And as you can imagine, if the customer is bored with the content, you can be sure that their audience may very well feel the same.
So the answer? All of those post types are great. What's most important is keeping your social media channels fresh, interesting, engaging by having consistent variety.
Some of the world's best-known companies use social media variety to keep their social audiences constantly interested. For example, Amazon.com regularly supplements its 'core product posts' with competitions, video, multi-media, polls, and promotions, all of which have contributed to their current Facebook Like figure of 22 million+ and almost 100K followers on Twitter.
A current customer of mine that is also using social in a diverse way is Zaggora.com, a women's sports-wear manufacturer. Their current facebook fan base is well over 500K, and that success is a direct result of their social posts being more than simple product promotion.
Zaggora.com recently ran an engagement campaign across social media that ultimately linked back to their HubSpot landing pages. This campaign was a series of social posts that promoted useful 'Get in Shape' guides, diet and nutrition advice, and a Zaggora.com January challenge. The key takeaway from their success? Zaggora did not at any stage push standard product posts, and yet they managed to drive leads and secure brand new customers as a result of fresh, engaging, and intelligent social posting.
So how do you come up with interesting, diverse and engaging social content on a regular basis? How do you guard against publishing the same thing on the same channel more than once? How do you keep your loyal social community engaged?
Well, it simply comes down to having a plan and being dedicated to variety ... nothing more nothing less!
10 Social Posts to Keep Your Online Presence Engaging and Fresh
1. ENGAGEMENT POSTS
This post type is probably the simplest and the most straight-forward kind. These posts don't directly promote the brand. These posts talk 'around' the brand by providing something interesting, unusual, and dynamic.
Above you will see a post by VW, the famous German car maker. This is a great engagement post considering it isn't every day you see a car filled with flowers! It's engaging and creates a degree of curiosity, but it still features the company's core product. Clever!
2. REAL-TIME POSTS
News-jacking current buzz and trends is a great way to join the conversation. The topics you news-jack don't necessarily have to be connected directly to your brand or service, but they do serve to humanize it.
A company who did a wonderful tie-in with a live event was Oakley. Here, they depicted the Russian doll, which represents the 2014 Winter Olympics, wearing a pair of Oakley Ski Googles. The post is current, popular and also engaging.
3. COMPETITION
Statistics show that social media audiences love to take advantage of competitions hosted by their favorite brands. If you develop a reputation as a social media brand that regularly rewards it's audience, your engagement levels will grow and strengthen.
Bulmers, above, ran a simple competition to show off their range of products. By commenting, anyone could enter to win a case of Bulmers.
4. PRODUCT
Even as you're posting creative and fun content, don't forget to talk about your product. Balance your informative product posts with engaging content.
5. VIDEO
Another easy way to spice up your social stream? Add video. Video can be far more engaging than text.
This video post above by is by a Cider brand. Since it is a new brand on the market, they wanted to tell their story in a really visually attractive way.
6. IMAGES
Let's face it, there is nothing more off-putting than a bank of text. Remember, a picture paints a thousand words. Brands that post images are seen to get 45% more engagement, so mix it up. (To start, maybe start taking photos around the office!)
7. MULTIMEDIA
Like video and images, multimedia posts will gain more traction and engagement. Animated gifs, audio, PowerPoints, and more all serve to keep your social voice interesting.
8. MEMES
Say what? A meme is a current internet trend -- something that's gone viral. They're often funny and entertaining, and anyone is welcome to take part in a meme. It's a great way to personalize your brand and inject humor.
Memes are also reflective of popular culture. In this particular example, Club Orange is taking advantage of the hysteria around Garth Brooks coming back to play five concerts in Ireland! (We've very excited.) It's a great image that's generated a lot of engagement.
9. POLLS
Use polls show that your are interested in what your community has to say. Polls give your social reach a voice, and show them you care to delight your community. It's that simple!
10. QUESTIONS
Much like polls, question posts also solicit engagement. Think about social posts as an opportunity to talk with your social community rather than at them.
Now that you have a great list of social post types, what's next? The next time you create you social schedule, start incorporating some or even all of these types of posts. It will help your brand build a strong social identity that's dynamic and engaging.
How to Publish to Social Media Using HubSpot's Social Inbox
HubSpot's social publishing tool makes sharing all of these post types easy. Here is a simple step-by-step walk through on how to use HubSpot's Social Media publishing tool.
1. Select "Social" in the navigation and click "Publishing."
2. Next, click the "Compose a new message" blue button.
3. Select the social network you want to post to, like Facebook perhaps.
4. Create your highly engaging post and schedule! Feel free to write many posts at a time to cover the span of a week or even a month.
5. Last but not least, see how your posts are performing using your social publishing analytics.
That final step is really important. It's crucial to keep a close eye on how your social posts are working. How many people are interacting with your social posts? How many are clicking? By collecting this data, you'll learn what posts are getting more engagement than others, and you can tailor you social content strategy accordingly.
At the end of the day, social media is just that -- social! If you want to make friends and influence people, be interesting, be different, be engaging! Do your best to post a variety of different content, and your marketing will thrive because of it.
What type of social media content do you like to publish? What has worked well for your business?