As marketers, we aim to create a personalized experience for our leads and customers. However, these efforts are often impeded by unreliable data. Whether you have had a HubSpot account for a while or you have newly inherited one, chances are you have encountered a situation where your data prevented you from efficiently executing on one of your marketing efforts. In fact, as a HubSpot Customer trainer, I try to address these issues early on, as it is the most common barrier we see people running up against in the classroom.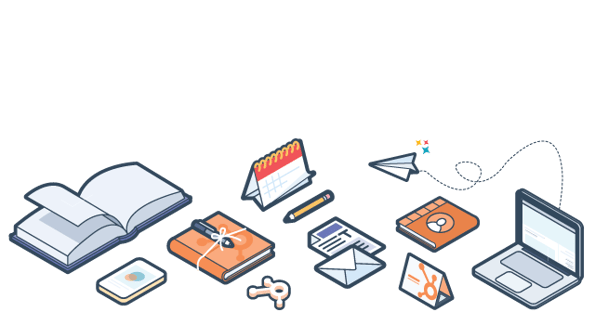 So, how do we resolve these issues before and after they happen? Here's a look at two of the most common database obstacles and how to manage them.
Duplicate Contact Properties
When you have multiple people working in an account, duplicate contact properties is often an inevitable problem. Let's say you create a property called "territory" and then a colleague creates a property called "sales territory." Now, when you are trying to create a list based on territory or region, you don't know which one has the right data or any data at all.
First off, there are some preventative measures you can take. Having procedural requirements, such as searching for synonyms in your Property Settings search bar before creating a new property, can ensure that each person on your team is working in the tool in a uniform fashion. Documentation around essential properties that already exist and updating your team when new ones are created is also a good way to help your team know how to use what is already available...and not create duplicates.
If you are scrolling through your properties and see a few duplicates, there are a few ways to manage this. Step one will always be exporting your contacts and including the duplicate properties in your export. After you open up your downloaded spreadsheet, you should determine which property either has more data or more accurate data. The goal is to identify which of the two properties will take precedence and not be deleted. Once you have determined which property to keep, you can consolidate using one of two methods:
You can merge columns in Excel, which can be re-imported into HubSpot. When you re-import, be sure to map the newly merged column to the property that you want to take precedence. Later in this post you will see how to retire the other property.
Use the Workflows action, "Copy a contact or company property," to copy the values from the property you are removing to the property you plan to keep. One thing to note when using this option is that if you have different values in both properties, the "copy a contact property" action will cause the origin property to overwrite the destination property.
Properties That Need to be Deleted
Have you ever scrolled through your properties and came across one from 2013 that you have never used or heard of? This sighting is usually followed with an instinct to delete, followed by the realization that deleting might break something. This is certainly not uncommon, but there are ways to retire these properties instead of just leaving them there.
One preventative measure to take is requiring a description for each property created. The "Description" section lives as an optional section on each property and can be found within the property editor. To keeps things uniform, I recommend including these elements in your property descriptions:
Purpose of property
Where it is intended to be used in the tool
Author (HubSpot will capture this information as well, but it changes to "unknown user" if the user is deleted)
Date to delete if this property is being used temporarily for an event or test
If you are looking to remove a property, take this opportunity to manage all properties that should be retired. Start by going to your Contact Settings and mark down all the properties you deem unnecessary or unknown.
For each property, be sure to check the "Used In" columns and click on each number to see which areas of HubSpot are relying on that property (i.e. forms, lists, and workflows). If you notice that some of the properties you were unfamiliar with are necessary to your HubSpot portal, update their label to be more clear and add a description with any additional details that your team should know.
Next, decide when you plan to remove these properties. Try to pick a date 2-3 months away, so that your team has enough time to reach out if they are still using one of those marked properties.
For the properties that you would like to retire, modify the property label to say "DELETING ON [DATE]" after the property label. In Contact Settings you can also create a property group called "Properties that will be deleted on [DATE]" to help you sort all of these properties.
Once you have all of your retired properties labeled and organized, draft an email to your internal HubSpot users to alert them about the property cleanup and make sure your team isn't still using any of them. It's also a good idea to send out reminder emails a week and day before you plan to delete the retired properties.
The last step is to simply delete the properties you retired. While it may seem nerve racking at first, deleting these properties will help bring your database into a more manageable state. With a more reliable and consolidated set of properties, you will be able to easily tackle your next marketing project!