To grow your Ecommerce business, you need to get inside the mind of your customers.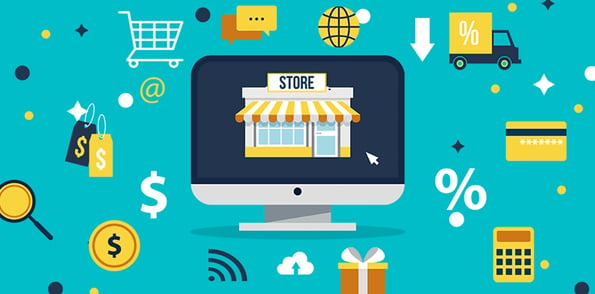 Customers provide a lot of information each time they interact with your company. Whether they are clicking on a social ad, reading your latest blog post, or making a purchase, your customers are providing valuable data that can tell you exactly what they are looking for.
Connecting HubSpot to your Ecommerce store helps make sense of that data and gives you marketing tools to engage with your customers and sell to them better. Deliver the right message to the right person … at exactly the right time.
Learn how to use HubSpot's Ecommerce marketing tools to:
Connect HubSpot to your Ecommerce Store
Using a purpose-built Ecommerce platform such as Shopify or BigCommerce to host your product pages, checkout flow, and order history will give your customers a seamless shopping experience.
Shopify connects directly with HubSpot. Check out the integration on the HubSpot App Marketplace.
Connecting your Ecommerce platform to HubSpot will help grow your online store by providing a host of tools to attract, convert, and delight.
The first step is to connect your Ecommerce platform with HubSpot and sync your data across the platforms.
In your HubSpot account, click the Marketplace icon in the top right of the main navigation bar, then select App Marketplace.
Use the search bar to search for the platform you use to manage your online store.
Select the relevant app from the search results section.
Click Connect App and follow the steps on-screen to connect your platforms.
Check out how to connect HubSpot and Shopify with this
short Academy Video.
Uncover customer buying patterns and segment your customers
By syncing your shoppers' data in HubSpot's CRM, you now have access to a whole host of powerful segmentation tools. With each action your contacts make, more data is synced within HubSpot's CRM, giving you even more information about your customer's behavior.
Let's walk through creating an active list to segment contacts based on the products they've purchased.
In your HubSpot account, navigate to Contacts > Lists.
In the upper right, click Create list.
In the left panel, select Line item properties and select the Name property.
Choose the "contains any of" filter, then enter the product name in the field and click Create option.
Click Apply filter.
From here, you can use this list in personalized marketing campaigns to suggest related products, offer exclusive deals, or exclude these customers from other promotional campaigns.
More information about using Ecommerce integrations can be found on our App Marketplace Ecommerce Page.
Dig deeper into your data to segment customers even further based on their order history, or any other details you have stored in your HubSpot CRM.
Automate marketing campaigns
Note: Using HubSpot's marketing automation software requires Marketing Hub Professional or Enterprise and Sales Hub Professional or Enterprise
If you're using Shopify or BigCommerce HubSpot integrations, you can take advantage of workflows that use your Ecommerce store data and HubSpot data to create personalized marketing campaigns. From cart abandonment recovery to re-engagement workflows, a friendly, well-timed email can be the difference between a lost customer and a loyal one.
To set up an automated workflow for your connected Eommerce store:
In your HubSpot account, click the Marketplace icon marketplace in the main navigation bar.
Under Manage, select Connected apps.
Choose the Ecommerce app you've installed and select Set up an Ecommerce workflow.
Choose the workflow you'd like to set up.
In the right panel, the Recommended section displays actions recommended for that workflow. You can view more actions by clicking See more. Select an action to add it to your workflow.
Set up your action, then click Save.
To add another action to the workflow, click the plus + icon.
When you're done, choose Click here to review and turn on.
These suggested workflows are just the beginning though. Using HubSpot's marketing automation platform, you can create as many sophisticated, personalized workflows as your heart desires. More information on creating workflows can be found in the Getting Started with Workflows guide.
Continue to learn about using HubSpot's automation tools with the workflows course from HubSpot Academy.
Track revenue using direct attribution reporting
Using HubSpot to attract visitors to your site gives you more insight into where your revenue is coming from. HubSpot for ecommerce provides direct attribution reporting between marketing efforts and customer orders.
Use the reporting dashboard to understand which marketing efforts are paying off for you. For example, if Facebook ads are generating most of your sales, consider increasing your daily spend.
To access the dashboard, navigate to Reports > Dashboards. In the top left, click Marketing Dashboard, then select Ecommerce Dashboard.
Learn more about how to customize your dashboard and edit reports.
Next Steps: Continue to attract new customers with Inbound Marketing Tools from HubSpot
Ecommerce platforms and HubSpot are a match made in heaven. Spin your flywheel where happy customers come back to purchase more, tell their friends about you, and leave positive reviews to bring in even more satisfied customers.
By reviewing and acting on your data, you can keep building momentum with HubSpot's ecommerce inbound marketing tools.