If you manage a CRM, you've probably heard of or defined your lead handoff procedure from marketing to sales, but what about a procedure for handing leads back to the marketing team?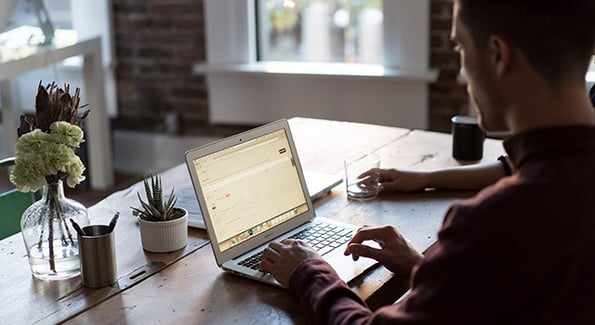 What happens when a sales person reviews a lead and determines the timing just isn't right?
A percentage of the leads you hand off to sales might not be qualified to buy but still worth keeping in your database. If you'd like these leads to go back to just receiving marketing emails, you'll need a lead hand-back procedure.
Below is an outline we use in our in-person sales and marketing alignment training to define and automate a lead hand-back procedure and ensure no leads end up floating in the ether of your database un-nurtured.

Lead Handoff Basics
There are two questions we need to answer before we can address how to appropriately reject or hand back leads.
1. What is a marketing qualified lead? Marketing qualified leads, or MQLs, are the cornerstone of every lead handoff procedure. These are the leads that were generated from your website or marketing materials that the marketing team has deemed qualified to send to a sales person for further review. In HubSpot, marketing qualified leads can be labeled as such by using the lifecycle stage property.
2. What is your lead acceptance process? This process defines how a sales person can go about accepting the leads marketing sends them. This process needs to be outlined first before you can explore a lead hand-back procedure. Commonly, companies will manage this by having their sales team manually change the lifecycle stage property from Marketing Qualified Lead to Sales Qualified Lead.
Creating a Reason for Rejection Contact Property
A Reason for Rejection contact property can act as the starting point for the automation you will build around your hand-back procedure. Your goal is to have the sales person use this property to select the reason they're rejecting the lead from a dropdown. You then can use workflows to automatically trigger a series of internal notifications, data updates, and potentially marketing emails just based on the one change the sales rep made.
To create this property, navigate to your settings icon at the top right of your account, select Properties from the left, and click the Create a Property button.
The property you will need to create should be called something like Reason for Rejection or Lead Hand-back Reason. Once you select the field type to be dropdown select, you will be able to scroll down and add values your sales team can choose from when returning a lead to marketing.
In the example above you'll notice two of the values refer to a period of time (i.e. Bad Timing - 6 months and Bad Timing - 1 year). Your plan with these two properties is to set up an automated reminder with a workflow for the sales person to reevaluate and reach out to the lead again.
The next section will outline all the different workflows you can trigger using this field.
Use Your Reason for Rejection Field to Automate Your Hand-back Procedure
When a sales person hands back a lead, there are a few things that need to happen:
Marketing should be notified of this lead that was rejected
The Lead Status field should be updated (Lifecycle Stage can stay the same)
The lead should start receiving marketing emails again (probably at a slower pace)
If applicable: tasks should be set up to notify the sales rep when it's time to re-assess the lead and reach back out.
We can create one workflow that manages all of the actions outlined above and several other workflows that automate the marketing nurturing that follows the lead hand-back. There is always more than one way to build a workflow, but below is an example of how the lead hand-back automation could be managed in HubSpot.
Enrollment:
Your enrollment will be: Contact Property —> Reason for Rejection —> is known. You'll see an option below your enrollment criteria to allow for re-enrollment; I suggest enabling this feature if you would like your sales team to be able to reject leads more then once.
Actions:
Once you have your enrollment complete, you can add the actions you need by clicking the plus sign below enrollment. If you would like to notify the marketing team, you can use the Send Internal Email action. This action requires that you have prebuilt the notification email in your email tool. Here is a guide if you are unfamiliar with how to build this internal notification email.
If you would like to update Lead Status or any other contact property when a lead is handed back, you can use the Update Contact Property action. This will ask you to select the property you want updated and the value you would like it changed to. Commonly, companies will have updated the lead status to Unqualified or a custom Renurture value.
Use Your Reason for Rejection Field to Automate Your Lead Nurturing
Now that your leads are handed back, you should also automate the series of nurturing emails your leads should receive until it's time to readdress them.
Based on the reason that your sales person selected, you can send your leads through a relevant nurturing series. For example, let's say your sales person is speaking with someone from a startup that does not have the budget right now but might have the budget in one year. We could enroll that lead in a workflow that slowly sends emails over a year to keep your company top-of-mind, then opens a task after a year reminding the sales person to reach out again.
For the example we've been using, there are three separate nurturing workflows you could build. Their enrollment would be as follows:
1 Year: Enrollment is based on Reason for Rejection is equal to Bad Timing - 1 Year. Actions include a year of nurturing emails followed by a task for the sales person to reach out.
6 Months: Enrollment is based on Reason for Rejection is equal to Bad Timing - 6 Months. Actions include 6 months of nurturing emails followed by a task for the sales person to reach out.
General Nurture: Enrollment is based on Reason for Rejection is any of [all other options you have]. Actions are a series of nurturing emails over an extended period of time.
The goal of that last workflow titled General Nurture is to keep your brand relevant in the eyes of people who could still be promoters or influencers, but not necessarily buyers.
Creating Saved Filters for Rejected MQLS and New MQLs
Now that you have your Reason for Rejection property in place and your automation ready to go, you can create a couple of saved filters to help your sales team work their way through their newly assigned MQLs on a daily basis.
Saved filters are views that your sales team can use on the main contacts screen to view just the leads they're looking for. I suggest having one view for them that shows them all their new Marketing Qualified leads that have not been rejected. The thee conditions you will need are:
Contact Owner is Me
Lifecycle Stage is Marketing Qualified Lead
Reason for Rejection is unknown
With this saved filter implemented, as soon as a sales person accepts a lead by updating them to Sales Qualified Lead, they will be removed from view. In contrast, if they reject the lead by adding a Reason for Rejection, they will also be removed from view. With this saved filter the sales rep can work through approving or rejecting their MQLs until the saved filter is empty.
Improving Your Handoff and Hand-back Procedures
Your lead rejection process can also help your marketing and sales teams audit your definition of a quality lead. Now that you have data around why the sales team is handing back leads, you can find commonalities and prevent those leads from moving forward automatically.
With this more formal lead hand-back procedure, you can market and sell confidently knowing all of your leads are being appropriately communicated with.