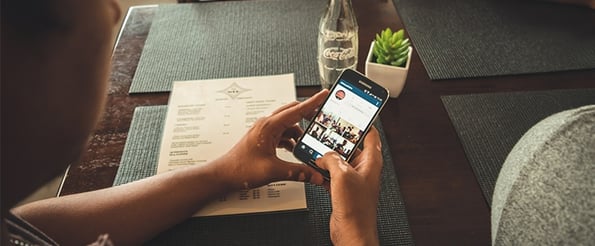 Instagram isn't just for celebrities and teenagers anymore. In fact, it's now the fastest expanding social network showing strong growth in nearly every demographic. Instagram's population now encompasses 53% of all online adults between the ages of 18 and 29, and 25% of all online adults between the ages of 30 and 49. Even better, nearly half of Instagram's users check it daily.
That's a lot of engagement going on. Yet many B2B publishers haven't created a successful presence on the network (or even an account!) Fortunately, these trade publications are ahead of the curve, and offer some insight for other publishers to follow.
B2B Publishers Who Aren't Taking Instagram for Insta-granted
1) John Deere (Manufacturing)
This company may be 178-years old, but you wouldn't know it by how well they use social media. In particular, their #DeereSighting user-generated content (UGC) campaign has been crushing it on Instagram, achiving engagement rates more than 40% the norm for the platform.
According to a recent Forrester study, Instagram boasts engagement rates that trounce Twitter and Facebook: 4.21% on average for an Instagram post, while neither Twitter nor Facebook break 1%. John Deere? Regularly gets between 3,000-5,000 likes per post. With a follower total of 65,900, that translates to engagement rates between 4% and 7.5%.
Nothing 'grams like a Deere.
2) Billboard Magazine (Entertainment)
In a glamorous industry, Billboard has the luxury of drawing on its rich store of celebrity photos to get attention. Yet they don't just rely on award shows and concerts to populate their page. Rather, they do a great job of integrating other mediums into their feed.
Most notably, they promote their print magazine in a stylish and deliberate way. The process starts with posting the new edition's cover. Roughly a week later, they publicize the print magazine again with a mocked-up image highlighting the cover story in a new way. In fact, Billboard was one of the few trade publications we found that edited its pics.
They are also one of the few publications incorporating video to promote their digital content.
3) Barista Magazine (Food)
This trade magazine, "serving people serving coffee" offers a wide variety of content on their Instagram feed to forge a genuine connection with its followers.
They posts pics reflecting their values, sharing what companies in their industry are doing, as well as their own promotional content. Barista Mag also remembers to include links back to specific articles on their site, or out to it's community's content.
4) Pizza Today (Food)
According to Simply Measured's recent report on Instagram, posts tagged with a location result in 50% more engagement than those without. One reason why engagement may be higher with location-tagged images is because location is a popular search criterion.
Pizza Today uses location tagging to enhance their promotion of pizza parlors—a big bonus for such a neighborhood-oriented industry. This not only helps their engagement, but also makes Pizza Today a great partner to restaurants.
5) Automotive News (Transportation)
We liked that Automotive News (AN) understands how to tailor their content to each social media platform. Businesses familiar Twitter best practices may hold on to the bias against using more than a couple of hashtags per post. And while the two-hashtag limit holds true for Twitter, it doesn't for Instagram.
AN alters their strategy by platform, and averages between seven to eight hashtags per post, increasing its chances of getting found. They also have a good mix of hashtags, including branded company names as well as more popular, generic terms.
6) American Spa (Health)
You have 2,200 characters available in an Instagram caption, plenty of room to include multiple hashtags and build a story behind your image. Here's one publisher that uses their caption space well to provide context for the image, referrals to additional content, a mix of hashtags, and @mentions.
7) Rangefinder and WPPI (Arts)
Innovation? How about this: two organizations that noticed an overlap in audience created a joint Instagram account. Rangefinder, a magazine for photographers, teamed up with WPPI, a trade association for wedding and portrait photographers. This sort of partnership is a great example of an effective way to target one segment of a market.
Rangefinder also uses this account to promote both the digital and print versions of their magazine with the visual creativity befitting of its market. Instead of using a digital image of its cover, they instead use a captivating photo of someone holding the issue. Nice touch.
8) Architect (Construction)
You would expect the Journal of the American Institutes of Architect to have gorgeous photos. Their feed doesn't disappoint.
However, that doesn't mean the content isn't focused on business. They use their profile bio to promote and link to specific content on their website. They were also the only publisher we saw that used Instagram as place to post infographics.
<
9) Artnet (Arts)
Just as with the previous publisher, Artnet's feed benefits from having an unending source of visually enticing content. But they don't just assume pretty pictures will hold their audience's attention.
They use their captions to create meaningful context around an image, regularly tag specific people relevant to an image, and they also repost (or "regrams") from others, and links to other people's content.
Lastly, they also promote their own and other businesses' posts in unobtrusive ways.
10) WWD (Fashion)
Here's another publisher with an unfair wealth of stunning imagery that goes beyond the obvious to offer up a wide variety of substantive content. If you're looking for types of images for your Instagram account, WWD offers examples of behind-the-scenes, personal stories, and community interaction posts, all while including a call-to-action to read more on their website.
Can you think of any other examples of great publisher Instagram accounts? Let us know in the comments below!