Several years ago we launched The Growth Show because we fell in love with audio as a way to inform, inspire, and engage an audience. There was something special about the medium, something immersive but also adaptable to the busy lives that people lead. Podcasts fit into our commutes, our workouts, our in-between times in a way that other formats just can't.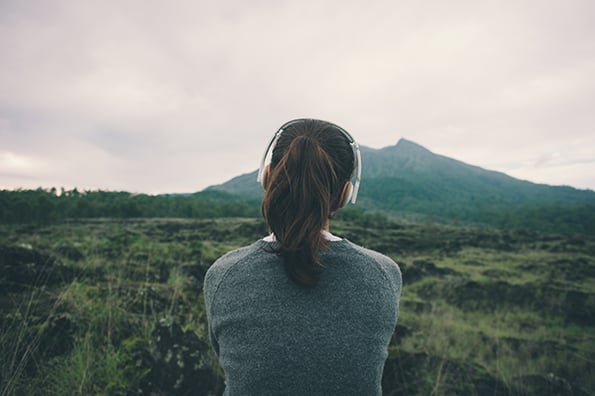 We were not alone in this love for the medium. A few mile-marker facts: Nearly 1 in four americans, roughly 68 million people are listening to podcasts on a monthly basis. Outside of the United States podcasts are being consumed at similarly a rapid rate. The average podcast listener skews younger with 44% of podcast listeners being millennials (18-34) and 33% being Gen Xers (35-54).
That means there are over 52 million people in the US in the early-to-prime portions of their careers listening to podcasts. The podcast audience tends to have a higher education level with over 57% having a bachelor's degree or above.
We launched 3 different podcasts, with 3 totally different approaches.
So if you want to start a podcast, good news is the water's warm. There's a strong and growing appetite for audio content. But what sort of podcast should you start? That question is a little harder.
The answer is highly dependent on what you want the podcast to achieve for your audience and company -- and most people aren't exactly sure. Plus podcast analytics are a little behind the times still so you get less insight into what's actually resonating in a show. Over the last three years we used three very different approaches to better understand the role that podcasting would play in our company. Here's what we found.
The Editorial Podcast
Our vehicle: The Growth Show (New season comes out today!)
Goal: Brand
Purpose: Use storytelling and guest selection to advance HubSpot's point of view.
In 2015 we launched our first podcast, The Growth Show. It started as a straight interview show with business leaders we respected and morphed into what it is today: a blended editorial podcast on unique approaches to growth.
Over the years, The Growth Show has garnered over 1.5 million downloads, been featured on iTunes New & Noteworthy, and consistently named a top business podcast. We have had unforgettable guests such as Alec Baldwin, Julie Zhuo Vice President of Product Design at Facebook, Jonah Peretti founder of Buzzfeed, and Kristen Kish a winner of Top Chef. And there have been no shortage of pivots and lessons along the way.
What's special to me about The Growth Show -- beyond the fact that I host it -- is that it has become a platform for us to use storytelling to highlight a different kind of business growth.
HubSpot has long espoused the idea that to make a legacy impact, it's not enough for your company to just grow bigger, you have to find a way -- and make the sacrifices -- to grow better. You have to pursue the sort of growth that hitches your success directly to the success of your customers.
The Growth Show is a platform for us to tell that uncommon growth story. Season three, which goes live TODAY, is all about companies that relied heavily on the advocacy and loyalty of their customers to fuel their growth.
The Mass-Appeal Podcast
Our vehicle: Weird Work
Goal: Reach
Purpose: Develop a mass-appeal podcast to bring entire new audiences into the fold
In 2017, we added to our podcast docket with the launch of the very quirky Weird Work. (You can read more about Weird Work in my post Why We're Starting a New Podcast That Has (Almost) Nothing To Do With Our Company).
The question we were pursuing was whether developing a mass-appeal show that had little to do with our core brand would help us tap into new audiences and create an opportunity for us to reach those audiences through sponsorship spots or related content.
With Weird Work, we tried our first attempt at monetizing a podcast by running HubSpot sponsor ads amid the content. We kept the ad relevant. Because the concept of the show often involved people making major career shifts to follow a (weird) passion, we ran ads for HubSpot Academy in the hopes that listeners interested in career pivots would also get value out of professional development classes.
We gave listeners a special URL, and set our expectations conservatively. We were hoping to get 100 visits to HubSpot Academy off the podcast. We ended up with 245 for the season. Nothing to hang the business on, but a sign that podcast listeners will take action on an ad.
The Tactical Podcast
Our Vehicle: Skill Up
Goal: Search Traffic
Purpose: Prepare for an uptick of Google search as a driver of podcast discovery.
Google has been leaning into audio content lately in its quest to organize the world's information. It has a new partnership with PRX International to remove barriers for people wanting to start podcasts, it introduced a new podcast app on android phones, and is on a mission to automatically transcribe podcasts and surface them in search results.
Seeing this sea change of opportunity in what has historically been the toughest nut to crack in podcasting -- discoverability -- we launched a new podcast this summer geared toward a common search query in our industry: SEO. Millions of people search Google every day looking for how-to advice, and for a number of them, audio may be the better format for that advice. The very tactical, Skill Up podcast is an attempt to be the answer those people seek.
So, where are we now?
Well, today we release our the third season of The Growth Show. Each week beginning October 17th we will be releasing an episode that explores the inspiring stories behind how people grow a business, an idea, or a movement. Scattered in between our normal weekly releases we are going to create short episodes that focus on hyper specific topics and trending news stories. I'll leave you with a teaser and then I'll hopefully find my way to your eardrums as a result.
A few of the upcoming episodes:
How Glossier is creating the future of brands with its customers
I turned down $30 Million from Mark Cuban on Shark Tank
How Spartan's Joe De Sena Fueled a Movement
Finding confidence in Founding ClassPass
What MoonPie can teach you about social media marketing
This is where I encourage you to subscribe to The Growth Show on Apple Podcasts, Spotify, Google Podcasts, Stitcher or wherever you get your podcasts. And you think: "Meghan, I know how podcasts work." You're right. You're right, but I had to say it.
Here's something you might not know. If you have a smart speaker like an Amazon Alexa or Google Home, you can also listen just by saying, "Play the podcast: The Growth Show"
Thank you all for those who do tune in to any of our podcast and to those of you who have shared our shows with a friend or left a review. We're all figuring out this evolving podcast world together and I truly truly appreciate the support.