Earlier this year, we wrote about the 2019 artificial intelligence (AI) outlook: a summary of the misconceptions, trajectory, and impact of AI as discussed at CES, one of the largest consumer electronics events of the year.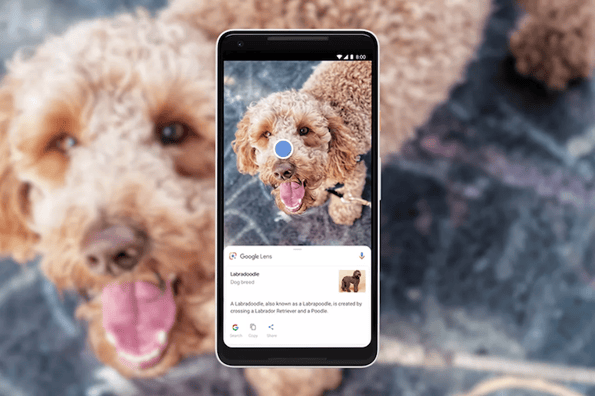 AI's past, present, and future impact -- on a number of industries and areas of operation -- makes for pointed discussion.
But there's a slight hiccup. Some consumers don't directly feel that impact of AI, even when it carries out tasks that have become an integral part of day-to-day life for so many -- shedding light on common misconceptions within this category of tech.
This debatable misunderstanding of AI -- of what it can and carry out, as well as where or how it appears -- is one factor that makes a recent report released by Google so intriguing.
Last month, the company published look back on its 2018 research efforts on the Google AI blog, where it painted an extensive picture of where its made the most progress within this realm of technology.
Here's a look at some of the highlighted projects, and what they mean for AI's outlook.
AI's past, present, and future impact -- on a number of industries and areas of operation -- makes for pointed discussion.

But there's a slight hiccup. Some consumers don't directly feel that impact of AI, even when it carries out tasks that have become an integral part of day-to-day life for so many -- shedding light on common misconceptions within this category of tech.
A Renewed Focus on AI's Ethics and Mission
The Research
Google opened its report with a glimpse at the emphasis it's placed on the role of ethics and mission-driven purposes within AI.
While both areas of focus are aligned, they accomplish different things. Within the realm of AI ethics, for example, Google spoke to training AI to "avoid creating or reinforcing unfair bias" -- that is, to avoid the replication of implicit human biases within machine learning, which is the technology that often teaches AI how to execute certain tasks.
To that end, Google even launched a course on Machine Learning Fairness, where it addresses the importance of reducing things like gender bias in the training of AI.
Within the broader scope of building ethical AI, it seems, Google has also placed an emphasis on building mechanisms for this technology for social and mission-driven purposes; for example, to better predict floods and earthquake aftershocks to help people most effectively prepare for the impact of such natural events.
To boost the development of socially-oriented use cases for AI, Google recently launched the AI Impact Challenge, in which developers can submit proposals for AI projects that "help address societal challenges."
In Other Words ...
AI is a multi-pronged area of technology. At CES, one of the greatest misconceptions of AI discussed by researchers was the belief that "AI will turn against us," conjuring memories of such classic films as Space Odyssey, in which a robot named Hal eventually learns to outsmart and betray its human counterparts.
To the contrary, Google is placing an emphasis on its AI research and projects to accomplish the opposite -- and to put systems in place that actually benefit humans on a natural scale.
The focus on AI ethics is one that resonated throughout many of the projects discussed below, and one that serves as a reminder for the crucial role of user trust in AI -- which can perhaps be achieved in part with ongoing efforts to build mission-oriented use cases for the technology.
Assistive Technology
The Research
We've spent a significant amount of time covering the evolution of voice assistants, and how the technology behind them is beginning to power more devices in more places.
Much of Google's AI research has focused on broadening the prevalence of technology that assists users with the execution of day-to-day tasks in a number of environments, both personal and professional -- usually, in a way that reduces the amount of time spent on them.
Case in point: Google's Smart Compose tool, which uses machine-taught AI to predict how someone might finish a sentence with suggested text in an email composition.
Source: Google
In a way, much of Google's AI research has been approached with the idea of, "Anyone can have a personal assistant." That sentiment became particularly salient with the unveiling of Duplex: a new assistive technology that will make phone calls and book appointments for users in a way that -- according to the product's initial demo -- sounds remarkably human, thanks to machine-taught natural language processing and speech recognition.
As Google puts it, the technology is as simple as asking the Duplex assistive technology, "'Can you book me a haircut at 4 PM today?', and a virtual agent will interact on your behalf over the telephone to handle the necessary details."
Check out two examples of Duplex in action: booking a salon appointment on behalf of a user in the first, and making a restaurant reservation in the second.
Audio source: Google
In Other Words ...
One of the core capabilities of AI -- and fears about it -- is the elimination of certain tasks to help users become more efficient. That's raised concerns among some about the potential impact of AI on job elimination: one of the items discussed by researcher at CES.
There, the consensus was that AI will actually create jobs in three key areas: training, explaining, and sustaining the technology. And the case made for the elimination of tasks by AI by many is that it allows users to focus on more complex, creative tasks -- those that a machine might not be able to execute with the same efficacy.
But much of this assistive technology has towed a tricky line along AI ethics -- Duplex, in particular, the potentially misleading nature of which many questioned when the feature was first unveiled.
Google believes it has a responsibility to tell people if they're talking to a robot via Duplex, but it doesn't know what the best way to inform is yet. Great report by @jjvincent https://t.co/qYYpnivUhb

— Dieter Bohn (@backlon) May 9, 2018
Google has addressed these concerns to some degree -- for instance, by allowing organizations with Google My Business listings to disable calls from Assistant or Duplex.
Natural Language Understanding
The Research
Finally, one of the key highlights from Google's AI research report is the area of natural language understanding: the technology that helps to power and inform many of the project elements listed above.
Many of us can imagine the stereotypical, monotone voice represented in earlier appearances of AI -- typically, robots -- in pop culture. But a key area of advancement within AI has been the humanization of it, in a way that makes user engagement with the technology more conversation and personalized.
This humanization of AI is accomplished primarily in two ways:
By teaching the AI to understand, conversationally and casually, what the user is saying to it.
By teaching the AI to respond in an equally conversational and casual manner.
Much of Google's 2018 research focused on the further improvement and evolution of natural language processing capabilities of AI -- made evident by the controversially human-sounding Duplex calls -- in part with the development of something called BERT.
BERT, Google explains, is a "pre-trained" and "unsupervised" natural language system that that can help developers build conversational question-and-answer systems for end users in a way that has shown improved results on previous natural language processing tests.
Source: Google
In Other Words ...
Last month, we wrote about a future in which "the robot is one of us": where artificially intelligent machines become members of the household, each with its own unique personality and skillset.
While this envisioned future hasn't quite become a reality yet, the evolution and rapid improvement of AI's natural language understanding paves the way to that potential outcome. It's a concept that many bot developers, for instance, are seeing in various ways that users engage with something as simple as Messenger bots: by asking the bots questions about themselves, sending photos, and sharing thoughts.
Perhaps the future doesn't see the complete overtaking or elimination of humans by AI -- but instead, will serve as one where humans and machine-trained, artificially salient beings work in tandem as colleagues or roommates.
It's not a future that will be free of challenges and controversy -- but as the documentation of these projects shows, the future of AI is one that, if nothing else, does show promise.
Featured image source: Google