Right now, Account-based Marketing (ABM) is the hottest B2B ticket in town — with 87% of marketers stating that it delivers better ROI than other marketing activities.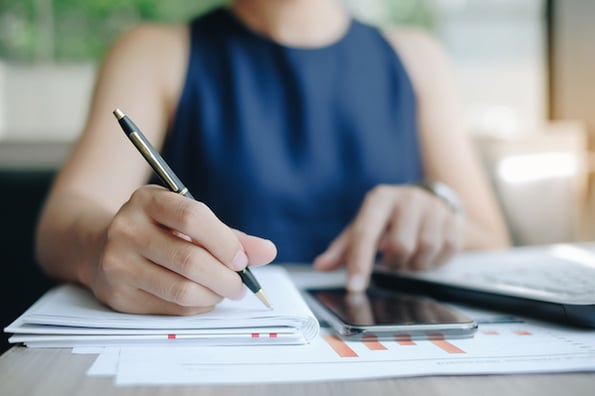 While for many people it may be a relatively new strategy, it has in fact been around for many years in different guises. In fact, you might've already heard the term as Key Account Management, Key Account Marketing, or Client-centric Marketing.
The objective of ABM is, quite simply, to treat one account as a market of one, i.e. to focus all your energy (and resources) on engaging, winning, and maintaining one named account.
Expanding on this, ABM has four underlying principles:
Client centricity and insight
Partnership between sales and marketing
Focus on reputation, relationships and, ultimately, revenue
Tailored programs and campaigns
Simple right? Well, the reality is that to justify this level of effort and resources the prize must be sufficiently large enough to warrant this expenditure. ABM therefore is best suited to complex, high 'ticket price' solutions with longer life-cycle sales, and where typically multiple stakeholders are involved.
Strategic ABM (one-to-one) and one-to-few (clusters of 15-20 accounts with shared commonality, i.e. vertical, industry, pain, challenge, etc.) have defined ABM for the last few years.
But there is a new ABM kid on the block who is shaking things up: one-to-many ABM.
The Rise of the ABM Tech Stack
One of the key reasons why ABM has become so popular and now forms a key part of any B2B marketing and sales playbook is the use of technology to automate and target those accounts (and individuals) you are looking to influence and convert.
The rise of one-to-many ABM programs targeting hundreds (and even thousands) of accounts has been largely possible due to the technological and data advances that are now available to B2B marketers.
Quite simply, one-to-many ABM would not have been possible several years ago.
Bev Burgess, one of the world's leading ABM authorities, recently stated "One-to-many ABM now allows companies to have an 'Always-on' strategy to those accounts that are of interest to you'".
What is Account-based Advertising?
The analogy most commonly used to describe the difference between ABM and Inbound Marketing is fishing with spears vs. fishing with nets. As the image below shows, ABM is the inverse of Inbound Marketing:
Account selection is the starting point. As such, being able, from the outset, to target named accounts and the relevant Decision Making Unit (DMU) within the account is the foundation of any successful Account-based Marketing program.
And this is where Account-based Advertising comes in. Account-based Advertising allows you to hyper-target and hyper-personalize digital marketing campaigns to these named accounts.
Simply put, account-based advertising means your digital advertising campaigns are highly focused and centered on only those accounts you wish to engage, penetrate, and win.
Account-based advertising allows you:
Amplify your digital advertising campaigns to increase the chances of winning a deal. Expanding your retargeting from the original website visitor to the wider DMU will increase your chances significantly.
We're familiar with the large number of target account contacts involved in a decision making process (6-10 according to Gartner). Digital advertising allows you to reach and influence this wider important group.
Focus your marketing spend and drive higher ROI of your digital advertising budget by targeting those accounts that display intent signals.
How to be Successful with Account-based Advertising
Let's take a look at what makes up a successful account-based advertising campaign.
1. Consider your account-based advertising options.
There are many digital advertising options available (and the number is growing). There are a large number of digital advertising partners and ABM platforms that can provide access to these channel tactics.
Ensure you carefully choose your tactics and channels, based on your marketing budget, messaging, and audience.
A) Programmatic Advertising
Many of us are familiar with this form of advertising. These advertisements are generated via cookie-based targeting and the advertisements appear natively in-channel, delivering a far more natural impact. The ads are served up on websites and apps through online platforms such as Google, Avocet, or AdRoll publication networks.
A subset of Programmatic Advertising allows you to target the actual device that conducted the search, as well. This is a step forward from traditional IP-based targeting, particularly in light of the explosion in remote working in the last few months which will undoubtedly continue for some time.
B) LinkedIn Paid Advertising
LinkedIn has become a major player in the digital advertising arena. They offer a (growing) number of formats and options for you to target the Accounts and/or Persona of interest to you:
Advertising options such as Sponsored Content allow you to deliver content to the LinkedIn feed of members beyond those who are following you or your company — which enables you to target specific prospects within target Accounts. The important benefit is specific content can be delivered at-scale.
Additionally, LinkedIn paid advertising allows you to test different ad units depending on the campaign objectives, which stage of the funnel to which you're looking to promote, and the scale of the tactic/channel.
C) Content Syndication
This is a common awareness stage tactic you might use for one-to-many ABM to promote your content across a wide B2B content syndication network of websites, blogs, social media, etc. (To learn more about how to syndicate your content, take a look at Content Syndication: What It Is & How to Do It Successfully).
D) Retargeting
We're all familiar with retargeting, although we may not know it. Did you ever notice that ads appear related to your recent searches when you're reading your favorite blog content or perusing Facebook? This is thanks to retargeting.
Retargeting is a feature that lets you customize your display ads campaign for people who have previously visited your site, and tailor your ads (using dynamic retargeting) to these visitors when they browse the web and use social media apps.
The key here is not to tire your audience with the same ads but to constantly refresh and always be relevant to your audience.
2. Keep your audience and persona top-of-mind when personalizing content.
Data-backed buyer persona research is the foundation of any ABM campaign and this is certainly true with any digital advertising campaign that accompanies it.
Personalization is key. Desk research and in-depth insight reports will shine a light on the account and the industry to which it belongs. Further research into the DMU and named individuals within the account will inform your messaging and digital advertising strategy.
Keeping your audience in-mind will ensure your content resonates.
Remember that your message will be read by human beings who are facing specific challenges, so make it a priority to understand their pain points and challenges.
Always ensure that your message is empathetic, builds rapport, and focuses on how you can help solve their challenges — rather than how great your business is.
Putting your personas at the heart of your campaign strategy will help you see success with your Account-based advertising campaign. Always review which of your previous campaigns have resonated strongly with your audience — what content formats and language do they respond to best?
3. Make your messages as relevant as possible to your target audience.
With an ABM one-to-one campaign, you should research the target company in detail to make sure your messaging is as relevant as possible, speaking to both the challenges of the persona and the organization at-large. With a one-to-few program, you might customize the message by industry vertical or sales challenge.
Even at the one-to-many level, consider how you can add light-touch personalization and keep it relevant. Review whether the advertising tactic/channel you choose enables you to add some helpful personalization tokens, including first name, last name, company name, job title, and industry.
As a general rule, it's best not to get too carried away with the number of CTAs you use. Rather than presenting users with a short message and five CTAs, start by compelling them to take the most important action first (such as downloading an ebook) and then stagger the additional options using the sequence to ensure there's enough context around each offer. The 'ask' should be crystal clear!
4. Consider your searcher's intent and use the right keywords to match it.
Intent data can provide valuable insights to help you ensure that you target only those Accounts that are in an active buyer's journey. The image below illustrates the process to narrow down an initial 'in-house' Target Account list by a) looking at your first party data — who is engaged with your brand? and b) using intent data to see which Accounts are in an active buyer journey.
This intersection of first and third-party data is the sweet spot and where your Account-based Advertising can be deployed at will.
Equally, when it comes to the topics and messaging you'll be sharing, intent data can ensure they will resonate with your intended audience. What keywords are they trending around and does your messaging answer the questions they're actively trying to solve?
Image Source
Work any relevant keywords into your sequence ... without going overboard with buzzwords, of course!
Even though your audience may be trending around multiple topics, it's best to keep your messaging focused on just one topic to avoid confusion. This ad format works especially well when you have multiple assets around a single topic — for instance, an ebook, video, and blog article. This enables users who aren't ready to convert yet to explore some of your other content and increases your brand awareness within the audience.
Top tip: If you only want users to take a single action, then consider using LinkedIn InMail messaging or a Sponsored update, instead.
It's All In Your Hands
Account-based Marketing is clearly here to stay, and more and more organizations will adopt or expand their existing ABM programs.
Data and technology now open up a myriad of opportunities to B2B marketers to deliver a hyper-personalized experience that will only increase as new ways are discovered to seek out and target the accounts you wish to win or grow. Account-based advertising will be a thrilling area to watch over the coming months and years.