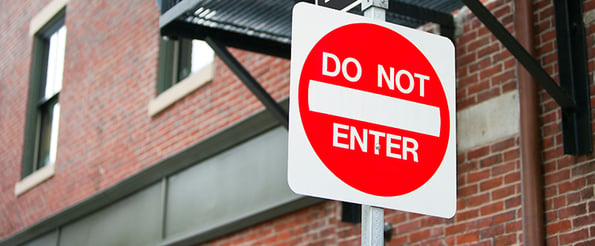 Ad blocking is causing a lot of stir in the the news lately, most recently brought into the spotlight by Apple's release of iOS 9. That which has come to keep the lights on for many publishers is now seriously at risk of being taken away if ad blocking continues to scale and prevent display ads from being served to mobile users.
So What is Ad Blocking, and Where Is It Going?
The way ad blocking technology works (at least for now) is, using a list of advertiser IP addresses, it detects content coming from one of those IP addresses and then summarily rejects that content or "strips" it from the web page, usually filling the space with other content so the reader's viewing isn't full of holes where advertisements had been.
At the moment, ad blockers generally deal with the most "annoying" types of ads, such as pop-ups, pre-roll video ads, or retargeted ads. It's easy to see why this technology would have mass appeal to mobile users, constantly battling slow networks on tiny screens.
Ad blockers, while a hot topic right now, are hardly new. Several popular browsers—Chrome and Firefox for example—have supported third-party plugins on desktops for years. But while these plugins have been downloaded hundreds of millions of times by users, ad blocking features were never built directly into browsers, nor were they available on the mobile web.
The data behind this technology shows it hasn't been widely adopted just yet, but still remains a looming thread. According to eMarketer, a conservative estimate of 10-15% of internet users in the US are "actively blocking digital ads," skewed toward younger demographics. This may not be a crippling number at present, but substantial enough to warrant the attention of those reliant on banner ads for part of their revenue. The shift will only grow more troublesome as users become more savvy about their options, and developers continue to release built-in or third party ad blocking technologies.
Why Publishers Are Worried
According to recent predictions from Digiday, by 2018 mobile display ad revenue will surpass desktop, reaching a, estimated $55 billion in total. This is no surpise as audiences are moving to mobile faster and faster, spending 24% of their time on mobile devices—and rising.
What's most scary here is the trending juxtaposition that as this mobile usage increases and publishers are becoming more heavily reliant on mobile audiences for revenue, this environments is becoming less and less effective for traditional digital advertising techniques.
Using Sponsored Content in Response to Ad Blocking
Luckily, there are ways to skirt the effects of ad blocking be looking outside of display advertising for online monetization.
Sponsored content, so long as it's not published through ad networks, is not affected by ad blocking. As mentioned, ad blocking currently targets the "annoying" types of ads like pop ups and banner ads. It doesn't strip on-page content, like landing pages and in-text call-to-action buttons, so these assets can still be served to the readers as a means to promote and distribute sponsored content.
Though not as quickly or easily produced as display ads, the extra labor that comes with sponsored content can be an added benefit for publishers and advertisers in the long run. After all, stat after stat shows that banner ads are only marginally effective.
By forcing publishers to look beyond traditional PPC ad units, ad blocking may actually be helping to facilitate better publisher/advertiser/reader relationships. Whereas online publishing websites may have contained 80% useful information, and 20% banner ads, they can now be entirely composed entirely of quality content—while still turning a profit.
Outside of having a greater appeal to readers, sponsored content also allows publishers to close the "transparency gap" that's often associated with reporting and ad blocking. It's difficult to always know or understand what's really happening with ads of any kind deployed via ad networks. Case in point, according to Google 56% of all the impressions served on their display platforms may never actually be seen.
With sponsored content served directly through a publication's site, advertisers are able to see all the metrics associated with their campaign's assets, and therefore directly report on views, leads, MQLs and even net new customers.
Ad blocking has certainly caused waves in the industry, but is by no means a death sentence for publishers. Navigating these choppy waters will take some getting used to, but in the end publishers, advertisers, and readers stand to gain a much better online experience.