I've heard multiple people declare Adobe Fireworks the "Swiss Army knife" of design software, and after doing my research, I've come to believe it.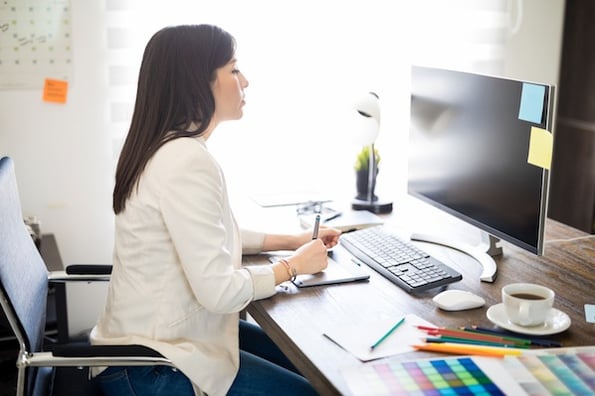 A Swiss Army knife is capable of meeting most of your demands, but its simplicity makes it less of a burden than carrying around the tools individually.
Adobe Fireworks is much like that -- it provides versatile features to create website mockups, vector art, and interactive prototypes, but its simple interface makes it quicker and easier than other design software like Adobe Illustrator.
Many users assume Adobe Fireworks is simply a starting point for creative projects, but that isn't necessarily the case. Here, we'll explore the six great ways designers can use this software as a fully fledged design tool all its own.
What is Adobe Fireworks?
Adobe Fireworks is software to help you create mockups of websites and user interfaces, as well as wireframes and interactive prototypes. You can use vector and bitmap editing tools, simulate interactivity, and export your mockup in PDF format. You might also use it to create Rich Internet Applications (RIAs), or collect design objects like the company logo to be used repeatedly across projects.
Adobe Fireworks CS6
Adobe Fireworks CS6 provides tools for web designers to create mockups or graphics for web pages. Once you've created a design or prototype in Fireworks, you can export it as single-page or multi-page PNG file. Additionally, you can further edit Fireworks code in Dreamweaver, Coda, or another code editor. Fireworks also offers a variety of extensions.
A Fireworks file can be exported to JPG, GIF, PNG8, PNG24, PNG32, TIFF, and other graphic formats, making it more versatile than Photoshop for exporting options. You can also compress a file for iPad or iPhone.
Basic features of Adobe Fireworks include:
The tools to create and edit bitmap and vector images or objects
The ability to create web effects on a web page prototype, including rollovers and pop-up menus
The option to animate your graphics
Pre-built custom templates for website mobile, desktop, or web frames to get started with your next design project
The ability to create an animated GIF
For a comprehensive list of everything you can do in Adobe Fireworks, check out Adobe Fireworks CS6 PDF manual.
Why You Should Use Adobe Fireworks
Now that we've explored basic features of Adobe Fireworks, let's consider six great ways you can use the software for your own design purposes.
What is Adobe Fireworks used for?
Primarily, Adobe Fireworks is used to create mockups of web pages. It offers options to create interactive website prototypes, including tools to include buttons and navigation bars, and then provides the ability to export the mockup in PDF format. Additionally, you can use Adobe Fireworks to create and edit vector and bitmap graphics, and design animated GIFs.
1. Design Realistic and Interactive Website Mockups
If you need to show a client how their website will look in-action, Fireworks provides all the necessary tools. You can create buttons, navigation bars, master and sub pages, and add text, symbols, and images. If your design team works in Illustrator or Photoshop, you can import designs from those applications into Fireworks. Your web pages will be editable in both vector and bitmap modes. Plus, you can create interactive prototypes to simulate how the design will interact with a user. When you're ready to show a client, simply export your Fireworks design as a PDF.
If you typically use Dreamweaver to create web pages, it's easy to use Fireworks in conjunction. Dreamweaver has a command for importing Fireworks HTML, so you can move back and forth between the two to create your ideal web pages or graphics.
2. Create Vector Art
Fireworks offers a comprehensive collection of vector-based objects and shapes, such as polygons and flow charts, to provide everything you need for most vector editing tasks. You can easily modify a vector object, and you might find Fireworks an easier user interface than Illustrator for vector creation.
If you're considering a logo redesign for your own company or a client's, Fireworks makes it easy to experiment with different vector graphics to create an icon that suits your needs.
3. Use it for Online Designs
Matthew Inman, an illustrator and designer, prefers to use Fireworks over Illustrator or Photoshop when designing The Oatmeal's online comics. If you need to create illustrations or designs for your website, you might consider checking out Fireworks rather than Photoshop, especially since Fireworks is a cheaper and sometimes easier alternative.
4. Create Print Materials or Organize Your Print Layout
As long as you modify your artwork's resolution in Fireworks, you can print your designs for posters, flyers, business cards, etc. It might be a good idea to use Fireworks as your design tool for print promotional materials, particularly if you want to A/B test your products and need a cheap and easy method to do so.
If you need your print materials to be higher quality than Fireworks offers, you can still create an initial layout in Fireworks to organize your text and images on the page and experiment with different designs before creating the final version elsewhere.
5. Design Animated GIFS
While Fireworks isn't inherently an animation software, it can meet your basic needs for creating an animated gif. You can either use the gif as a website graphic, or export the gif into a Flash player.
Creating an original animated gif might be a creative way to attract an audience to your social media accounts, as well. Check out Total Training's tutorial if you're interested in creating an animated gif in Fireworks.
6. Collect Design Objects
One of the easiest ways to avoid tedious repetition when it comes to your design is to use Fireworks' Symbols panel to collect your most popular design objects and store them. For instance, you might save a company logo in the Symbols panel to use across multiple web pages, or save a vector image you often use. When you're ready, simply click, drag, and drop your saved design anywhere on your Fireworks page.