When Snapchat first emerged on the scene back in 2011, it was excusable to dismiss the ephemeral photo-sharing platform as just another shiny piece of millennial bait.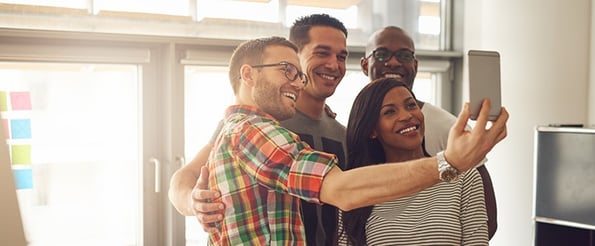 But things have changed.
The once niche app has grown into one of the least ignorable social media forces in the industry, wooing marketers with its command of more daily active users than Twitter. But does any of that matter for agencies?
For agencies looking to diversify their reach and prove their digital dexterity in a competitive field, Snapchat marketing has proven to be an unexpectedly valuable tool.
Here we'll show you how eight marketing agencies are using Snapchat to grow their brands, recruit new talent, and connect with their audiences in a whole new way.
8

of the Best Agency Snapchat Accounts
1) Marcel Worldwide
When they're not working on ad campaigns for Uber, Ray-Ban, and Instagram, this Paris-based ad agency can be found snapping up a storm. Their creative use of filters, emojis, and cameos from team members portray their daily office life as anything but dull.
Marcel is perfect proof that running an agency Snapchat account doesn't require a huge time commitment or tediously polished design. In fact, it's the playful, behind-the-scenes vibe of their team's snaps that make them come across as charming and genuine.
2) Giant Spoon
Recently named creative agency of the year by MediaPost, it's no surprise that this marketing strategy team has been a quick and enthusiastic adopter of Snapchat. On their website, they invite fans to follow their account for an eclectic assortment of "intel, faves, trends, rants, and other surprises."
Since Snapchat's content isn't permanent past 24-hours, there's no need to carefully curate a particular aesthetic. As Giant Spoon shows us, Snapchat is a chance to experiment with odds-and-ends content that might not fit well on any other channel.
Here are a few screen shots of their intern giving a presentation called Millennials: A New Political Paradigm Shift. (Yes, we zoomed in a lot).
3) RPA
RPA's Snapchat feed pulls back the curtain on a top marketing agency to reveal the heart and soul of the team behind the scenes.
Their feed lets followers experience the daily grind of the creative team -- a low-investment way to show off their agency's culture and generate interest from job-seekers.
4) ClearPivot
ClearPivot, a Denver-based inbound marketing agency, takes a decidedly unique approach to Snapchat. Instead of merely sharing glimpses into their office life and culture, they treat the platform like a micro video blog, addressing their audience directly to discuss the latest marketing news and social media hot topics. It's like having an inbound marketer in your pocket.
4) VaynerMedia
This digital agency has made Snapchat central to their social recruiting strategy. They use the platform to highlight their unique culture and draw in potential employees with their commitment to transparency.
"As a company, we're constantly storytelling for our clients and we mirror that same approach on Snapchat by showcasing what individual employees' days look like," said Chief Heart Officer Claude Silver in an interview with Recruiting Social.
Not only does the agency compose compelling snaps of daily life at VaynerMedia, they also directly respond to their followers' questions for a more engaging experience.
Image

via Recruiting Social
5) Huge
Digital agency Huge lets followers tag along for everything from high-profile events to the daily office grind at any of their 14 offices worldwide.
In contrast to the agency's meticulously polished and curated Instagram presence, their Snapchat Stories feel like a backstage pass to the real action. Other digital agencies should take note: You can't claim to fully understand a social platform until you've proven you can use it effectively yourself.
6) FRED & FARID
FRED & FARID, the marketing agency behind major campaigns for HP and Balmain, lets employees from their Paris, Shanghai, Beijing, and New York offices share vignettes of their creative endeavors.
Their Snapchat presence gives the big agency a personal touch, inviting followers to experience all the work that goes into an ad campaign first-hand.
7) DigitasLBi
How do you make an agency with 40 global offices seem less intimidating and more accessible? Start with a group selfie.
DigitasLBi has found success with their Snapchat account, sharing videos and pictures of daily life to show followers what it's really like to work at the agency. An added bonus? Letting multiple offices participate in the platform can help boost moral and foster a sense of community.
8) ExtrêmeSensio
As this French agency proves, you don't have to be constantly attending events or rubbing shoulders with celebrities to produce an interesting and worthwhile Snapchat presence . Extrême Sensio's snaps offer simple, personal glimpses into the agency's world.
Is your agency on Snapchat? How do you use the social platform to engage your audience and highlight your company?