The other day, I was airing some grievances to a friend. The whining topic du jour: artificial intelligence, or AI.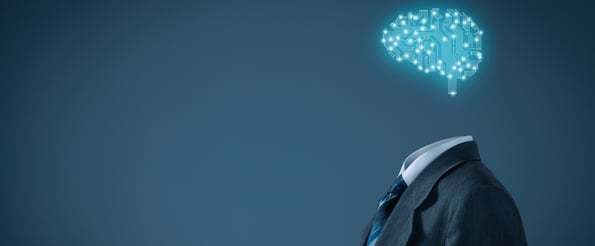 "Every time I hear about it, I think, 'Sure, that's cool,'" I said. "But sometimes I wish it would slow down -- there's so much happening there, and so fast."
"Well, I have bad news for you," my friend told me. "It's not going away anytime soon."
He was right. AI continues to be all the rage in the worlds of both tech and business, and is growing at a lightning-fast pace. At the most recent Google I/O, an entire suite of new AI-related product features were unveiled. Microsoft, meanwhile, launched an entire investment arm dedicated to this type of technology. And as research from CB Insights indicates, in 2016, over 500 AI startups raised roughly $5 billion in funding.
But which ones are going to stick around?
We thought you might ask that -- that's why we sought out the six that have piqued our greatest interest. We've listed them below and summarized what it is that they're trying to do … and why they've got our attention.
6 Artificial Intelligence Startups to Watch
1) Bizible
What the Company Does
In its earliest days, Bizible's revenue attribution product provided technology to help its customers better assess spending activity and make better decisions. Now, its new revenue planning product uses machine learning to help B2B marketers plan for every revenue-related scenario. Think: The product crunches the historical revenue attribution data to help predict what GeekWire calls "'what if' scenarios — like increasing marketing spend ... or reducing event sponsorship budgets."
Why We're Paying Attention
We love it when companies examine what they already do best and say something like, "Wait a minute -- we can use this information to make something even better."
In Bizible's case, that was the marketing expenditure data it already organized and helped customers analyze. The next step, the company decided, was to help marketers make even better use of that data -- with the help of intelligent algorithms that predict the results of a given current spending track, and provide budgetary alternatives that address the aforementioned scenarios.
It's that AI technology, CEO Aaron Bird told GeekWire, that helps marketers "have a good understanding of causality in the past ... in order to do a good job of planning the future."
2) UiPath
What the Company Does
New-York-based UiPath is known best for its robotic process automation (RPA) technology -- the kind that helps to automate what can become tedious business tasks, like data entry. As PYMNTS explains, eliminating the need for human labor on such processes can help "companies save money by offloading these tasks from human contractors."
Why We're Paying Attention
To be completely honest -- the type of technology being created by UiPath scares us a little. The potential drawback of human job elimination by way of AI continues to be a hotly-contested topic, and while it does make us slightly shake in our boots, we can't help but be fascinated by the companies that throw their respective hats into that particular automation ring.
But we also find ourselves drawn to the UiPath Academy -- a "free of charge, self-led online learning environment where anyone in the world can enroll and train to obtain a UiPath RPA certification." The point of that certification? Creating more RPA experts that can help companies implement and make the best use of technology like UiPath's.
From a certain perspective, that could be seen as UiPath's method of countering the potential job elimination resulting from widespread RPA -- by cultivating a population of experts who know how to make the best use of AI within certain organizations.
3) vHive
What the Company Does
In the B2B realm, most marketers don't spend a ton of time thinking about how they would make use of a fleet of drones -- at least, we don't. That is, until we learned about vHive: The maker of cloud-based technology for enterprise-level organizations that want to use drones to manage field operations.
Why We're Paying Attention
Drones are an area of technology that's seen mixed results over the past decade. Many brands continue to experiment with numerous uses of drones -- one of the most interesting cases we've come across is telecom company BT using drones to provide internet service in places impacted by war and natural disasters.
But at the same time, few brands seem to be able to truly make it work -- some are missing sales estimates, laying off members of their drone teams, or closing up shop altogether. So when we learn about startups in this realm receiving high amounts of funding -- vHive secured $2 million from VC and private investment in its first round -- it makes us ask, "Okay, so what's different about this one?" Perhaps it's the focus on fleet management, or the target audience of enterprise-level companies, but we're curious to see how this works out.
4) Agolo
Source: agolo
What the Company Does
Another player in the New York AI field, Agolo's technology is designed to synthesize and summarize the media most important to professionals in order to do their jobs. Here's a peek at how it works:
Why We're Paying Attention
Information overload is a problem that doesn't seem to be going away -- at least, not anytime soon. And as bloggers, we often have to monitor a high volume of news about marketing and technology. That's why intelligent systems like Agolo's tend to make us positively giddy -- they can help us figure out what we need to do, and automatically find and summarize the news that's going to help us best do our jobs.
But that benefit isn't limited to bloggers. Marketers from every industry struggle with staying on top of the news and content they need to see in order to remain informed about competition, regulations, and more.
5) Vault
What the Company Does
Another Israel-based startup, Vault's technology has a primary focus on the entertainment industry. It uses big data to help professionals in this sector address and resolve both marketing and financial decision-making problems -- partially with its box office sales prediction technology.
Why We're Paying Attention
Even though it's been a while since I actually visited a movie theatre, I still positively geek out over box office rankings. After all, I'm both a consumer and a marketer, and I like to see the products -- software and films alike -- that amass an eyebrow-raising audience.
That's something that makes one of Vault's products, Deep Audience, so interesting to us -- its ability to take the entertainment industry's media assets, like movie trailers or a script, and apply an algorithm that can analyze who's going to be drawn to it.
From there, entertainment marketers can make important decisions about how to package and communicate the product to this audience, depending on size, composition, and other factors. Our hope: The Deep Audience becomes available and applicable to marketers within industries beyond entertainment.
6) All Turtles
What the Company Does
Okay, so we may have cheated a bit on this one. All Turtles is actually a self-described "AI startup studio" that provides guidance and other resources to founders of companies within this sector. The approach, according to its website, is to tackle "one frontier at a time," starting with AI.
Why We're Paying Attention
The act of AI startups receiving funding isn't exactly rare news -- after all, that's how we found out about many of the companies on this list. What intrigues us about this one, however, is that it's a startup for startups: one that was founded by Phil Libin, who's held executive roles in both the VC and tech sectors.
That's a powerful combination of skills and experience. We're curious to see how it's applied and carried out in an area of business and technology that, in the grand scheme of things, is still in its earliest stages -- but shows no signs of ceasing to grow at full-tilt.
Types of Intelligence
What stands out to us about many of the companies listed here is the potential impact their work could have on a number of populations. Automated business processes, predictions, and fleet management are all very cool -- but we're eager to see how many of these brands develop technologies that will benefit individuals on a personal level. AI certainly has the ability to help professionals do their work more seamlessly. But it could also have a positive impact on, for example, aging populations, by automating in-home assistance that can keep seniors healthy in their homes longer.
In any case -- these are just some of the reasons why we're watching the world of AI unfold.
Which AI startups are you keeping an eye on? Let us know in the comments.