During the summer of 2016, Pokemon Go revived countless amounts of people's inner Ash Ketchum, making street corners, parks, and backyards look like an arcade from the 80's. Over 100 million people lived their childhood fantasies of catching, training, and battling Pokemon in (augmented) real life that summer, and the app's enormous popularity sparked public interest in augmented reality technology as a whole. In fact, since Pokemon Go's release, the number of AR app downloads has exploded by over 300%.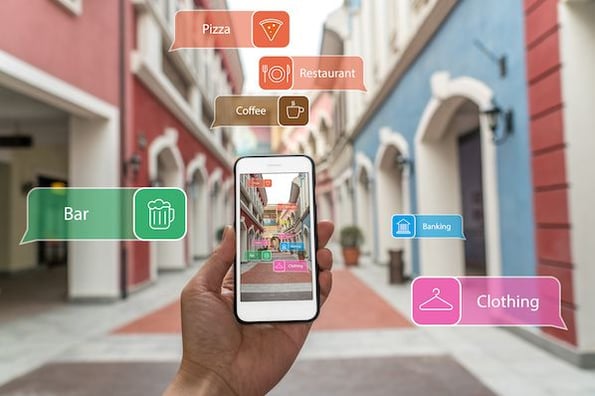 If you want to see what all the augmented reality hype is about, but don't want to download and test out the more than 2,000 AR apps on the App Store right now, we've got you covered.
We curated a list of this year's best mobile AR apps to help you enjoy the technology's current capabilities. And in our humble opinion, they can be more fun and engaging than the app that took augmented reality mainstream.
10 Augmented Reality Apps That Are Better Than Pokemon Go
MondlyAR
Inkhunter
Star Chart
Housecraft
Roar Augmented Reality
GIPHY World
Holo
Just a Line
Splitter Critters
Euclidean Lands
App Rating: 4.7/5.0
Available On: IOS & Android
Price: Free
Even though my parents are native speakers of Mandarin and I took a year-long Chinese course in college, I'm still terrified to speak the language. My American accent and lack of fluency is personally too embarrassing, so I just don't speak Mandarin -- ever.
But one of my goals in life is to become fluent in the language, and the only way to accomplish this is by constantly conversing with native speakers. I can't seem to muster enough courage to reveal my weak speaking abilities to them, though.
If you're in similar situation, you might feel like you're trapped in a vicious cycle, where your embarrassment leads to inaction, which leads to decline and, ultimately, more embarrassment.
Luckily, Mondly, a language learning platform, created an AR app to help you practice your speaking abilities with your very own virtual language assistant.
Your digital assistant can converse with you in seven different languages -- Spanish, French, Italian, Portuguese, German, British English, and American English -- and with MondlyAR's advanced features like speech recognition, chatbot technology, and artificial intelligence, she can also give you feedback on your pronunciation and make your lessons as engaging as possible by summoning virtual animals, instruments, and other objects to your room.
App Rating: 4.7/5.0
Available On: IOS & Android
Price: Free
Getting a tattoo can be one of the most stressful decisions of your life. If you get the wrong one, it'll stay with you forever -- until you opt for laser tattoo removal.
Fortunately, though, Inkhunter leverages augmented reality to take the guesswork out of getting a tattoo. After you upload your own art to the app or choose designs from Inkhunter's gallery, all you have to do is mark the potential area for your tattoo and hover your phone over the mark to see how it'd look on your body, letting you think before you ink.
3. Star Chart
App Rating: 4.5/5.0
Price: Free
Stargazing has been a pastime for thousands of years. Who doesn't love admiring a bright, dusty sky full of stars and learning about the wonders above? Unfortunately, if you didn't study astronomy, the heavens can be quite challenging to understand.
With Star Chart, though, you can identify any star, constellation, meteor shower, comet, and planet in our solar system. All you have to do is point your phone to the night sky, and the app will automatically follow your movements, chart the sky, and teach you some cool tidbits about space.
App Rating: 4.5/5.0
Available On: IOS
Price: Free
Designing a room is just like getting a tattoo. If you buy the wrong furniture, it could ruin the room's entire aesthetic. And you'd have to deal with the embarrassment of living in an eye-sore -- unless, of course, you shell out more money on some new furniture. But even if you buy the most expensive furniture, it still might not fit your room's look. The same thing could happen all over again.
To avoid this regretful situation, consider downloading Housecraft before you buy any new furniture. The app uses augmented reality to place fully rendered 3D models of a variety of furniture in your home. And all the furniture is resizable to fit your room's dimensions, observable from any angle and in any light, and you can even save specific room designs for future reference.
You can also use Housecraft just for your own amusement. With the app's video recording feature, you can document your dream home or something utterly absurd, like a room filled with potted plants, and send them to your friends and family.
5. ROAR Augmented Reality
App Rating: 4.3/5.0
Price: Free
ROAR is like Shazam, but for food and beverages. The app lets you can scan over 10,000 different products to learn about their prices, nutrition facts, ingredients, reviews, and relevant promotions.
You can also compare any product's price in ROAR's database by retailer, buy select items within the app, and even scan movie posters to buy tickets for the next show at certain theaters.
With all this valuable information at your fingertips, ROAR is like your personal shopping advisor.
App Rating: 4.6/5.0
Available On: IOS
Price: Free
GIFs are already one of the most popular and lovable ways to communicate through messaging and social media, but Giphy didn't want to end their empire there. After the viral success of Snapchat's dancing AR hot dog, they developed an AR app called GIPHY World, which arguably makes AR communication just as fun and engaging as Snapchat does. The app lets you record AR GIFs and stickers directly into your videos, post them to the internet, and share them with your friends who also use the app.
Nowadays, not a lot of people complain about the amount of GIFs they receive -- they usually rave about them. And since AR GIFs are novel, unique, and hilarious, their popularity will most likely soar.
App Rating: 4.4/5.0
Available On: IOS & Android
Price: Free
Similar to GIPHY World, Holo lets you place AR visuals into your photos and videos. But the main difference between the two apps is that Holo's AR visuals, or holograms, are of celebrities and famous fictional characters. Taking a selfie with Spider-Man is entirely possible on Holo, and regardless if your friends believe you're tight with Peter Parker or not, the AR app is still an incredibly unique and fun way to interact with people.
App Rating: 4.6/5.0
Available On: IOS & Android
Price: Free
As one of Google's flagship AR apps, Just a Line is surprisingly simple -- the only thing you can do on the app is make simple drawings.
But Just a Line can actually be just as fun and engaging as a more sophisticated AR app, if you're creative. To draw things in the app, all you have to do is doodle on your phone's screen. Then, you can press record to document your AR masterpiece.
Just a Line can also sync your phone with your friend's phone, letting you both share the same drawing space and potentially play the most engaging Tic-tac-toe game of your life.
App Rating: 4.8/5.0
Available On: IOS & Android
Price: $2.99
Splitter Critters is an AR game that projects aliens who are lost in a forest onto a white box the game's developer sends to you. By slicing the forest with your finger, your goal is to lead the aliens back home to their UFO. Splitter Critters might seem simple and straightforward at first, but there are a whopping 57 levels, so it's definitely a challenge to beat the entire game.
App Rating: 4.7/5.0
Available On: IOS
Price: $3.99
Euclidean Lands is like the 3D version of the popular mobile phone game 2048. To win, you need to hone your spatial awareness, geometry skills, and perspective taking. Thankfully, you can play the game in any wide-open space, making it easier to devise a strategy that will help you beat each level.