If you've heard of retargeting and think it's a strategy you want to invest more in, you're in good company.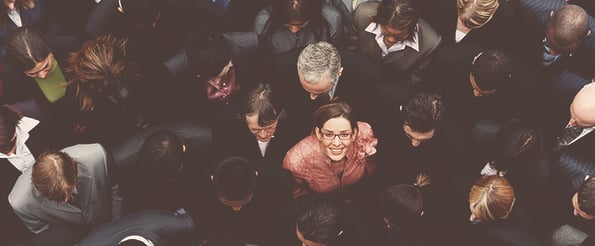 According to a study by AdRoll, almost 90% of marketers are planning to increase or maintain their retargeting spend in the next year. Although it's a popular tactic for marketers, if you're new to retargeting, it can be tough to know how to get started.
In this article, we'll cover the basics of retargeting and the ROI, lead generation, and lead conversion benefits it can bring to your marketing efforts.
The following is an excerpt from The Beginner's Guide to Retargeting, a free guide we created with the experts at Perfect Audience. If you'd like to access the full guide, click here.
In the old days of advertising, the name of the game was reach and frequency. Brands preferred mass media vehicles like television and radio because they were the easiest means to reach large audiences and build brand awareness.
Obviously, this meant the most effective advertising campaigns were dominated by the biggest brands with the largest marketing budgets.
Now, the reach and frequency model has been turned on its head. Increased media fragmentation and new tools for reaching people -- like retargeting -- have evened the playing field.
Even the smallest mom-and-pop-shop has opportunities to get in front of their target audience and drive awareness at a faster clip than some of the largest brands.
What Is Retargeting & Why Is It Beneficial?
If you were to look at your conversion funnel, how often would you find that a first-time visitor visited your website, viewed a product, and then made a purchase all on that first visit? Chances are you'd be lucky if you saw that behavior once.
Making a sale is a process. Studies have shown that up to 98% of your visitors leave your website without converting. Another study on the conversion funnel by Google found that oftentimes, it takes several steps for a user to go from visit to conversion, and it's actually not uncommon for a visitor to take more than 30 steps before making a purchase!
Retargeting helps you tackle this problem head on. It allows you to target and serve ads only to people who've previously visited your website, used your mobile app, or in some cases, visited and bought something from a physical retail location. This means you can be very strategic and efficient about who you're reaching and where you're spending your marketing budget.
Retargeting provides two primary benefits: It maximizes ROI and keeps you in front of prospects.
Marketers don't often think of retargeting as a brand-building tool, but this represents a huge missed opportunity. One of the greatest benefits retargeting offers is that it keeps your brand front and center with a targeted audience.
Sometimes you might do this to try to drive a direct response, as we outlined in the section above. Other times, though, it also gives you an opportunity to build up your brand's familiarity with your target audience and increase the likelihood of a future indirect action like a Google search or an organic site visit.
These indirect effects can be significant. In fact, comScore found that retargeting campaigns led to a 1046% increase in branded search and a 726% lift in site visitation after four weeks of retargeted ad exposure.
It's a powerful direct response tactic that maximizes ROI.
In the environment of conversion funnel chaos mentioned above, no other advertising tactic offers the return that retargeting does. Retargeting offers the most direct and effective means to:
Reconnect with your highest value targets -- people who've previously expressed interest in your offerings
Recapture their attention with an effective, compelling message
Move them further down the sales funnel
Ready to learn how to implement your own retargeting? Download your free guide here.