What optimization strategies are you using to improve the performance of ads? If you're like almost half of marketers, your answer probably includes ad placement and targeting.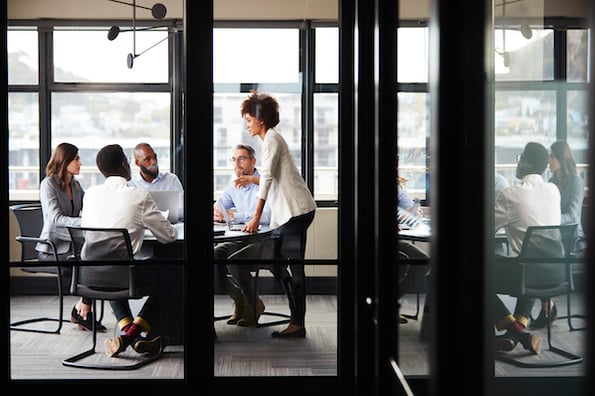 As we know, targeted ads are used to find the most qualified leads by showing audiences content that's relevant to them.
Targeted ads connect you with the leads that are going to be the most interested in what you offer.
So, how can you be sure that you're generating the most qualified leads with your targeted ads? While there's no sure fire way to tell, there's an optimization strategy you may be missing: behavioral targeting.
Targeted advertising allows you to use demographic information, including location or age, to surface ads to relevant audiences. Behavioral targeting uses web behavior as the determining factor, instead of demographics. This increases the impact ads have on audiences.
What is behavioral targeting?
Behavioral targeting is an advertising strategy where artificial intelligence is used to search online behavior and browsing patterns to surface advertisements that are the most relevant to website visitors. You might use behavioral targeting to improve campaign effectiveness and website performance.
Some of the criteria behavioral targeting looks at includes previously visited websites, search history, and past purchases.
If a marketer spent 20 minutes browsing CRMs, Googling software prices, and reading customer management blogs, behavioral targeting would analyze those actions to show that person ads for a CRM product the next time they visited a site like Facebook.
Behavioral targeting is used to improve campaign effectiveness. The sales manager weighing their CRM options would likely be more interested in a product ad for one rather than an SEO strategist, making them a qualified lead for the software company.
Now, let's talk about how behavioral targeting can boost sales. If I were in the market for a social media scheduler and browsed websites like Loomly and Sprout Social before turning to Google, the search engine's behavioral targeting features would show me ads for the sites I visited first.
My previous internet behavior told Google what type of sites I'd already visited, so the search engine pulled the top list of options that are related and relevant to my search. And, when I checked my Facebook account a little while later, I saw that my web behavior influenced my ads there, as well:
Pretty cool, right? And to run behavioral targeted ads, you wouldn't have to stray too far from your ad strategy. If your ad host offers targeted options, like Facebook or Twitter do, create audience segments based on demographics, like location and age. You can also choose psychographics, like interests and values.
After that, the software will do the work, choosing browsers to show your content based on the preferences you set.
So, now we know that behavioral targeting helps reach those leads who are intending to make purchases. But what about the potential customers who are in a different stage of their journey?
Enter: predictive behavioral targeting.
What is predictive behavioral targeting?
Predictive behavioral targeting is the process of using consumer data from various sources to infer trends about audiences. This analysis is used to improve future ads..
Behavioral targeting uses website history to show users ads that relate to their interests. Predictive behavioral targeting is a form of analysis — it looks at those targeted ads as a whole, so advertisers can come to conclusions about audience interaction.
For instance, this is a behavioral targeted ad I came across on Facebook. If I, and others with similar demographics, interact with the ad in the same way, WordStream's advertisers can infer that audiences like me respond well to similar content offer ads.
Predictive behavioral targeting helps improve the performance of ads for audience segments. It lets advertisers look critically at the similarities of customers and cater to them. This improves the effectiveness of behaviors being targeted.
If you're still on the fence about using this strategy, don't worry. Let's look at the good and bad of behavioral targeting to help you make your decision.
Pros and Cons of Behavioral Targeting
There are a lot of ad types to choose from, and it's up to advertisers to choose ones that maximize the effectiveness of campaigns. Like with all types, behavioral targeting has its upsides and downsides. Let's look at a few.
Behavioral targeting pros
1. Nurture leads through the buyer's journey.
Behavioral targeting helps you fill in the gaps you may have with your ad strategy. If you're seeing excellent ROI from brand awareness ads, but want to drive more conversions from content offer ads, behavioral targeting can help.
For example, if you're using an ad to promote a new webinar you've hosted, turning on behavioral targeting will increase the ad's chance of reaching audiences who have been looking for webinars like yours.
2. Make more sales.
Behavioral targeting makes retargeting a better experience for customers. Retargeted ads catch website visitors who have abandoned your site without making a purchase. Behavioral retargeting takes that up a notch by crawling more previous web visits.
When you use behavioral retargeting, your ads will convey a more personalized message to audiences. They'll remind those who closed your site to visit again with content that's already tailored to their interests.
3. Improve the overall customer experience.
When you analyze behavioral targeting results, you can begin to draw conclusions about how your audience engages with ads. For instance, if you find that millennial customers are looking for a certain product stack, you can start tailoring your ads in response.
Behavioral targeting shows customers data-driven ads based on their web behavior. Based on the data you collect from the ads, like click-through rate and conversions, you can tweak the messaging or content of those ads to fit the browsing patterns of your audience.
Behavioral targeting cons
1. Behavioral targeting can get costly.
Running pay-per-click ads isn't the most budget-friendly solution. Behavioral targeting falls under that umbrella, and it can get expensive. Make sure to check your advertising budget — and set budget caps — to make sure you have the financial bandwidth to produce ads for the entire campaign.
2. Ads can fail without proper audience knowledge.
If you don't know your audience, it's likely behavioral targeting won't give you positive results. Generally, the ads are shown based on audience segments you select. But, without proper knowledge of what customers respond to, there's room for lack of resonance from your target market.
For instance, your buyer persona may be a 30-year-old marketer who's looking for a CRM to make the team she manages more organized. So, you decide to show that portion of your audience a brand awareness ad.
But, if that ads messaging fails to capture the interest of the majority of your target audience, it won't be very effective. Behavioral targeting finds the right customers, but it's up to your ad to seal the deal. Make sure you're up-to-date with how your target market responds to ads to improve performance.
3. Behavioral targeting can lead to an advertising overload.
Be wary of producing too many. They can lead to an oversaturation of content and ultimately deter customers from wanting to engage with your ads. As a consumer, if I'm presented with numerous targeted ads from the same companies, I begin to mentally block out any advertising messages from that business.
Use behavioral targeting sparingly. It'll save you money and catch customers at the right time. Be sure to modify your ad settings so you're not showing users targeted ads every five minutes, just which it's the most impactful.
Behavioral targeting is just one of the many advertising optimization strategies that are great for generating leads. It's also one of the most effective. If you're finding that your current ad strategies aren't producing the ROI you're looking for anymore, this tactic could be your answer.
How do you plan to use behavioral targeting to revamp your ad strategy?