If you think November is too early to be dreaming of sugarplum fairies and hanging the stockings with care, then consider this your official warning: this post is heavy on the holiday cheer.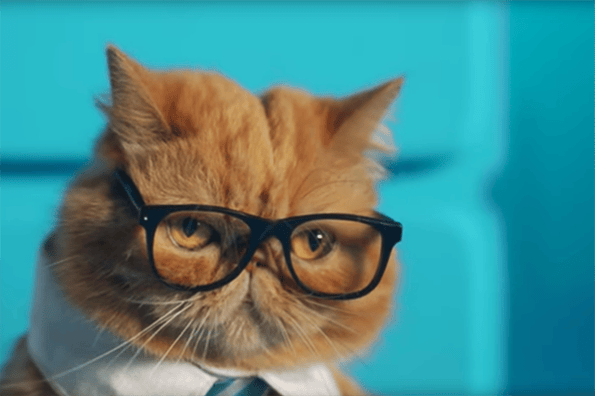 To everyone else, hello. November brought us a delightful crop of festive ads, including the much-anticipated annual Christmas spot from UK retailer John Lewis -- which dependably goes viral every year. Other highlights include a modern day #Cinderella story, a pack of friendly llamas, and a snowed-in dinner with strangers.
So grab a cup of hot chocolate, crank up Mariah Carey's timeless 1994 album Merry Christmas, and let's unapologetically indulge in some much-needed holiday spirit.
10 of the Best Ads from November
1) Samsung
An apartment building's thoughtful concierge goes above and beyond to ensure his tennants feel festive when they arrive home -- no matter what holiday they're celebrating.
Set to Ella Fitzgerald's "Give a Little, Get a Little," the 60-second spot was produced by London based agency adam&eveDBB.
2) Waitrose
After getting unexpectedly snowed into a busy pub, a group of strangers make the most of the situation and hold an elaborate holiday feast. The ad for the British supermarket chain was inspired by true events, and produced by adam&eveDDB.
3) Volkswagen
Another adam&eveDDB-produced ad, "Born Confident" follows a rebellious (and absolutely adorable) young ram as he intimidates other farm animals. The production team used custom 3D software to develop a character that struck just the right balance of cute and realistic.
4) John Lewis
Brits love the annual Christmas spot from John Lewis -- like, really love it. The ads always seem to strike the perfect balance of childhood whimsy and heartache (and the adorable animated creatures that usually take on a starring role don't hurt either).
The 2017 spot follows a similar formula: a little boy befriends the delightful, non-scary monster under his bed, and spends his nights playing with him. Naturally, there's a lovely twist at the end that just might make you shed a few tears at your desk -- I certainly did.
5) Heathrow
Last year, Heathrow Airport introduced us to a snuggly pair of traveling teddy bears (they appeared as #6 of our November ad round-up last year). This holiday season, they're sharing the backstory of how the diminutive bears -- named Doris and Edward Bair -- first met, and spoiler alert: it's very adorable.
The two-minute short, produced by Havas London, follows the couple from their first meeting in the 1960s (on a plane, of course).
6) Cost Plus World Market
Here's a pro marketing tip: when in doubt, cute animals and children generally perform well in ads. In this extended spot for Cost Plus World Market, produced by barrettSF, a young boy rehearsing for his big Christmas recital finds a perfect practice audience in the form of a friendly, attentive herd of llamas.
7) ZTE Axon M
To promote their new dual-screen smartphone, ZTE worked with Energy BBDO to bring together two inherently incompatible things: productivity and cat videos. To illustrate how cat videos and business simply don't mix, we're introduced to Business Cat, a cat who, well, is not very good at business. You get it.
"One screen for business, another for cat videos," the voiceover declares -- right after Business Cat knocks over a fresh coffee and blinks apathetically at the screen.
8) BMO
If I told you to picture a startup founder, who do you see?
This ad series from BMO Bank of Montreal gently exposes our unconscious biases when it comes to women in leadership roles traditionally held by men. Using unisex names and some clever twists, the ads play right into our expectations of what a leader looks like, and then show us the women hiding in plain sight. Developed by FCB Canada, the ads were produced by a predominantly female team led by Chief Creative Officer Nancy Crimi-Lamanna.
9) Debenhams
Have you ever thought, if Cinderella had a smartphone, that story probably would have been a lot shorter?
That's pretty much the plot of Debenhams's Christmas ad, a modern day retelling of the classic fairytale featuring hashtags and a voice-over by Ewan McGregor. Produced by J. Walter Thompson London, the ad follows a pair of star-crossed lovers as they attempt to reconnect after a chance meeting with some help from the internet.
10) Argos
In this cinematic ad for Argos, a particularly dedicated elf realizes a toy shipment is missing a special gift -- and goes to great lengths to make sure it makes it to the intended child.