2016 was a year of unprecedented creative opportunities for advertisers.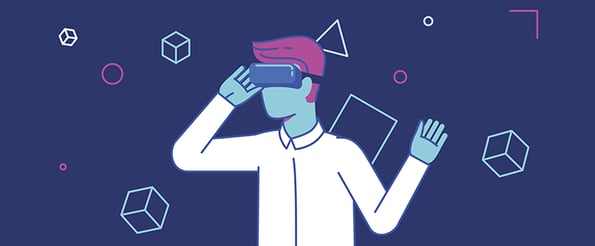 Advancements in technology enabled agencies to develop campaigns across innovative new mediums, pushing the boundaries of digital advertising and inviting consumers to experience brands like never before.
Before we see what 2017 has in store, let's take a look back at some of this year's most impactful advertising trends. The following four marketing tactics left a big mark on 2016, and they show no signs of slowing down as we head into the new year.
See which trends fueled some of the most creative ad campaigns, and start planning your first 2017 campaign.
4 of the Biggest Advertising Trends of 2016
1) Experiential Marketing
From branded pop-up shops to larger promotional events, brands definitely embraced experiential marketing in 2016. And agencies rose to meet this growing demand.
Big brands like Coca-Cola, Google, and Anheuser-Busch sought out agency partners who specialize in creating brand experiences that woo participants and generate buzz on social media.
So what makes experiential marketing so powerful? Casey Conway, a founding partner of Say OK -- the agency behind experiential work for brands like Google, Microsoft, and Converse -- says it helps brands relate to people who don't typically connect with traditional advertising mediums.
"We pride ourselves on getting those people who think they know better, who can see right through the traditional side [of advertising], and hit them in a cool, unique way," Conway said to Adweek. "It's not about a brand just being the logo [in an immersive experience]; it's about giving the consumer an awesome experience from a brand."
Example: SXSW 'Suicide Squad' Tattoo Shop Pop-Up
When Warner Brothers wanted a unique way to promote the Suicide Squad movie at SXSW, they turned to the experiential ad experts at Milwaukee-based GMR.
Their team temporarily converted a tattoo shop in downtown Austin into Harley Quinn's Tattoo Parlor, offering free temporary and permanent tattoos inspired by the film's characters to anyone who was interested. The shop was redesigned with decor from the movie and staffed with a team of Harley Quinn lookalikes to draw people in.
The event was a massive success for Warner Brothers, drawing in over 2,400 SXSW attendees and generating 35.4 million impressions on Twitter and Instagram.
2) Virtual Reality
Virtual and augmented reality have been rapidly gaining momentum for a few years, with investments in the space topping $1.1 billion in 2016. Skeptics have expressed concerns as to whether or not the tech is accessible enough to generate widespread and sustainable consumer interest, but this year advertisers began to realize that people are generally enthusiastic about exploring the new medium.
A survey conducted by Nielsen's Media lab found that 24% of consumers said they will likely use or purchase VR next year, and another 20% said they would try it after learning some of the basics of the technology.
Companies like North Face, Samsung, and NBC all got in on the action, and smaller VR-focused marketing startups began cropping up to meet demand from major brands. In a signal of commitment to the medium, The New York Times even purchased Fake Love, a New York-based agency specializing in VR and AR campaigns.
"It's completely immersive," said Adam Harter, VP of marketing and cultural connections at Pepsi, speaking at a video conference. "We believe that if you can create an emotional connection with the consumer, you will hook them, you will make them fans of your brand. And I don't think that any other experience other than VR can create an experience that people want to share more."
Example: The National Park Service's "Through the Ages" short film
To celebrate the National Park Service's centennial anniversary, National Geographic partnered with Facebook's Oculus Team and VR production agency Felix & Paul Studios to create a short film highlighting the natural beauty of Yosemite National Park.
Starring President Obama and his family, the 11-minute VR film offers viewers a uniquely immersive glimpse at the park as the first family explores the landscape. The video is available for Oculus Rift and on Facebook's 360-degree video platform.
You can watch the 360-degree video version on the White House website.
Image Credit: The White House
3) Live Video
2016 was the year of live video for social platforms. Facebook launched Live back in April, Twitter introduced a mobile integration with live-streaming app Periscope, and Instagram just released a live video streaming service to all U.S. users in December.
Live video has become an inclusive extension of video marketing, allowing users to connect with content in real time. Brands have been taking full advantage of the new streaming capabilities, inviting consumers to experience live branded content directly from their devices.
And consumers are eager to tune in. Retail giant Lowe's unveiled their Black Friday offers on Facebook Live to an audience of 32,000 (and picked up an additional 891,000 views via promoted posts over the following days). Martha Stewart broadcasts a series of popular live cooking videos, and Refinery29 hired a team of 10 staffers just to focus on creating Facebook Live content for the lifestyle website.
"Live content is uniquely compelling when it offers rarity," said Topher Burns, group director of product innovation at Deep Focus, to Adweek. "Glimpses of life you'd never usually get, spaces you'd normally be denied access to, things that are happening in one moment that you've just got to see."
Example: Taco Bell's Friendsgiving Feast
To celebrate Thanksgiving this year, fast food chain Taco Bell held a "Friendsgiving" feast, inviting a group of social media influencers to their headquarters for a unusual spread of Thanksgiving-inspired taco creations.
They streamed the whole dinner live on Facebook, attracting an impressive audience of 150,000 taco-loving consumers throughout the broadcast.
Image Credit: Taco Bell's Twitter
4) Influencer Marketing
"Influencer marketing" became a much-circulated buzzword in 2016, but it's still a largely uncertain investment for brands and agencies.
The concept of influencer marketing is pretty straightforward: to reach new audiences on social media, brands pay "influencers" -- social media personalities and celebrities with massive follower counts -- to post about their products. It's become an extremely prevalent practice (particularly on YouTube and Instagram, where even pets are getting in on it), but there still aren't clear compensation guidelines for influencers or ways for brands to measure the success of influencer-driven efforts.
And there's been some legal backlash. TruthinAdvertising.org, a nonprofit devoted to fighting deceptive advertising, called out the Kardashian sisters in August for not being transparent about what brands they were being paid to promote on Instagram. As a result, many sponsored posts now include #ad or some variation to indicate that a post is a paid endorsement, but brands complain it reduces the efficacy of the posts.
Despite some of the issues with the practice, many brands have found success with tapping influencers to promote their products and target niche audiences. Lifestyle brands have been particularly successful reaching consumers through influencer campaigns.
Example: Honest Tea
Honest Tea, a beverage company, regularly partners with social media influencers to reach their target audience: young mothers. The brand has selectively recruited seven Instagram-famous moms to share challenging parenting moments with the hashtag #RefreshinglyHonest.
What were your favorite advertising trends this year? Let us know in the comments.