Before I buy anything that goes on my face, like skincare or makeup, I pour over the reviews. The only exception is when I'm shopping from a brand I trust. In some cases, I don't even question a new launch from those businesses — I purchase the new items knowing I'll be satisfied.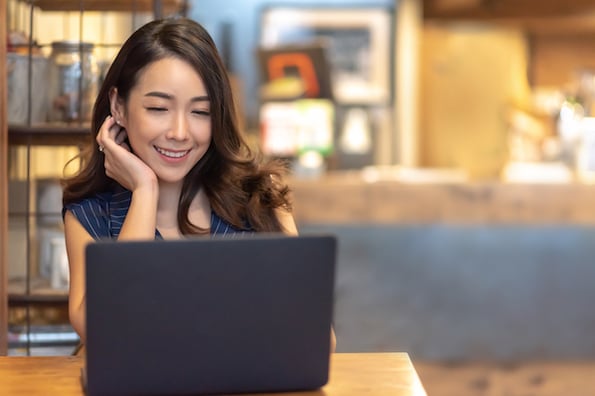 It's not that hard to trust a company that has never disappointed you. But today, I was skeptical.
A makeup company I like is releasing a skincare extension. I was on the fence, so I wanted to see what my favorite YouTubers were saying. Most of them had the same reaction: "I don't care about the price. When it comes to this brand, I know it's gonna be great."
They will purchase from the new line, regardless of reviews.
This is known as brand equity. Consumers influence the public perception of businesses, building positive or negative brand equity. But let's take a closer look.
What is brand equity?
Brand equity is the combination of customer perception, experience, and opinion about your company. Brand equity can have a direct impact on sales and reputation for businesses.
If you've ever decided against buying from a specific company based on a review from your friends, you've seen negative brand equity at work. Negative brand equity might result from poor customer service, lack of transparency, or inaccurate pricing.
Think of that one product you don't mind shelling out a few extra dollars to have because you know you'll be satisfied. In your opinion, that business has positive brand equity. Brand equity determines value because positive brand equity can justify higher prices.
Now that you know what brand equity is, you're probably thinking about how to find out your company's. To save you that time, let's talk about measuring brand equity.
How to Measure Brand Equity
Measuring brand equity involves customer knowledge, public perception, and finances. Customers are a no-brainer; Their opinion is the number one source of brand equity, but it shouldn't be the sole indicator. Let's look at a few others.
1. Focus on brand awareness.
We've gone over how important customers are to brand equity. It starts with awareness. If your audience doesn't know about your company, they won't be able to develop an opinion of it.
So if you haven't already, take note of how you're handling brand awareness. How are you communicating your company's story? More importantly, how are they responding?
Leverage consumer response to your brand as an action to create more brand awareness. Content offers, web traffic, and social media performance will give you the data you need to assess brand awareness.
For instance, if you've found that you generate the most leads by making informative ebooks, create one about a topic that's your company's bread and butter. For a social media agency, that might be creating compelling Instagram stories.
That way, when a lead sees the ad on Facebook, they'll have an idea of what your company does. The offer is an incentive for them to learn more, and the subject matter will keep them engaged.
2. Analyze your company's overall finances.
Are you currently analyzing purchase metrics? These metrics will tell you what products are popular among customers and identify shopping patterns that could influence future campaigns.
Look at how your business interacts with audiences — this influences purchasing behavior. If a customer comments under an Instagram post about poor customer service, it can contribute to negative brand equity. To avoid this, make sure customer service protocol involves answering the consumer comments and concerns.
If you notice sales are dipping after a few negative comments, revisit customer service protocol. It might be contributing to a lower brand equity and decrease in sales. But by studying how your business interacts with its audiences, you'll quickly identify ways to improve that messaging.
Make sure you're telling your audience why your price is worth it. Alternatively, give your audience a chance to see for themselves. In your next ad, announce a sale, boost an offer, or create a free trial.
That way, your audience can give your company a test run before they commit, and you can begin to measure how this inbound marketing tactic performs among customers. If it increases brand equity, you might have a new winning strategy.
3. Identify the public perception of your brand.
So far, we've talked about why brand awareness is important to brand equity. But corporate image is also crucial.
Ask customers to leave reviews. Product reviews are extremely powerful in cementing brand equity. A sushi restaurant with 4.5 stars on Yelp will most likely get more business than the one down the street with 3.9, even if the food is more affordable.
Analyze what customers are already saying and if they'd recommend your company to a friend.
At this point, you know how to measure public perception. But it's likely you've run into a problem … You have no idea how to build equity. Let's get the ball rolling with a few ideas.
How to Build Brand Equity
Research public perception of your brand.
Communicate your brand beliefs in marketing.
Turn what customers say into action.
Emphasize how you're different from competitors.
Keep up a helpful presence on social media.
1. Research public perception of your brand.
Customers aren't the only group that contributes to brand equity. Audiences are just as important.
Approaching public perception is going to look slightly different than reaching your customers. The audience you're targeting doesn't know as much about your company as the ones purchasing from your company regularly, so NPS surveys probably won't do the trick.
However, your market contributes to brand equity from an outward perspective. So, researching their opinion is going to be helpful in figuring out a few things.
First, by understanding what your audience thinks of your business, you can learn why or why not people are buying your offerings. Second, you'll understand the challenges your audience is looking for companies like yours to solve. This will inform better business and marketing decisions.
Public perception is essential to brand equity, but let's face it: We probably don't have the time to spend hours Googling our company to gain insight. So, what can you do to research public perception in a way that saves you time?
The short answer is software. For instance, Smart Watch looks at follower activity on social media channels. Then, you'll get a customized report that breaks down comments, replies, and likes to tell you a response consensus.
Additionally, Brandwatch can point out where your branded images are appearing. For instance, if you upload a marketing photo into the tool, it'll crawl the web for that image and pull out results. This can help you identify the spaces where your company is the most prevalent — and what people are saying.
If you're looking for a couple more resources, say, 10 more, this sentiment analysis tool round-up is your answer.
2. Communicate your brand beliefs in marketing.
One of the biggest ways to begin building brand equity is to emphasize branding when you execute marketing campaigns. Every visual asset you make should speak to your brand in some way.
Use colors, images, and copy to your benefit, and introduce a tone that makes sense to your company and audience. If you can look across all customer-facing content and recognize patterns in those three areas, you're likely communicating a strong brand message.
Customers and audiences will begin to pick up on the details that define your company. For instance, when you look at this Instagram feed, you can notice similar details, imagery, and tone:
In the image above, you can point to colors, industries, and audiences that relate to HubSpot's brand. Valuable content, like helpful statistics, make this account one to look for in terms of industry insights. As a result, a marketing professional is likely to associate this account with meaningful marketing-based content.
To build a positive brand equity, speak to what's important to your company and audience.
3. Turn what customers say into action.
If you've been collecting customer stories and data, see how you can use that information to boost equity. For example, if customer reviews have been mentioning a new addition to your software, teasing its release could be a great way to earn positive reception. Customers that see they're being listened to contribute to excellent equity.
It could also be a good idea to step up customer interaction. If your company doesn't interact with customers on social channels or email, or reach out for feedback, you probably don't know what they are expecting. Revamp how you get in touch with customers because they hold the most value when it comes to equity.
Maybe there's a feature upgrade you know customers are really interested in, but you don't have the bandwidth to build. In that case, focus on improving a customer favorite, or a much-anticipated restock of a bestselling product.
This is a marketing email I got a while ago. Instead of restocking the eyeshadow collection with these shades, ColourPop decided to split up the collections according to customer suggestions. This move was made to show customers that the company values their opinion — it also builds brand equity.
4. Emphasize how you're different from competitors.
Do you remember the "Get a Mac" campaign? If not, how about the commercials with two actors introducing themselves as either a Mac or a PC? These clips sparked the infamous 2006 debate about which computer choice was better:
Apple released the commercials to emphasize why iMacs were the cool, modern, powerful choice for young adults. Commercials would show a hip, relatable actor talking about the different capabilities of the computer. Then, an older, out-of-touch actor would talk about why they love their limited PC.
The commercials were wildly successful and profitable for Apple. They also established brand equity against competitors. Apple's team took the time to name computer specs in a way their audience would understand. They spoke directly to the customer about why Macs were the favorable option.
To gain that market edge, use campaigns to explicitly state why your product is the best suited for your customer. Maybe it's because you offer a more streamlined way of doing things, like in the Apple commercial.
Remember not to attack your competition. The goal here is to build your brand without tearing another down. Tell your customers about the features others don't offer, and use that feature to define part of your brand.
5. Keep up a helpful presence on social media.
This sounds like a no-brainer, but it's so important to actively devote yourself to excellent customer service. I can't count how many times I follow a company on Instagram because of a product, then ultimately decide against buying it because of poor communication from the brand.
I've seen comments about not receiving orders, trouble cancelling memberships, and misleading products. That's a red flag, but if a company handles these comments in a negative way, that's a deal-breaker. Not only that, but it reflects poorly on my opinion on the brand, as well as other audiences'.
Whether you're talking to customers in person or online, make sure you're handling concerns with urgency and care. Others take note of how you treat customers and make their own opinions based on what they see.
If you want a full-guide about how to ace social media customer service, check out this post.
As a consumer, I'm still unsure about the skincare launch I mentioned earlier, but that doesn't mean I won't buy the new lip gloss that launched today. I know and trust this company with cosmetics.
This company's brand equity doesn't hurt, either. If I need any more convincing, I can just look at the glowing reviews of other lip glosses on the website, on YouTube, and on Instagram. I'll also take note of how others rave about the quick shipment and product quality.
Brand equity can be the make or break for your company, but after reading this post, you're ready to make it a positive one for your entire audience. Good luck, and happy branding.