Okay I'm just gonna say it. It's Friday. It's finally nice out (at least in my neck of the woods). And I'm having a hard time concentrating.
Sooo ... I may have floated over to my Facebook tab a couple of times looking for some yuk yuks.
I found 10 yuk yuks for you, coming from 10 awesome Facebook business pages. And I even found a way to tie it to inbound marketing, so when your boss comes over and asks why you're looking at cartoons, you can say it's for the love of marketing.
(Actually, the line you should use is, "Visual content on Facebook generates 53% more Likes than the average post, so I'm trying to find a way to incorporate some funny visuals into our Facebook Page. Why don't you head out early and enjoy the nice day while I plug away at some Facebook visual content strategery.")
You're welcome. For the line, and the impending giggles.

Threadless has a leg up on many of our other honorees today, because their company hinges on their ability to create funny visual content. But hey, at least they're good at repurposing. Why reinvent the wheel? (Also, come on -- how funny is that paint can?)

For those who enjoy a good pun -- and can't be bothered to let a corkscrew stand in the way of fun -- Yellow Tail's Facebook Page might just be for you. The brand is known for its cork-free wine, and they play with that concept in their cover photo. But I think their crowning achievement is their next invention ... the wine bottle optimized for lefties. Priceless.

If you're looking for something appropriate for the under-21 audience, Pop-Tarts' business page might be the way to go. It's kind of like Shrek -- it's appropriate for kids, but it's humor adults can enjoy, too. If you spend some more time on their page, you'll see the cartoon tart and poodle are recurring characters that get into plenty of toaster-related shenanigans together.
Foodler mixes up its visual content with caption contests -- that's what the McDonald's drive-thru image is all about, for example -- and visuals that are just plain funny. They're equal opportunity goofballs, and it's great that they let their audience get in on the fun.
GrubHub's visual content often follows a theme ... a whimsical, wonderfully ridiculous theme. It's kind of reminiscent of South Park as content that's half cartoon, half cut out pieces of paper. The food items are always in absurd situations that make you go "hmmmm," and then bust out laughing.
Also, try to scroll through this page before lunch time and then not order 1) pizza, 2) buffalo wings, 3) anything greasy and delicious. Seriously, try it.
Frank's Red Hot's Facebook Page runs largely on user-generated content, and interestingly, the theme of its page is largely user-generated, too. If you've ever run into a Frank's Red Hot fan, you've probably heard them say "Franks? I put that $%&@ on everything." Frank's took that and ran with it. If you visit their page, you'll see people uploading photos of their trusty hot sauce in some pretty absurd situations. One, for instance, appeared to have a romantic photo shoot on a rocky beach.
I figured that, after all that hot sauce, some Tums would do you good. Tums' Facebook Page is adorned with silly love letters to the delicious food that makes the Tums product necessary.
Pringles puts the thing its most famous for -- its tennis ball potato chip can -- into funny scenarios. But they also supplement them with humorous, relevant quotes from fans, famous people, or just themselves.

Oreo received plenty of accolades for their Facebook Page, and they don't disappoint on the humor front, either. They also employ a mix of user-generated content and their own original ideas, and couple it with clean, lightly product-centric, on-brand images that are easy and enjoyable to consume.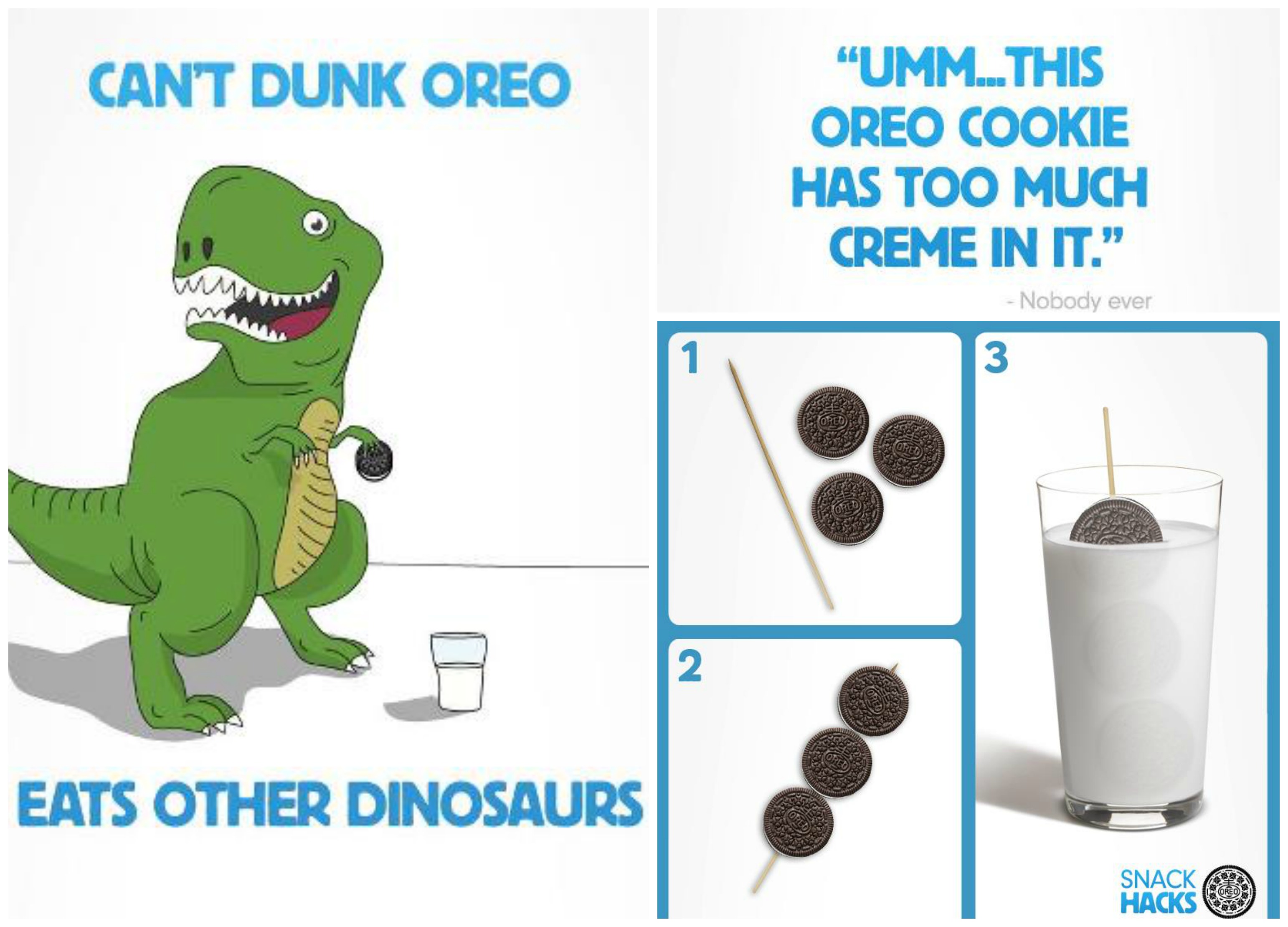 Dollar Shave Club rose to fame in the inbound marketing world with a hilarious debut video, and carried their success through to their Facebook Page. I recommend checking out their page's election collection (I don't know if that's what they named it, but I'm proud of the rhyming chops I just threw down), which highlights famous presidents and their epic facial hair.

What are your favorite Facebook business pages for a good chuckle? Share with us so we can giggle in the weekend together. (Awwww.)
Image credit: Brambleberries Photography