You love data. Nothing makes you -- and your client -- happier than a chart that shows just how great a campaign is performing.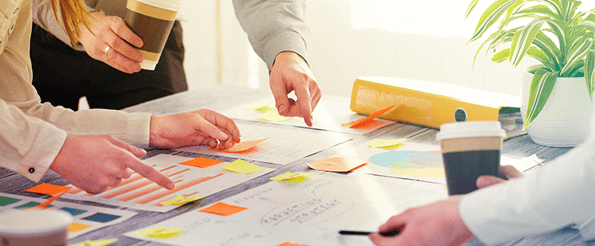 But collecting all that data each month, organizing it, creating charts, and writing up reports is draining your team's time.
Typically, agency staffers spend around four or five hours per client each month reporting on digital. So say you're managing around 20 clients: Your effective hourly rate for each employee is $75, and it takes four hours to create each report. You'd save almost $5,000 per month if you automated this process.
What's worse? These reports are essential to the client, but she rarely spends more than a few minutes breezing over them -- she wants confirmation that things are trending up and to the right. If they're not, you're going to need to address that over the phone or in-person. A report isn't going to help her understand the context of the problem or how you're going to fix things.
To create reports quickly and easily for many different clients with different KPIs, consider using one of the below marketing reporting tools, and checking out more apps for agency services. These will help to reduce the amount of time you spend gathering data and creating reports so you can spend more time on the work that matters -- building high-performing campaigns.
12 Client Marketing Reporting Tools for Agencies
Megalytic provides templates so that you can easily import your data from sources such as Google Analytics, AdWords, Facebook, a CSV file, and others.
The tool has a library of widgets, such as ecommerce sales by geography, AdWords conversions, social referrals, etc., that you can easily add to your reports for more in-depth details. You can also set up reports to be automatically sent to a specific list of individuals, and then track to make sure they landed in the recipient's inbox.
Databox enables agencies to automate the client reporting process by compiling data from many popular marketing software and services -- including HubSpot Marketing, HubSpot CRM, Google Analytics, Adwords, Facebook ads, Twitter, Linkedin Company Pages and Instagram. After connecting your client's services, Databox becomes the single place where your agency's team can set goals, monitor progress, calculate ROI numbers and receive alerts when things aren't going to plan.
Databox offers pre-configured reports (like the one below that features data pulled from HubSpot CRM and HubSpot marketing), and the option to build your own custom reports via their designer. You can view your data across multiple devices, including your mobile phone, desktop, TV, and via Slack.
Whatagraph is a marketing reporting tool that you can use to create functional, beautiful reports from a large number of data sources. Whatagraph is the ultimate solution for marketing agencies that deal with lots of clients and accounts per client. Whatagraph allows them to connect those data sources and create the report.
Once created, the report can be automated to be sent out with updated data at certain time intervals. This way, agencies can save hours per client every week on report creation. Using Whatagraph, now you can even move data to a warehouse-like Google BigQuery without any coding skills needed.
AgencyAnalytics is an automated marketing reporting tool specifically designed for growing agencies. The platform offers full white-labeling and seamless integration with 75+ top data sources, enabling agencies to create visually appealing dashboards and reports tailored to clients' needs.
With customizable widgets, a drag-and-drop report builder, built-in goal tracking, and a selection of client and staff management features, this all-in-one reporting solution makes it easy for agencies to showcase their efforts and ROI.
Sotrender is a social media analytics app that will serve you automatic and white-labeled reports.
With Sotrender you can generate recurring reports to get insights on your audience and content-related metrics, as well as reach, engagement, and growth data.
If you'd rather show off how the profile you manage performed compared to competitive ones, with the comparison report you'll be able to easily prove your hard work in front of a client.
RavenTools is useful for agencies and their clients who need a few more reporting features. There's a research center for analyzing competitors or target sites, the ability to schedule social media updates, a tracker for link building campaigns, and an SEO auditor.
There's also a useful feature for analyzing your client's site against those of their competitors -- you can compare backlinks, domain authority, load time, page speed, and other metrics. The report feature has drag-and-drop functionality and makes it easy to add the results of the tests and research performed through RavenTools additional features to your reporting documents.
This tool works with more than 100 service providers to pull in data quickly without the help of a support team or IT pro. It has a ton of customizable widgets you can use to drill down into specific metrics, uncover problem areas, or show improvements in a client's marketing efforts -- all tailored to the specific needs of the client.
It also provides user permissions and roles to protect your client's data from being viewed by people who shouldn't have access to the account, and agencies can create an overview dashboard that shows all of the agency's clients in one screen, making it easy for leadership to quickly determine problem areas and which accounts need extra attention. In addition, it can be fully white-labeled and provides a feature for adding a service charge (a percentage markup of your choosing) to a client's campaign.
This white-labeled tool turns analytics data into a written report that highlights the results of your digital marketing efforts. You simply connect your Google Analytics or Adwords accounts, and schedule when you would like the report to be sent to the client's account manager.
During the review, you can add in notes and suggestions for improvements prior to it being sent to the client. The tool is created by Automated Insights, a platform that the Associated Press is using to write more than 4,000 quarterly earnings reports without humans.
DataHero integrates with cloud services beyond those focused on marketing, such as ZenDesk, GitHub, Eventbrite, and more, so you can customize your reporting to the specific campaign needs and activities of your various clients.
With this reporting tool, you can upload data or choose the data to import, and it gives you suggestions on the right chart to visualize your data. DataHero then gives you the option to manipulate and add data to the chart, making it easier to create insightful and useful charts for your client's review. (Disclosure: DataHero is a HubSpot integration partner.)
For agencies that want the client experience to remain with their brand, DashThis provides a custom URL and a fully white-labeled account. The tool integrates with a ton of platforms, including Instagram, Ahrefs, comScore, and Perfect Audience.
DashThis surveyed agencies and found that there were three main report types agencies and their clients wanted. They created templates reflecting these results that are simple to set up and perfect for keeping track of performance each month.
DashThis is primarily a dashboard tool, rather than reporting, so use this for keeping clients or your team up-to-date on performance throughout the month. However, you can send notifications and a report summary or create a PDF from the chosen dashboard.
Dasheroo gives agencies the ability to create client teams with different levels of permissions so that data stays secure between multiple accounts. It includes templates to help you create charts more quickly, and it has an interesting feature called a mashup, where it will compare two different metrics so it's easier to spot trends and issues.
This cloud app lets users to build customized business performance dashboards that sync in real-time across multiple devices -- including TV monitors, web browsers, and mobile devices. For agencies looking to get a high-level view of their clients' performance from numerous data sources, Klipfolio delivers a wide variety of options to connect both on-site and cloud-based sources.
What tools do you use to speed up monthly reporting? Let us know in the comments below!
Editor's Note: This post was originally published in April 2016 and has been updated for freshness, accuracy, and comprehensiveness.