Content marketing continues to dominate as a key component of a successful marketing strategy, but to see strong results, you need to regularly produce content -- specifically content with a high-viral potential.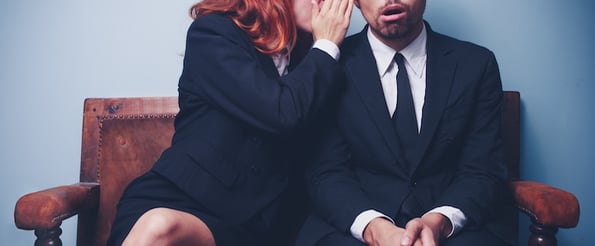 Most marketers would argue that no one can predict whether or not something will go viral, but a lot of these same individuals simply aren't satisfied with run-of-the-mill results. In their ideal world, an investment in content marketing should deliver exposure that rivals celebrity headlines and breaking industry news.
The problem? They're failing to recognize that many of these high-profile headlines gained traction because they were highly controversial.
You see, polarizing ideas work because they trigger an emotional response -- and this kind of reaction has a huge ripple effect due to the innate self-interest generated. Remember, though, that brands walk a fine line when it comes to controversy. That's why we've put together a few things to keep in mind below that will help your team stir the pot while not crossing any boundaries.
How to Experiment With Controversial Content (Without Alienating People)
1) Produce something that will resonate with your target audience.
For controversial content to work, it has to be rooted in more than just shock value. In fact, it should aim to provide real value to your target audience, too.
Who could forget the Ad Council's incredibly successful "Love Has No Labels" video? The organization's mission -- to "produce, distribute, and promote campaigns that improve everyday lives" -- aligned perfectly with the clip, which promoted tolerance through acceptance by taking an interesting look at each other's differences.
The idea was quite simple: Using an X-ray machine, passersby saw different sets of skeletons showing different signs of affection to one another before revealing identity -- their gender, race, sexual orientation, religion, and so on. This approach forced viewers to rethink any unconscious biases they might have and appreciate that love is love no matter who is involved.
The result? More than 57 million views on YouTube alone, and currently holds the title of the second most-viewed community and activism campaign of all time.
2) Use a familiar, credible, and relatable data source.
In order to mitigate any backlash from publishers and readers, your campaign should feature reliable content and credible sources. The last thing you want is the validity of your content to become a point of contention, especially for something that is already controversial.
Consider UN Women's "Auto-Complete Truth" campaign from 2013. The concept of each ad was simple: Using the world's most popular search engine (Google), the images highlighted real search results of female-focused queries like "women need to," "women should," and "women cannot" to reveal some of the most appalling opinions women face around the world.
What made this campaign work is that it relies heavily on a data source that is both familiar and credible: Google's autocomplete feature. And by presenting the data in a visually striking manner -- each ad's fine print reads, "Actual Google search on 09/03/13" -- the message reached a wider audience without being diluted.
The campaign instantly went viral, earning spots on Adweek, The Guardian, and Fast Company. This encouraged the brand to revisit the campaign, where it saw similar results.
3) Offer a unique perspective.
Another thing successful controversial content does well? It offers a different look at a familiar subject.
Fractl is no stranger to controversial content, and for our client Bulimia.com -- a California-based organization that provides resources to individuals struggling with eating disorders -- we produced this campaign that reimagines superheroes to reflect more realistic body types.
With the help of Photoshop, comic book icons like Batman, Iron Man, and Captain America shed their bulging biceps in an effort to look more like an everyday individual. When paired with the originals, the stark contrast between the two images offered a new way to discuss body issues, particularly for men.
The project was incredibly successful: In just nine days, the campaign earned more than 200 pickups and nearly 90,000 social shares in 20 U.S. states and 25 countries as visualized below.
4) Don't go in with an agenda.
Think about the last time you read an article that seemed like it was only presenting one side of a story -- specifically the side that benefitted the author. You probably didn't think too highly of the news source after, right?
The same thing goes for polarizing content. To keep your campaign from being too negative or one-sided, you shouldn't come across like you have an agenda. For instance, many believed that McDonald's crossed the line in its "Carry On" campaign. Audiences felt like the commercial was propaganda, trying to parade itself as an exemplary model of corporate kindness when most people believed otherwise.
5) Avoid shaming one group over another.
Although polarizing content should easily resonate with its target market, it shouldn't alienate other groups entirely either -- particularly through any sort of shaming. Remember there's a fine line between assurance and arrogance.
Last year, U.K. fitness brand Protein World ran billboards that featured a skinny woman in a revealing swimsuit with the provocative tagline, "Are you beach body ready?" Unsurprisingly, a lot of people were unhappy with the bold weight-loss ads, arguing that it encouraged an implied standard of beauty.
Although the brand did see significant, short-term results -- in large part due to the massive exposure generated by the controversial tagline -- the campaign ultimately failed because of the narrow-minded treatment of the ad.
6) Respond to disagreement respectfully.
People are going to disagree with your content; that's a given. To minimize backlash, you need to make sure that you respond to criticism in a cool and collected manner. However, this same principle works when producing your content -- specifically if it's in response to an idea your brand disagrees with.
Airbnb got into some hot water back in 2015 with its passive-aggressive ads that told San Francisco citizens what to do with the several million dollars in back-taxes the startup finally paid due to the city's 14 percent hotel tax. "Dear Public Library System, We hope you use some of the $12 million in hotel taxes to keep the library open later. Love, Airbnb," read one ad.
"Dear Board of Education, Please use some of the $12 million in hotel taxes to keep art in schools. Love, Airbnb," read another.
Although the ads were intended to inspire gratitude in San Franciscans for the additional funds, they mostly ticked people off. Citizens lambasted the ads all over social media, forcing Airbnb to pull the campaign.
Final Thoughts
Producing a polarizing idea isn't a kiss of death for your brand. As these examples prove, many marketing teams can find success in controversy -- it's just a matter of finding the right balance on an incredibly fine line.
Remember that in a web full of clutter, you need to stir the pot to get noticed, but the recipe calls for something a little more than vanilla.
What tips do you have for experimenting with controversial content? Share them in the comments.