At this point, everyone knows that e-commerce is no longer "the next big thing" -- it's the current big thing. eMarketer estimates e-commerce sales will reach $4.058 trillion in 2020, or 14.6 percent of total retail projections for that year.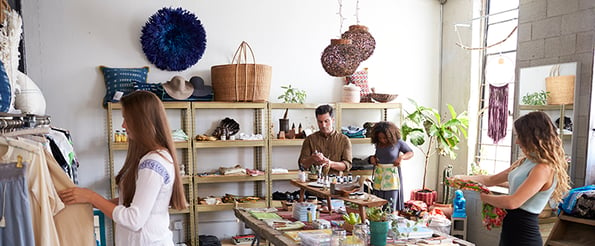 The e-commerce space is a hot, crowded market, and the brands that rise to the top will have to be able to cultivate a loyal and rabid fan base. As an agency pro, it's your job to help your clients grow that base.
You're probably already killing it using social media, paid advertising, and other digital tools and techniques. However, when even those tried-and-true channels become stale, it's time to step outside of what we do every day to gain a new perspective.
One way to do that is by placing your clients in a physical location -- at least temporarily.
Thinking outside the box in this way helps them build stronger relationships with their customers, as well as connect organically with fans of similar brands. While people like to purchase online for the convenience, the truth is that many consumers would love to be able to touch, smell, and see whatever it is they're buying in person.
Building a Concrete Case for Brick-and-Mortar
According to Retail Dive's Consumer Survey, 62 percent of consumers want to examine and try out items before buying. Researching products online is key, but most people enjoy the tactile experience of hunting for them and actually touching them.
Shopping is a form of recreation for much of America. One could go so far as to say that America's real favorite pastime involves going to a store, browsing the options, picking things up, and putting them back -- all of which can increase brand awareness and tighten the bond between the brand and the consumer, even if it doesn't result in a sale.
Of course, e-commerce brands are online for a reason, so diving into brick-and-mortar storefronts may not be in their business plan. That's why agencies should use physical locations to cross-promote their e-commerce brands. It's not about making a complete pivot to brick-and-mortar locations -- it's about making a brand's presence known in a clear and tangible way and boosting consumer interest by bringing related brands together under one roof.
We did this recently at Hawke Media with a new initiative called The Nest. Basically, we took the co-living and co-working cooperative trend to the next level and offered our clients an opportunity to enjoy the benefits of a co-retail space.
Launching a Pop-Up Store That Performs
For our recurring pop-up retail space, we curate 10 complementary client brands -- including fashion, lifestyle, health, and beauty brands for both men and women -- and bring them together seamlessly, without any direct competition.
Every brand has its own custom-tailored space in the store, but we chose certain design elements that lend overall cohesion to the layout of the shop. We produce six in-house events featuring live music, drinks, and giveaways, beginning with a kickoff where each brand can invite 150 guests so there are supporters of each one in attendance.
By launching The Nest, we helped our clients provide a new experience to their customers and cross-pollinate with fans of other brands with minimal involvement on their part. We reached more than 2,800 new customers in person, as well as hundreds of thousands of people on social media.
Before you can make physical cross-promotion work effectively, you have to identify the right e-commerce clients by asking two questions:
Who needs a physical touchpoint the most?
Who will be able to capitalize fully?
Identify brands that currently sell only online but whose products would benefit from being seen and felt in a brick-and-mortar space. Sometimes, it's difficult to adequately convey their subtle, yet tangible, selling points in the digital realm. Consider the scent of a candle, the taste of craft tea, or the comfort of a hoodie.
Putting clients who sell products such as these into a physical space allows them to establish a connection with a larger pool of potential customers and really showcase what makes them so unique.
Brand buy-in is vital. A lot of e-commerce companies disregard brick-and-mortar options altogether, and that's OK. They know their space and where they have the best chance of success, so they're probably not the ones you would ask to pursue a physical channel.
With The Nest, we drove the promotion and awareness-building efforts surrounding the space, and the brands brought in the people and inventory. If the brands aren't all-in on maximizing the effort to make the experiment work for them, it will weaken the experience for everyone.
Find clients who are excited to try new things and willing to experiment. Collaboration is also key; brands have to be willing to cross-promote each other and share the wealth. The right brands will make any physical location the place to be.
The Keys to Cross-Pollination
Co-retailing is not about huge spikes in revenue: It's about the experience and about cross-pollinating customers from brand to brand.
Remember these three key points to keep your agency and your brands focused on the goals of a temporary pop-up store:
1) Encourage brands to invite their most ravenous customers.
In order for brands to cross-pollinate, they have to bring out people who care about the whole industry, not just their brand. If only friends, family, and targeted shoppers show up, they won't engage with the other brands in the space.
2) Promote it as a social experience.
People love farmers markets and festivals for a reason: The experience of browsing is often as good as gaining access to the products. Encourage your brands to re-create that experience, and include brands with broad social reach that will entice even more followers to come out. If you have 10 brands, and each introduces 50 of its own fans to another brand, you've helped each brand reach 450 new potential customers.
3) Focus on awareness.
This is a play for attracting customers, not a direct attribution play. When you gather your brands together, it gives their super fans the ability to form connections with other brands. It's not about driving a direct response, building revenue, or fueling sales; it's about letting people experience the product and the brand's culture. Accentuate visual, aural, auditory, or olfactory features -- anything that affects the senses will strengthen the connections formed in the space.
As a digital agency, you're already taking all of the essential steps to serve your clients. But every other digital agency is serving its clients with the same tactics. Doing the same things your competitors do means settling for the same returns or worse. You need novel ways to help your clients' brands take flight.
Creating a co-retail space was one of the best things we've done for our clients in the last year. Opening up to new fan bases lifted everyone's brand awareness, and allowing customers to see, feel, taste, and experience their products deepened connections.