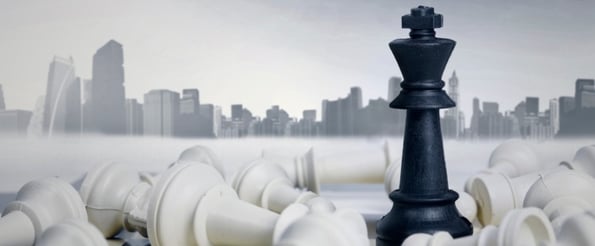 Every company has competitors. In fact, a competitive marketplace is a critical component of our free enterprise system, driving our economy, innovation and the continuous cycle of ever improving quality of products and services.
But do you really know how your company compares to your competitors?
Traditional competitive analyses are applied from either a business plan standpoint or as a component of the annual marketing plan, and they tend to focus primarily on areas such as; Researching your competitors' corporation, determining your competitors' goals and objectives, identifying your competitors' strategies (product, pricing, positioning and place), and conducting a SWOT analysis (strengths, weaknesses, opportunities and threats).
While there are countless variations of the traditional competitive analysis, it typically lacks a clear assessment from a digital inbound marketing perspective. Companies tend to know their competitors based upon who they compete with on the street, in their local marketplace, or based upon the sales opportunities of what they have won or lost.
Little awareness or recognition is given to their online competitors.
Why is this so important? Consider this:
97% of consumers now use online media when researching products and services in their local market1
84% of buyers engage in online information consumption and education2
By a factor of 3 to 1, B2B buyers say that gathering information online on their own is superior to interacting with a sales representative.3
70% - 90% of the buyers journey is complete before they contact a sales representative 4
So let's review the stages of a person's buyer's journey to fully understand where we can affect their buying decision.
Awareness: Your potential client becomes aware that they have a challenge that needs to be solved. This is where you want to attract them with relevant content for their challenge through blog articles, web pages, and social media.
Consideration: At this stage your potential client is comparing different companies and their ability to solve his or her challenge. You need to have valuable content offers with premium content that proves your expertise in solving their problems.
Decision: At this point you need to close them by convincing them that you are exactly what they need. You can help do this through trial offers, consultations, first-time discounts, etc.
It's important to understand that you have to compete for the mindshare of your ideal buyer while they are in their awareness and consideration stages of their evaluation journey.
But, companies no longer control the selling process. Buyers now control the selling process.
So, the most successful competitors you will face are online providing your ideal buyer with the information they seek and consume throughout their decision-making process. Therefore, your company website must become the hub of your marketing efforts and the key to creating more opportunities for your sales team.
That means that you need to understand how well your competitors are doing with their online efforts to attract and convert your ideal buyer. It also means you need to know how you compare against them.
With that in mind, here are 4 important steps you need to take to conduct an inbound marketing competitive analysis on your top online competitors:
1) Identify Your Top Online Competitors
You need to expand your view of your competitors to include those who are ranking on page 1 in the search engine results pages (SERP) for the most relevant keywords to your business. Search engines, and increasingly social media, are where your buyers go to learn and educate themselves on how to solve their challenges, learn about their options, and determine which company or companies they are going to engage with when making a final decision.
Since Google controls about 85% of all search traffic, we recommend using Google to evaluate your competitors' websites, blog articles, social media articles, press releases, etc. that rank on page 1 of the search results for your top keywords. The companies that you see ranked on page 1 are your primary competitors. They are competing for the mindshare of your ideal buyer who is seeking and consuming information as part of the awareness and consideration stage of their buyer's journey.
So, your competitive analysis needs to include a sample of companies that consistently rank in the top search results for the most relevant keywords your ideal buyer uses to research information related to:
Products and services that you provide
Problems and challenges that your ideal buyer typically experiences
Goals, objectives and opportunities that your ideal buyer seeks to achieve or accomplish
Identify your top 4 – 10 competitors and their website addresses. If your company has different lines of business you may want to identify the top 4 competitors for each line of business as well.
2) Assess Your Ability to Attract Your Ideal Buyers
Your ideal buyer typically has a trigger event that drives them to clearly identify a challenge to overcome or a goal to achieve. This trigger happens in your buyer's awareness stage of their buyer's journey.
Consider this: 78% of consumers believe that organizations providing custom content are interested in building good relationships with them...5
It is in this initial awareness stage that your buyer will typically do a search to identify sources that will help them better solve their challenges and related issues. And it is during this awareness stage that you are competing to make sure your buyer is aware of your company. You are competing to position yourself through your custom content as a relevant source that can help them overcome their challenge.
The two essential factors to evaluate in your competitors' websites during this stage include:
Website Strength Evaluation
That includes a website link analysis, mobile optimization, page loading speed test, and social media reach. The results of this analysis allows you to quantify where you stand against your competition in factors that significantly influence your website's ability to attract visitors while they are in their Awareness Stage of their evaluation journey.
Answer questions such as how many backlinks do my competitors have, from how many different domains, and are any of them government or education websites? Inbound links are a key component of Google's assessment of your website's authority and popularity.
Content Evaluation
That identifies the quantity and quality of the content assets your competitors have that are influential in attracting your ideal buyers to their website through search engines and social media. These content types include website pages, blog articles, social media posts, and online press releases. You need to have an understanding of both the quantity and quality of these content types.
It's important to know if your 30-page website is trying to compete against competitors who have websites with 75, 100, or 125 website pages. You need to know how many pages, blog articles, and social media posts your competitors are publishing and how often are they publishing. These content types are key drivers in generating inbound traffic from your buyers.
3) Assess Your Ability to Convert Website Visitors to Leads
Approximately 96% of your website visitors are not ready to buy.6 Instead, they are actively looking for high value content that will give them the information they need to help solve their problem. At this point they are still in their consideration Stage.

You need to evaluate how well your competitors are positioned to covert website visitors to leads or customers, and how that compares to how well you are positioned on your website. If all you have is a Contact Us page and a telephone number, then you are missing critical content assets that can convert more of your website visitors to leads.
Missing critical content results in missed opportunities. Missed opportunities leads to your competitors winning over your potential customers.
Michael McMillan said, "For every problem, there exists a solution…and at the very least…an opportunity." Don't miss that opportunity. Provide a solution.

The key elements needed on your website to convert website visitors to leads are:
A Strong and Clear Value Proposition
That is concise, compelling, noticeably positioned, communicates your unique selling proposition and quickly answers the question of "why should I choose you."
Compelling Calls-to-Action (CTAs)
That are noticeable and prompts your visitors to take an action. Your CTAs will normally be linked to a specific page (such as a landing page) that provides more detailed information about an offer. CTAs should be evident on your website pages, in your content offers, emails and blog posts.
Persuasive Landing Pages
That communicate the value of an offer to your ideal buyer. Landing pages typically have a form to collect some information from the visitor in order to receive the offer. This is where most of the magic happens when converting website visitors into leads.
Forms
That are used to acquire information from your visitor in return for providing high-value content offers, assessments, trial offers, consulting, etc. Typically, at a minimum the forms include acquiring the first name, last name and email address of the person requesting the offer. This information is then stored in a contact database and used for email follow-ups.
High-Value Content Offers
Such as whitepapers, case studies, eBooks, buyer guides, videos, webinars, podcasts, infographics, use cases, kits, presentation decks, etc. should be made available to your visitors to help position you as the best company and resource to solve their challenge.
Content offers are a very important component of your lead generation efforts. Assessing your competitors' content offers is extremely important to better understand their lead generation capabilities that lead to more sales opportunities. The more content they are providing compared to you, the more problems they are solving for your potential customers.
Email signups
Such as subscribing to eNewsletters, alerts, notices and promotional offers should also be evaluated, as they can be an easy way to stay connected to your target buyers. This is one of the easiest ways to nurture your leads into customers and to keep a connection with your current and returning customers.
Analyzing what your competitors are doing across all of these elements will give you a current assessment on how you compare with them in lead generation capabilities. It will identify key strengths and weaknesses of how you compare against your competition. You will also find new opportunities on how to improve your lead generation efforts.
Other items to analyze include:
A Content Audit
Where you evaluate the content on your competitors' websites. Identify the different content types, the frequency of their publishing and the quality of the content being provided. It can also be useful in learning more about the topics and subject matter in which they are positioning themselves as an industry thought leader.
Search Engine Optimization (SEO)
An assessment where you can assess the effectiveness of their SEO efforts. Areas of assessment include page title, URL architecture, header tags, image alt text, internal linking and content length. These are often overlooked details that effect your ranking in search engines.
4) Identify Areas for Improvement
The primary objective of this inbound marketing competitive analysis is to determine how you compare against your competition and identify the key areas where you need to improve your ability to attract more of your ideal buyers and convert them into leads for your sales team. Properly executed Inbound Marketing tactics are 10 times more effective for lead conversion compared to outbound methods.7
You may find that you need to create and publish more blog articles and social media posts to drive more of your target audience to your website. Companies that blog 15+ times per month generate 5x more website traffic than companies that don't blog.8
Don't think you have the time or resources to blog 15 times per month? No problem. Check this out. B2B Companies that blog only 1-2 times per month generate up to 70% more leads than those that don't.9
You may find that you need to create more CTAs and Landing Pages tailored to your different buyer personas to help generate more leads, as companies with 30 or more landing pages generate 7x more leads than those with fewer than 10.10
We recommend that you perform an inbound marketing competitive analysis on at least an annual basis and ideally on a quarterly or semi-annual basis.
A Few Eye-Opening Stats From Real Competitive Analyses
Here's a sneak peek at some of the statistics various companies found out when we conducted a competitive analysis for them.
83% of the companies who requested a competitive analysis ranked last overall compared to their competitors. Don't leave your company's performance in question. In this case ignorance is not bliss.
0% of the Construction companies we have analyzed had a blog. Blogging is one of the best ways to increase your website traffic.
80% of the Engineering companies we have analyzed did not provide content offers. Content offers can be the highest-valued content on a website for your potential customers.
80% of the Solar companies we have compared did not have email signups, which is one of the key drivers for lead nurturing.
Only 25% of the Telecommunications companies we have compared engaged in some form of marketing automation. Marketing automation helps qualify leads faster and more efficiently and provides an all-in-one platform to market your company in the digital world.
Want to know how you stack up against your competition? Don't do your digital marketing in the dark any longer.
[1] BIA/Kelsey
[2] Google ZMOT
[3] Forrester
[4]Forrester
[5] McMurry/TMG
[6] Kissmetrics
[7] Gartner
[8]HubSpot
[9] Business2Community
[10]HubSpot