Does this content marketing formula sound (very) familiar?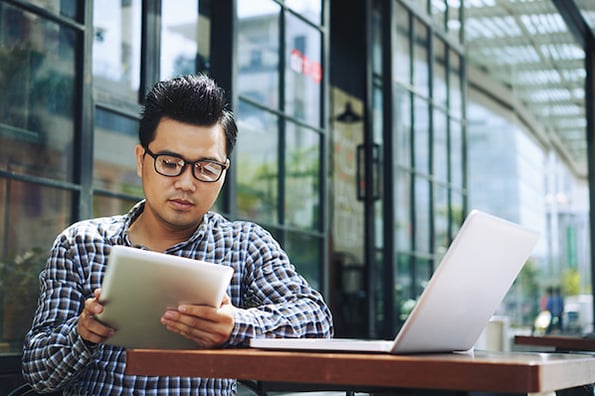 Create content
Publish content on my company's website or blog
Post the link on all my social channels
Cross fingers and hope my audience bites
This is a foundational play in most marketing playbooks -- and sometimes, it works. But waiting and hoping to see if your audience can be convinced to click a link back to your website isn't the only option marketers have anymore.
In April 2019, LinkedIn announced that users can now upload documents and presentations to the platform. Instead of having to convince users to take an extra step back to your website, you can now meet them where they're already spending a lot time -- their LinkedIn feeds.
Have a deck from a recent talk you gave? Or maybe an ebook your company wants to distribute to a relevant audience? This new feature enables you to post content assets directly to your feed for your followers to view without needing to download a file or visit a new location.
To give you a better idea of how this feature looks in action, here's a recent presentation the HubSpot team shared on LinkedIn:
Uploading documents and presentations is a smart way to connect with your followers on a deeper level and encourage more meaningful engagement. In fact, investing in more visual and multimedia content on LinkedIn just might help you reach a broader audience outside of your direct network.
To get started using the new feature, you can follow the steps below.
1. First, navigate to your LinkedIn feed, or the LinkedIn group where you want to share your document or presentation. At the top of the feed, you will see the "Start a Post" box with three content type options. Click on the document icon, highlighted here:
2. Once you click on the document icon, you'll be prompted to select a file from your computer to upload. LinkedIn accepts .pdf, .ppt, .pptx, .doc, and .docx file types.
3. You'll be able to add a title, caption, and include relevant hashtags and user mentions in the description box before finalizing your file upload. You can also control who sees your file if you want to limit access to your connections only.
4. When you're ready to go, click "Post" and the file will be shared on your feed with the audience you specified, or with members of the LinkedIn group you selected in the first step.
And that's it! You can start sharing decks, presentations, ebooks, case studies, and more multimedia content assets directly on LinkedIn.