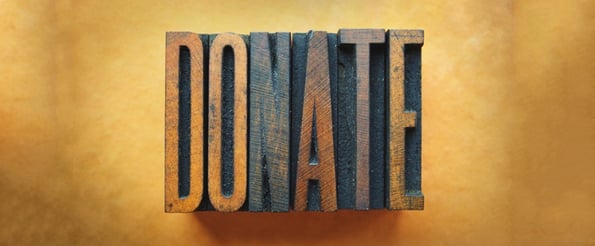 Modern marketing tools and tactics help nonprofits engage with donors, build trust, inspire support and, ultimately, turn one-time donors into charity advocates. But sometimes, even the most well planned marketing strategies fail to produce the desired results.
One possible reason is your team is missing the mark on some key campaign attributes. As you roll out new campaigns to generate stronger support for your nonprofit, don't forget to incorporate the following focal points into your strategy. They may be just what you need to maximize donations.
1) Mobile Responsive Landing Page
If your website isn't equipped with mobile responsive technology, it won't look or function the same on a mobile device as it does on a desktop. This poses a problem for several reasons:
50 percent of the people who visit your nonprofit website will do so from a mobile device.
If the page doesn't look professional and well designed on all devices, a potential donor may not trust that your organization is reputable.
If the donation process isn't fast and simple from any device, visitors may leave the page before they complete their donation.
Websites that successfully implement mobile responsiveness (landing pages that automatically calibrate to fit any size screen on any device) are capable of generating up to 34 percent more donations.
If you already have a mobile responsive website, make sure donation forms can be accessed from all pages on the site by including a donate call to action (CTA) that visually grabs attention.
If you don't already have a mobile responsive website, you can create an independent donation page that is mobile responsive and link to it from all donation buttons on your main website. Just make sure branding is consistent between the main website and the independent page so as not to confuse visitors.
2) Storytelling
People donate because they feel a connection to a cause and are inspired to help. Without creating that connection, it's unlikely you'll get a contribution, much less a generous one. The first step to connecting people with your cause is to share its story.
Help people understand what inspired the formation of the nonprofit, why its mission is important and how their contributions will make a difference.
Share these stories where your donors spend their time, like Facebook, Twitter and Instagram. Dedicate a portion of your website to telling your organization's story and feature stories in blogs and social media posts. Lastly, illustrate stories with photos, videos and graphics that help readers visually indulge. Painting a vivid picture of who your organization is and how it's making an impact builds donor interest and trust — two critical influencers of giving.
3) Compelling CTAs, Headlines and Content
The average attention span today is about 8.25 seconds, which means you need more than a good story to inspire support. Make headlines catchy with relevant statistics and clever word-play to encourage visitors to click and read about your cause.
Make the story an easy read by breaking up the body of the content into short, digestible paragraphs with conversational narrative. Include pictures, videos and graphics to keep their attention. Finally, make CTA buttons stand out with bright design and witty wording to inspire clicks.
If you aren't comfortable writing your own content, consider hiring a professional, who will expertly adapt tone to align with your nonprofit's brand and voice. It is also advisable to optimize content with keywords to grab Search Engine attention.
4) Social Media Advertising
Social proof is a psychological occurrence in which people assume the actions of others in an attempt to mirror correct behavior for a giving situation. Social proof can have a profound impact on nonprofit missions. Take the 2014 Ice Bucket Challenge for example:
What began as a small "dare" to raise awareness and funds for amyotrophic lateral sclerosis (ALS) research shifted into a global movement that flooded social media walls and raised about $220 million. Before the Ice Bucket Challenge, most people had no idea what ALS was. Today, not only has awareness surrounding the condition skyrocketed, but also it's likely you or someone you know contributed to the cause.
charity: water, a nonprofit dedicated to bringing clean, safe drinking water to people in developing countries, also found a unique way to inspire social proof. First, it built a connection between social media followers and its cause by sharing real life metrics about funds that have been raised and how many people have been helped.
Next, it fortifies donor connections with videos and pictures that illustrate how those funds are being put to use. Finally (and most impressively), they encourage others to take action on their own platforms by promoting a "Donate Your Birthday" campaign. Instead of someone receiving gifts for their birthday, charity: water supporters can ask friends and family to make a donation to the charity on their behalf. Thus far, the initiative has helped raise $9 million.
Bonus Tip! Facebook recently launched to ability to include a "Donate Now" call-to-action button option on both link ads and company Pages. Learn how to incorporate into your marketing campaigns here.
5) Accurate Ask Amounts
Research suggests when a specific donation amount is asked, people are 50 percent more likely to contribute and often times give anywhere from 20 to 30 percent more than they otherwise would have.[1]
However, asking the correct amount is critical to the success of this approach. Ask too much, and you risk turning away or offending a supporter. Ask too little, and you fail to maximize the contribution. The most effective way to determine ask amount is with predictive analytics.
Predictive analytics platforms, such as ExactAsk, source Big Data about your donors from places where existing information can be found, including:
Email marketing
Customer relationship management software, including HubSpot
Website activity (forms and surveys)
Donors' history with your organization (how long they've been on file, what their lifetime contribute is, etc.)
Census Bureau
Facebook interactions
Next, the platform sorts the information in search of trends, patterns and associations (especially as they relate to behavior) to generate a scientifically probable ask amount.
Predictive analytics eliminate confusing formulas and replace educated guessing with factual data that can be used for more than just asking the right donation amount. The data can also help with donor list segmentation and the redistribution of marketing efforts to target the donors most likely to gift large amounts or contribute regularly.
The Food Bank of South Jersey implemented predictive analytics when it was struggling to increase its fundraising ROI. While the organization continued to grow each year, average donations were too small to generate a positive return fast enough, especially with the growing cost of direct mail. As a result, the organization wanted to focus its resources on the donors and prospects that could generate the biggest returns – but didn't know who these people were.
Using the ExactAsk software, the Food Bank ran campaigns that generated 2x more revenue per day. In other words, the Food Bank was able to generate the same revenue in half the time. Here are the results:
Lists generated the same revenue in half the time (compared to other lists)
2x the response rate
2x the number of donations
2x the average amount donated per day
Revenue is increasing at the same time costs are decreasing—overall profit margin grows
Predictive analytics allowed the Food Bank to shift focus from who has resources to give to who wants to give.
The Bottom Line
Ask for exactly the amount your donors are likely to contribute and align the function and beauty of your website with appetizing headlines, compelling content, beautiful graphics, emotionally charged photos and videos, and a simple and effective way to donate.
Broadcast your message on the channels your donors frequent, like Facebook and Twitter, and focus on building a long-term connection with donors instead of soliciting a one-time gift. When done successfully, revenue potential is limitless.
[1] Doob, Anthony N. & McLaughlin, Danielle S. (1989). Ask and You Shall be Given: Request Size and Donations to a Good Cause. Journal of Applied Social Psychology. Volume 19, Issue 12, pages 1049–1056