Providing employee benefits will help you attract top talent -- a Glassdoor survey found around 60% of people report benefits and perks being among their top considerations before accepting a job.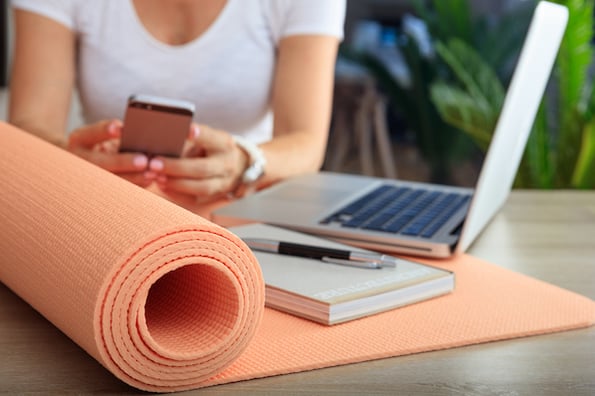 Additionally, employee benefits can enable you to communicate your company's values. For instance, Reebok's benefits include an on-site gym as well as an employee CrossFit discount, demonstrating the company's focus on health and wellness for all its employees.
Offering good employee benefits is also critical for long-term employee retention. People don't just want their salary to increase over time -- they also want to know they'll have paid parental leave when the time comes, or tuition reimbursement if they decide to go back to school.
To ensure you're offering employee benefits that will delight your employees and motivate them to grow with your company long-term, take a look at our comprehensive list of employee benefits.
Employee Benefits
Employee benefits entail any non-salary compensation included in an employee's contract, including health insurance, a retirement plan, or paid vacation time. Typically, benefits are included to create a more competitive package for an employee. Benefits will attract and retain top talent, and can help communicate your company's top priorities and values.
1. Health Insurance
According to a Glassdoor survey, employees report health insurance to be the most important benefit they receive from their employer. To make your employees happy, it's critical you offer a good health insurance package. Plus, offering health insurance to your employees can save you money on taxes.
It's important to note, if you work for a larger company with more than 50 employees, you are required to provide health insurance.
To figure out what type of health insurance coverage you should offer, you'll want to benchmark your health coverage against competitors in the industry. Additionally, speak with a broker to ensure you're remaining compliant with regulations.
2. Dental Insurance
Dental insurance is another common benefit, although not required by law. There are three different dental insurance plans you might offer -- a fully-funded employer plan, a partially-funded employer plan, or a fully-funded employee plan (in which the employee pays the entire cost, but the employer covers administrative costs and payroll deductions).
3. Life Insurance
According to the Bureau of Labor Statistics (BLS), 59 percent of civilian companies and 55 percent of private firms offered life insurance in 2018. While not as common as health insurance, it's still a good benefit you should consider providing. You might offer the employee's salary, in full, as part of your life insurance policy, or offer to pay part of the full cost and ask the employee to pay the rest if the employee wants to participate.
4. Retirement Plans
The most traditional employer-offered retirement account is a 401(k). A national survey of small businesses found 94 percent of small business owners say offering a 401(k) drives their employee recruitment and retention. If you think you're too small to participate, think again -- anyone can offer a 401(k) benefit to employees, even if you have a company of five.
Additionally, you don't have to match your employees' 401(k) payments if you don't believe your company has the financial means to do so (although your match is tax-deductible). There is a lot of flexibility when it comes to the type of 401(k) you set up. Alternatively, you can offer an annual profit share based on business performance, or offer a match for employees that vests over time.
5. Paid Time-Off for Vacation and Sick Days
These days, many employees seek out flexibility and good work-life balance when considering where they want to work. It's important to offer your employees some form of paid time-off (PTO), which employees can use at their discretion. While some employees might use their PTO to take a trip with family or friends, other employees might simply use it to attend doctor's appointments or take care of a sick child. Without offering PTO, you risk your employees more quickly reaching burnout in their roles -- a well-rested and happy employee is a more productive one, so this is a worthwhile investment.
Typically, employees receive ten paid vacation days after one year at the company -- their PTO increases the longer they work at the company, with an average 15 days PTO after five years at a company. However, the amount of PTO days is up to you. You might wrap your paid vacation and sick days into one, or you can separate these in your benefits' package.
6. Flexible Schedules
Flexible schedules have become more common nowadays, and for good reason -- flexible schedules can allow your employees to work whenever they're most productive, and take breaks when they aren't. Additionally, flexible schedules enable employees to find a good work-life balance, have time to prioritize family, or even simply avoid the morning commute.
You'll have to decide if flexible schedules is conducive to your office environment, but it's worth looking into and is becoming a major perk of many companies, including Raytheon and HubSpot.
Take a look at Flexible Schedules: The Good, Bad, & the Surprising, to decide if it's a good option for your business.
7. Tuition Reimbursement
Offering tuition reimbursement isn't just a benefit for your employees -- it's also an advantage for your business. Enabling employees to pursue learning opportunities and become proficient in new skills can help your company grow faster. Additionally, providing growth opportunities for your employees will likely translate to better retention rates.
Plus, your employee's reimbursement program costs are tax-deductible. With smarter employees as a result, it's a win-win.
8. Paid Parental Leave
After having worked one year and 1,250 hours, all U.S. employees are legally entitled to receive 12 weeks of unpaid leave for the birth or adoption of a child through the Family Medical Leave Act (FMLA) -- however, there is no law that requires companies to provide paid maternity leave.
Despite this, you should consider offering paid parental leave at your company (if you're able to do so) to allow employees time to rest and focus on their families before returning to work. Paid parental leave demonstrates your company's emphasis on the importance family, and work-life balance.
For instance, IKEA offers its 14,000 salaried and hourly workers up to four months of paid parental leave -- the policy extends to mothers and fathers who are birth, adoptive, or foster parents. IKEA said their decision reflects its "Swedish roots and [its] vision to create a better everyday life for all people."
Ultimately, paid parental leave could be a compelling factor for employees to stay with your company for the long-term, without worrying about pursuing opportunities that will allow them to become more family-focused.
9. On-site Gym or Fitness Discounts
Promoting wellness at work has been proven to result in better productivity and less employee turnover. Additionally, putting some of your company's finances towards your employees' health and wellness can actually decrease long-term healthcare costs.
For instance, a U.S. Motorola case study found for every $1 Motorola invested in their Wellness benefits, including disease management, flu immunizations, and stress management, they saved $3.93.
To learn more about how you can promote wellness at your office, and why it's important, take a look at our Ultimate Guide to Wellness at Work.