In 2020, the era of digital transformation is in full swing.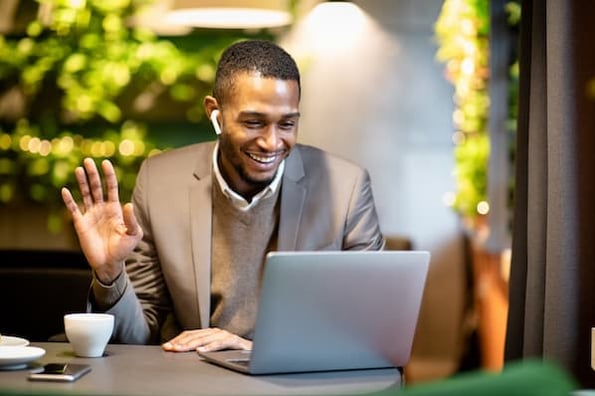 At this point, video, blogging, and content marketing top the list of tactics brands are investing more heavily in. Meanwhile, 97% learn about businesses online more than anywhere else.
While most brands embrace digital transformation and today's technology through online marketing tactics like blogs, social media marketing, and email newsletters, other companies are taking things a step further by bringing some of their in-person services online.
For example, in the last year, we've seen beauty experts, career coaches, tax representatives, and even educators begin to schedule online classes or consultations that allow their clients to learn from them without ever having to step foot in the same room.
The growth in virtualized services makes a lot of sense. In the past, in-person services relied on strong local marketing and a good geographical business location. But, now, virtual services can open a pool of clients up nationally or internationally. Not to mention, brands that make themselves more accessible to clients might even be perceived as companies that truly care about customer experience.
While it's still not possible to bring all businesses and services online, recently, a number of unexpected companies have gotten creative to virtualize services that originally needed to take place in a physical store or location.
If you think that some of your products or services could go completely digital, but need a bit of inspiration, here are nine innovative examples of brands that made some or all of their once-physical services virtual.
9 Brands That Made Services Virtual
Recently, after temporarily closing all Planet Fitness branches and pausing gym membership fees, Planet Fitness began offering free virtual "work-in" classes and online training. Although they're not making any money off of these classes, they serve as a strong customer retention strategy by encouraging those who aren't regularly going to the gym to use Planet Fitness' expert coaches to stay in shape.
Here's a video of one of the "work-ins" which was first featured on Facebook Live.
When Planet Fitness locations open again, customers might remember the effort Planet Fitness made to keep everyone healthy and active despite gym closures. This could result in members feeling like the gym cares about its clients even when it isn't generating revenue from them.
In 2020, a number of local and name-brand hair salons have been offering virtual consultations, online beauty tutorials, and guided haircuts. One example of a local business that's embracing video call technology to continue servicing customers is Lure Salon.
According to the Dallas-based salon's website, customers can book a time to FaceTime with a stylist. They can use this time to discuss what type of color or style they're thinking of for their hair, create a coloring plan that can be done at home, and learn more about the tools that are necessary for safe hair-styling.
In March, Sweet Farm, an animal sanctuary based in California, launched a campaign where animal-lovers could invite one of the organization's goats, llamas, cows, or other animals to video calls. The campaign is cleverly titled, "Goat-2-Meeting," a play on GoToMeeting -- a popular video meeting software.
"Our board member, Jon Azoff, came up with the idea and said, 'You know, we're having so many company meetings and happy hours but they're all boring. What if we could get a goat or llama on the call?'" Nate Salpeter, Sweet Farm co-founder, told CNN.
According to the Goat-2-Meeting site, people all around the world can schedule an animal meet-and-greets for donations ranging between $65 to $750 depending on how many people plan to attend and whether the video call will be hosted for a small group of friends or a corporate company.
In most of the meeting formats offered, guests will get a quick tour of the farm, some information about the animal on their call, and an opportunity to ask questions about Sweet Farm or the animal.
Not only is this campaign adorable, but it also allows the farm to generate revenue and spread awareness about its organization's mission on a viral global scale. According to Sweet Farm, the campaign has been so successful that there's now a waitlist to book a meeting.
Based in the startup hub of Cambridge, Mass., Venture Cafe is a physical venue that hosts events to promote the local startup and innovation community. Events often include pitching sessions, expert Q&As, fundraisers, networking nights, workshops, and presentations from business experts.
Recently, Venture Cafe, or VenCaf, began offering a number of virtual opportunities for those who couldn't attend physical events. These virtual events include webinars, Q&As, workshops, and virtual networking. VenCaf has also launched podcasts, videos, and other online resources to keep the startup community informed.
Since 2016, Allstate has been virtually inspecting insured property via drone streams. This strategy, which was considered incredibly innovative at the time it began has also been honored with an award from the Novarica Insurance Technology Research Council.
When a customer applies or files a claim online for homeowners, renters, or business property insurance, Allstate can deploy drones to review the insured site or confirm visible damage.
While a rep might still need to visit and inspect certain sites or claims, drone photos or videos can expedite the process of getting insured customers money in a faster amount of time. This could also be safer for reps and insured people when the property is too dangerous to set foot on after a fire, flood, or other types of damage occur.
H&R Block offers an Online Assist add-on for tax filers which allows you to chat with a tax expert in real-time as you prepare your taxes. For more complex questions and troubleshooting, you can also video call and share your screen with an H&R Block representative who can walk you through how to fill out your tax forms.
Although this add-on is not equal to having an accountant file taxes, it might make customers feel more comfortable filing with H&R Block. For example, if someone can't afford an accountant but is worried they'll make a mistake on their taxes, they might file with the help of the Online Assist tool for a tax professional's live reassurance that they are doing everything correctly.
Warby Parker is well-known for making in-person aspects of glasses shopping into almost completely virtual experiences. While those who still prefer shopping for glasses in person can visit a Warby Parker store, those who just want to make a quick purchase can virtually try on glasses, purchase them online, and return them if there are any flaws.
On top of virtual fitting, Warby Parker now even helps you determine your vision prescription from home with the help of its Prescription Check app. With the desktop and mobile app, you'll receive a few automatic prompts in a chat thread. Then you'll be given tests to determine your distance and close-range vision. Following these tests, a real Warby Parker doctor will look over your results and confirm your prescription with you.
Ultimately, Warby Parker's customer tools streamline the once fully in-person aspects of finding glasses. You can use them to determine your visual needs, map your face to determine if you need high-index or low-index glasses, get glasses shape suggestions, and ultimately purchase a pair that seems right for you.
Painting a house can take time, especially if you're picky when it comes to color. Odds are, you'll go to your local hardware store multiple times to get more paint swatches or different shades of paint. However, a number of hardware stores, including Home Depot, have attempted to streamline the paint swatching process by allowing you to virtually see different shades of their paint on your wall.
Home Depot's paint preview app is called ProjectColor. With the app, you can not only preview your own rooms in all of Home Depot's paint colors, but you can also see how the shades look in other rooms with different liking through stock photos available on the app.
Aside from ProjectColor, you can also see how certain objects or appliances look in your house using Home Depot's AR-powered preview tools.
As someone who dyes her hair at least twice a year, I know that it can be a strangely strenuous process. First, you go online, Google different hairstyles, and discuss all the images you find with your friends to get their opinions. Then, if you aren't able to go to a hairdresser, you go to a drugstore, compare all the different colors and boxes to the photos you have, hold the preview image on the box up to your hair to see how the dye will come out, buy the dye, and hope it works well for you.
Although L'Oreal can't physically dye your hair for you without in-person interractions, they have developed a virtual tool that can help you streamline the color research and previewing process. The tool, called Style My Hair, uses AR to scan a photo of your face. From there, you can tap through a variety of haircuts and L'Oreal hair colors to get an idea of which would look best on you.
Once you've decided what you want to do with your hair, you can either screenshot the image to get feedback from friends or loved ones or buy the hair color products directly from L'Oreal's website.
Should You Virtualize Your Services?
As you try to determine if your business is a good candidate for a virtual transformation, ask yourself these questions:
Can any part of my services be done between a client and a rep through video chat?
H&R Block, Lure Salon, and many other organizations have realized that they don't necessarily need customers to come in to provide value to them. Because of this, if they aren't able to provide a physical one-on-one experience, they have their experts educate or aid clients over video calls, phone calls, or live chats. Later on, when that client is pleased with the service and interactions they had with the brand's expert, they might seek out the brand for a physical service -- like a complex haircut.
If you can't make your core product virtual, are their digital resources you can offer?
Although Planet Fitness couldn't make a virtual version of a gym, the company leveraged its fitness experts and trainers by asking them to film instructional workout videos. This allows customers or fans who can't get into the gym to learn how they can stay in shape at home and still gain value from Planet Fitness when their physical branch is closed.
Will the cost of going virtual outweigh the reward?
While asking employees you already have to hop on a video call with a client might not cost you more money than running a physical service, hiring an AR developer to create product previews, or purchasing a drone to look at job sites, can cost a fortune for a small or medium business.
Be sure to look at your budget and your constraints to determine if a virtual approach will be worth it. Aside from looking at potential ROI, you should also consider how this virtual approach might impact customer retention or potentially bring in new customers that couldn't visit your physical business for various reasons.
If you're interested in offering virtual services or resources to your audience, check out these guides to running virtual events, live streaming, augmented reality, and video conference calls.