Excel is one of the world's most popular spreadsheet programs, with an estimated 750 million people using it for data summary and organization, analysis, and reporting.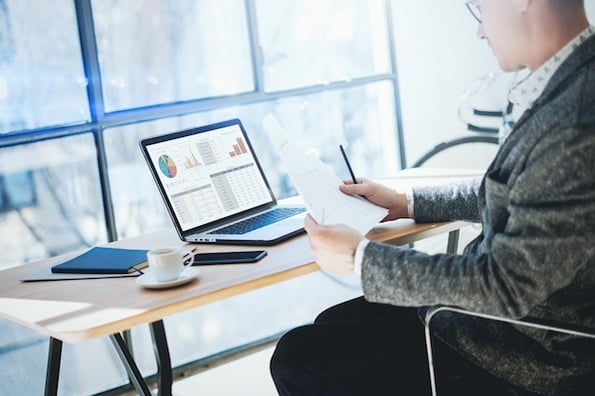 While it's a commendable data system for teams within a business, it's not free -- a standalone copy of Excel 2016 is $129.99, and the Office personal subscription is $69.99 per year for one user.
Equally important to note, Excel has its fair share of shortcomings, and there are some alternatives that might work better for your team or project.
If you feel you could be better off using a different data spreadsheet system, or if you simply don't have the means to pay for one, take a look at our list of the eight best Excel alternatives.
Best Excel Alternatives
Google Sheets
Numbers
Thinkfree
Birt Spreadsheet
ClickUp
Zoho Sheet
FreeOffice2016
Apache OpenOffice
Quip
Price: Free
If you have a Gmail account, you already have access to Google Sheets. Google Sheets, an almost equal competitor to Excel in both layout and features, has a few benefits that Excel lacks. For one thing, your files on Google Sheets are saved in the Cloud. That means if you use multiple devices for business purposes, you can't beat the automatic accessibility of Sheets.
Second, you can share your Sheets with anyone on Slack or email and make edits simultaneously, allowing for optimal collaboration and teamwork on projects. Lastly, with Sheets, you have the advantage of other Google tools, like Google Translate, GoFinance, and Import Feed/Import Data functions, which enable you to pull data straight from web page's URLS.
Price: Free (for Mac users)
This program comes free with every Mac, and is essentially Mac's own version of Microsoft's Excel. Numbers provides high-quality data analysis and reporting functions, as well as plenty of visual tools. The program uniquely provides pre-built templates, dynamic donut charts and graphs, and a library with more than 600 shapes to turn your data into presentation-ready visuals. Since it's in the iOS system, you can use the program on any Mac device, making it easy to access your data on the go or from home. In a show of great sportsmanship, Numbers also enables you to save your spreadsheet as an Excel file, to share with anyone who prefers to stick with Excel.
Price: 2/months free trial; Enterprise version $79.99
ThinkFree offers three primary features, which are compatible with office programs: Write, Calc, and Show. The Excel alternative, Calc, lets you create spreadsheets and presentations and provides 1 GB of free online storage, and like Google Sheets, you can collaborate with colleagues on ThinkFree documents. Most notably, ThinkFree allows you to edit and view your documents on your mobile device, if you want to make changes to your spreadsheet away from your computer. ThinkFree doesn't require any Office installation.
Price: Free
This Excel alternative is particularly helpful for data analysis, with features including live formulas, pivot tables, hyperlinks, and data-driven layouts. Birt Spreadsheet (formerly Actuate e.Spreadsheet) automates and centralizes all your spreadsheet production, maintenance, and security. Birt also provides a Spreadsheet Designer, which creates reports to retain formulas, formatting, live charts, and data connections.
Price: Free; Paid plans starting at $5/user per month
ClickUp is an all-in-one productivity tool that individual users and teams rely on to manage and organize their projects in one place. It offers hundreds of customizable features and over 15 unique ways to visualize your work including Table view. Like Excel, Table view lets you manage, edit, and organize your tasks into clean columns and rows, but unlike Excel, you also gain the benefits of a powerful project management software to move your work along.
Since your Table is directly connected to your workflow in ClickUp, all of your progress, updates, and task statuses are automatically reflected as you go. You can even pull real-time reporting for a high-level overview of your work at any time.
Price: Free for teams of up to 25 users
One of the biggest perks of Zoho is that it's Cloud-based, so you can access your data wherever and whenever you want. It offers functions including charts and pivot tables comparable to Excel, and you can also switch easily between .xlsx, .xls, .csv, and .ods. Plus, Zoho allows you to edit a spreadsheet with colleagues simultaneously, making collaboration easy. Along with functions to simplify formulas, and filters to analyze data, Zoho also provides visual charts and tools to create presentation-ready graphics.
Price: Free
The features in FreeOffice's Excel alternative, PlanMaker, are very similar to Excel, including conditional formatting, pivot tables, and data visualization tools to create presentations. Best of all, FreeOffice's programs are compatible with Microsoft Office file formats, so if you tend to use Microsoft Office, this alternative makes for easy transfers to any Microsoft product. The FreeOffice tools are clean and intuitive, and they're also fast, even with dense data. However, if you want to save files as .doc, .xlsx, or .ppt., you'll need to purchase a paid plan.
Price: Free
Apache OpenOffice, used on over 100 million computers, offers free software for word processing, spreadsheets, presentations, graphics, and more. It's an open-source program, which means you can modify the program to meet your business's needs, and it's downloadable, which means you can work on your spreadsheets without wifi. Data is stored in an open standard format, and Calc, Excel's alternative, performs data analysis.
Price: Free trial/$30 yearly for five members
If your team collaborates on budgeting or data reporting, Quip is a useful tool -- it enables your team to operate and manage spreadsheets together, simultaneously. With over 400 functions, the Excel alternative has the capability to handle complex projects, and is used by companies including Facebook, CNN, and Pinterest. If you're hesitant, Quip offers a free trial so you can try it out.