In 2016, Facebook launched its live feature. By 2018, one out of every five videos on the social network was a live broadcast.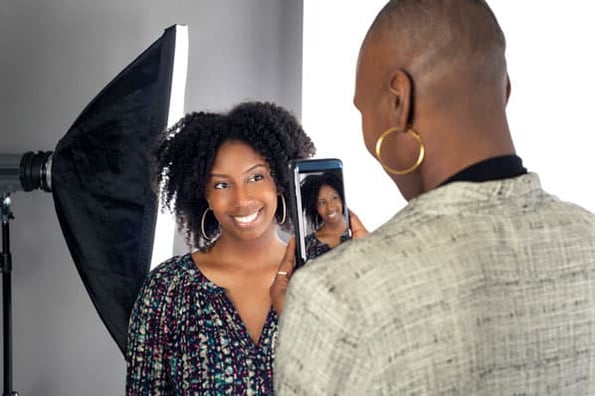 So far, many brands have gotten on the Facebook Live bandwagon by creating streams to discuss their product, show off knowledge of their industry, or simply entertain and grow Facebook audiences.
With this in mind, carving out a strategy for Facebook Live seems like a no-brainer.
Now, we get it. Going live, well, it's kinda scary. What if you mess up? What if the camera wigs out? There are a number of things that could go wrong. But while you're contemplating the risk, a ton of brands are out there engaging their audience in some really exciting and personal new ways.

To help you shake the nerves, we put together a list of some of the best Facebook Live broadcasts we've ever seen. From live debates to intense trainings, you'll get a little taste of everything to inspire you to add live streaming to your Facebook marketing strategy.
(And read this article for more tips on how to get started with Facebook Live.)
13 of the Best Facebook Live Videos We've Ever Seen
Birchbox, a company which sends subscribers a monthly box of makeup samples, recently did a Facebook Live tutorial video where a rep from Benefit Cosmetics put its new BADgal mascara on the eyelashes of Birchbox's host. The mascara shown was also featured in that month's Birchbox sample box.
At the beginning of the video, the host and Benefit rep explain that the day before was National Lash Day and that they wanted to celebrate it by highlighting the product. Then the rep explains why the mascara and its unique brush gives eyelashes a more voluminous look. Then the tutorial begins with one eye getting mascara at a time so viewers can see the difference in volume.
As the tutorial goes on, viewers comment asking the host questions. The host also asks trivia questions and allows commenters to answer. She notes that those who engage the most will be entered to win a giveaway.
This video is a great example of a live stream that a brand can do on a budget. The video has no editing, doesn't feature any celebrities or influencers, and doesn't seem like it required a high production budget. With just a camera, the marketing team was able to film a nice tutorial that showed how a product worked.
This video is also interactive and gives viewers the option to ask questions or compete to win a prize. Allowing questions or a trivia-based giveaways is a simple, but effective way to get comments and engagement without spending a lot of marketing dollars on a high-budget production.
Gearing up for Halloween in 2016, Tomcat, a rodent extermination company, wanted to experiment with a puppet-filled, horror-themed, live video event. The narrative, which was created in part by their marketing agency, told the story of a few oblivious teenage mice that were vacationing in a haunted cabin in the woods. At peak points of the story, audiences were asked to use the comments to choose which mouse puppet would die next or how they would die.
Prior to the video event, Tomcat also rolled out movie posters with the event date, an image of the scared mouse puppets, and a headline saying, "Spoiler: They all die!"
It turned out that a lot of people enjoyed killing rodents. The live video got over 2.3 million unique views, and 21% of them actively participated. As an added bonus, the video also boosted Tomcat's Facebook fanbase by 58% and earned them a Cyber Lion at the 2017 Cannes Lions awards.
Here's a hilarious sizzle reel that shows a few clips from the video and a few key stats:
This interactive Facebook Live example shows how creative content marketing can help even the most logistical businesses gain engagement. While pest control can be a dry topic for a video, the brand highlighted it in a creative and funny way.
Not only might this interactive video peak brand interest from people who hadn't thought that deeply about pest control, but it could have also helped the video algorithmically. As more people comment, share, and react to a live video, there's more likelihood that it will get prioritized and displayed in the feeds of others.
One really interesting route brands have taken with Facebook Live is the series approach. In other words, they broadcast a themed video series on a set date and time, usually weekly.
Why does this work so well? As Author Laura Vanderkam explains: "TV shows come on at certain times so people get in the habit of watching them. You can do the same with Facebook Live."
CNN and Anderson Cooper have embraced this strategy by producing and streaming "Anderson Cooper: Full Circle."
Anderson Cooper gives news junkies regular rundowns of top U.S. news with his mobile-friendly livestream, "Anderson Cooper: Full Circle." The show is similar to Anderson 360, the host's show on CNN. However, he sums up the news quickly and keeps the show within 10 minutes or so.
The formatting of the show, including its vertical shape, works well on social platforms, where users are quickly surfing through feeds while holding their phones vertically.
In the example below, Cooper covers political news and interviews a scientist about an upcoming lunar eclipse:
Unlike a newscast, Cooper allows audience members to comment with questions for the people who are on the show. He also occasionally invites them to ask him questions about his journalistic experiences. For example, in the post above, someone asks "How do you make a child interview subject comfortable?" Then Cooper gives a detailed explanation.
Cooper also embraces social media even further by asking audiences what trending topics they want to learn more about in the stream. At the end, he then gives a really short rundown of three of those topics. This is a great strategy from Cooper because he allows fans to engage in the stream and help create a newscast that's just for them.
Jada Pinkett Smith was one of the first major celebrities to host a talk show on Facebook Live.
Episodes of Red Table Talk are often conversational, like a podcast. While Pinkett Smith hosts and interviews her guests, they all sit around a red table and have more casual conversation than a usual sit-down interview. On the show, Smith is also not afraid to discuss hard-hitting topics like race, sexuality, and politics.
In the premiere episode of the series, which aired on Mothers Day in 2018, she sits down with her daughter and mother. The family members ask each other deep and emotional questions about life, like, "What is your biggest motherhood regret." This content keeps you the edge of your seat and makes you relate to each person more -- especially if you are a parent or daughter.
Although Red Table Talk airs on Facebook Live, it's pre-recorded. However, it is still fascinating to learn about celebrities in a new light. It's also an interesting example of how brands or influencers that don't want to commit to being recorded on the spot can do something that's still both creative and different.
During the past few seasons of the Stanley Cup, the NHL has streamed episodes of Stanley Cup Live via Facebook. During each episode, its hosts, Adam Burish and Jackie Redmond, interview NHL players and draft prospects with questions from live commenters. Occasionally, Stanley Cup Live will do interviews on location at game parades, NHL events, and hockey matches.
Here's a quick screenshot from an episode where the hosts interviewed draft prospects that had just trained at the NHL Combine.
While the NHL doesn't allow Facebook users to take livestream embed codes, you can see the full video here. You can also click here to see a short explainer video about Stanley Cup Live.
This is a great way for athletic teams or organizations in the sporting industry to market themselves. It not only allows people to learn more about their favorite players, but it also allows social media users to interact with the brand in a whole new way.
Aside from allowing users to interact with NHL players, this stream is also a great example of live sponsored content. Many of these episodes are sponsored by sporting goods or beer companies.
For example, in 2018, the series was sponsored by New Amsterdam Vodka.
Tough Mudder is an endurance event series known for its military-style obstacles and enormous sense of community. A few weeks ago, they took to Facebook Live to broadcast their Merrell Michigan Training Event with Coach T. Mud, a.k.a. Kyle Railton. Infectious energy aside, this stream made the list for a few reasons.
For one, it serves as a great use case for how to keep your community engaged -- even when they can't make it to your event. By bringing the event right to their audience's desktop or mobile device, they can choose to follow along with the training, or simply get a sense of what they might be signing up for.
At the beginning of the broadcast, Coach T. Mud gives a shout out to the Tough Mudder Snapchat handle to encourage those at home -- and at the event -- to follow along with the training there. This is a great way to cross-promote your channels and increase overall engagement.
Around the six-minute mark, the person filming chimes in to reiterate where they are streaming from. She does the same thing again around the eight-minute mark. This is a great strategy for keeping those who might be joining mid-stream in the loop.
Finally, we really love the way Coach T. Mud gets up close and personal with some of the attendees around the 18-minute mark. While he mainly uses this time to get to know the Tough Mudder community a little better, he also sneaks in some subtle promotions, like this:
Well played, Coach.
(Want to learn more about Tough Mudder's growth strategy? Check out this episode of The Growth Show featuring Tough Mudder Founder and CEO Will Dean.)
This cosmetics company takes a traditional on-camera sales approach to Facebook Live. In the past and even still today, many shopping networks have featured reps from various companies which pitch their product live as viewers call in or go online to purchase the product.
Recently, Benefit Cosmetics was posting live videos where they would talk about their products in a similar way. From a sound stage, they'd show the product while giving a full detailed description of it. Then, Benefit reps show the product in action with tutorials. They also occasionally answer questions about the product from the audience.
Below is one example where they talk about a new makeup line.
Although they do give a traditional order phone number to call, like old shopping-network television shows did, they also include a link where you go go to purchase the product in the video's caption.
This is a great example of how some old-school marketing strategies can be tweaked to fit newer social platforms. With shows on shopping networks, you'd often see detailed descriptions of the product, tutorials, and discussions from people who've already used the product. These things are great to include in a video marketing strategy, which could mean that this format might actually work with slight tweaks on newer platforms.
The next Facebook video on the list comes to us in two parts. In an interesting series of events, Jason Carr, a former news anchor for FOX 2 in Detroit, takes Facebook Live viewers on a ride to his new gig at WDIV-TV, Local 4 News ... but he doesn't tell them that. At least not in the beginning.
The first video begins with Carr explaining that he's going Live to follow up on a promise he made during his final broadcast for FOX 2 earlier that morning. This was his first right move: Using Facebook Live to extend the conversation following something like a webinar, interview, or panel discussion is a great way to connect with your audience while they're already engaged.
Viewers watch as Carr -- who is broadcasting live from the back of a Cadillac -- takes a trip to what he refers to as "parts unknown." During the first half of the stream, he provides some context around leaving the station, while engaging with viewers in the comments and continuing to build suspense for where he's headed.
The whole suspense aspect is key, as it helps Carr spark his audience's curiosity. After all, a little curiosity can go a long way: Research from the University of California revealed that sparking participant's curiosity with the right question helped to prepare their brain for learning, while also making learning a more rewarding experience.
Just before the stream wraps up, we see Carr arrive at his secret destination -- his new station -- where he announces that he'll pick back up once he has a chance to go in and get settled.
A little over an hour later, Carr fires up his stream again to give viewers a behind the scenes look at his first appearance on the new job.
Talk about a creative way to announce a new hire.
This Grazia/Facebook collaboration just might be the most interesting use case for Facebook Live on our list. This month, the team at Grazia UK, an Italian women's magazine with international editions, headed off to Facebook's London headquarters to piece together their first "community issue."
They took to Facebook Live to document a week's worth of behind-the-scenes footage, allowing their audience to participate in things like their editorial meeting, cover shoot, and GraziaxFB Brexit Debate.
While all of the footage really helped to pull back the curtain for Grazia's audience, the GraziaxFB Brexit Debate was one of the most successful broadcasts of the week -- and for good reason.
The debate, chaired by The Guardian's political editor Anushka Asthana, was centered around the UK's decision to remain in or exit the European Union. The panelists were each given time to discuss their views, while also leaving time for questions from both the live audience and Facebook audience.
Asthana encouraged Facebook Live viewers to submit their ideas via the hashtag #GraziaxFB at the beginning of the broadcast.
f you're hosting a live debate, discussion, or training, coming up with a hashtag in advance is a great way to organize the submission process for questions. For tips on how to use hashtags on Facebook, Twitter, and Instagram, read this post.
Overall, the discussion was timely, well executed, and helped to get the Grazia community talking about not only the Grazia/Facebook collaboration, but also the larger political issue at hand.
In the words of Grazia Editor Natasha Pearlman: "This is a fantastic opportunity to bring Grazia to life for our readers, and at the same time launch our real-life community, in partnership with the biggest social media network in the world."
"The Grazia audience aren't just readers, they are part of the brand – their views and opinions shape our content and really matter," she went on to explain. "Now they can participate with us in real time."
When you live in an apartment in Boston (or any city, really), you quickly learn how to make the most of a small kitchen. But this video from Tastemade takes that concept to a whole new level.
According to Tastemade's Head of Production Jay Holzer, the tiny cooking concept was inspired by one of Tastemade's Japanese partners. As it turns out, miniature cooking is quite popular in Japan, as a result of kawaii -- the quality of 'cuteness' -- which is plays a prominent role in Japanese pop culture.
While Tiny Kitchen started as a pre-recorded series, the folks at Tastemade tested their luck with Facebook Live by recording real-time cooking demonstrations. After this, Tiny Kitchen got its own Facebook Page where it began to launch live streams.
In the video below, you're able to watch tiny donuts being made:
What's great about this particular use case is that it can be enjoyed without sound. In other words, viewers can tune in without having to stop and adjust their volume, or put on headphones.
The strangely fascinating footage is really easy to consume, which likely contributed to the success of the original episodes. By going live, Tastemade simply added a unique interactive element. And millions of views later, they've proved it works.
The lesson? Sometimes, less it more.
While BuzzFeed recently made headlines for their not-so-perfect Facebook Live attempt with none other than the president of the United States, we can assure you that they know what they're doing.
On a much less serious note, the folks at BuzzFeed took to Facebook Live this past March to host an epic live dance battle.
But this wasn't just any old dance battle: "Dance Craze Battle: Live" was an interactive competition that required the audience to vote on performances and submit suggestions for dance moves.
In between the first two rounds, the host took time to get to know each of the contestants a little better by asking them a few questions. This was really smart for two reasons:
It created an opportunity for Buzz

F

eed to show off their team and humanize their brand.
It gave time for viewers to submit ideas for the second round of dance battles.
With the help of user submissions in round two, viewers watched as their ideas came to fruition in the form of some pretty interesting dance moves, like "crying college student":
After each dance, the person monitoring the comments section prompted viewers to cast their vote:
And the entire thing came to a close with a spirited dance party ... because why not, right?
Even though this broadcast carried on for half hour, the level of engagement likely helped them keep viewers interested all the way through. When you're planning a Facebook Live video, keep in mind that length isn't necessarily a bad thing, as it provides you with a chance to reach more people.
The folks at Callaway Golf are no strangers to live video. In May 2015, Callaway debuted a live show hosted by their SVP of Marketing and Brand Management Harry Arnett. While this particular live series didn't unfold via Facebook Live, it's likely that it made the transition to broadcasting content live on Facebook much easier. Later, in 2018, they followed it up with a similar series called "Golf Lives: Home Course."
According to Arnett, the experience of live video brings Callaway back to their roots: "We felt like if we could figure out a way to be unique in it, provide utility to it, and be a contributing citizen in the community of golfers, we could become sort of the people's brand," he told Golf Digest, "which was very closely connected to the DNA of the company when it got started 20 years ago."
In this Facebook Live video, Creative Content Manager AJ Voelpel announces the Golf Lives live series launch and kicks things off by interviewing prominent golfers:
As 45-minute video progresses, another person sits to the side monitoring social media and occasionally asks the host or interview subjects questions from Facebook Live commenters.
Although Callaway sells golf products, the focus of its live show is to entertain golf fanatics with solid interviews and valuable golf-related information. Because they show a large amount of expertise in their industry, viewers who have heard of the golfers being interviews might want to learn more about the brand. Then, they might develop a sense of trust for the company because they know great golfers and everything else there is to know about the sport.
If you're just getting started with Facebook Live, make note of Callaway's tactics. And remember: Your broadcast doesn't have to be all about your product or service for it to be successful. At the end of the day, you want people to remember the experience you provided them, which will ultimately help to keep you top-of-mind.
The mattress company, which regularly posts odd or funny videos to highlight its Purple Mattress did something that was totally on-brand with their strange marketing strategies in 2018, Rather than live-streaming entertaining content, they purposely aired a 46-minute video of a girl sitting and yawning while reading a book.
The goal of the video was simple, bore fans so they think about sleeping and might also start thinking about mattresses.
While we don't encourage boring your fans, this approach was pretty funny and interesting. People might get tired and start imagining how great a Purple Mattress could feel. If they don't, they might remember this odd-ball video next time they're shopping for a mattress, or thinking about their own insomnia.
Although you should try to be entertaining and engaging in order to grow your Facebook audience, this is still a unique example of how a brand took a risk by doing something experimental.
Sometimes, an odd experiment can add a touch of humor or memorability to your brand. This memorability can be helpful when a prospective customer decides they need a product within your industry and starts their research stage by looking into companies that they quickly remember.
Getting Started With Facebook Live
Now that you're feeling inspired, it's time to get out there and try it for yourself. As you brainstorm ideas for your first Live stream, keep these takeaways in mind.
Embrace interactivity: Some of the videos on this list encourage Facebook viewers to comment with questions or take a guess on trivia questions. More comment-related engagement can't hurt you algorithmically, and it will make your viewers feel like they are part of the live video experience. So, why not experiment with this strategy?
Try a series: With a series, viewers who like your first few episodes might tune into the next ones. Slowly, you might grow a large following that looks forward to your regular content. If you pre-record the video and can't have interactive elements, you might still gain some engagement from the loyal fans who've watched your previous videos.
Consider mobile formatting: If you don't need narration in your video, consider creating content that has music, but can still be seen and fully enjoyed without sound. If you require narration, you could alternatively include subtitles at the bottom of the screen. Aside from noise, you could also take a note from Anderson Cooper by launching vertical, smartphone-friendly streams. These factors make the video more compatible with the platform and might prevent viewers from turning it off if they're in a noisy, quiet, or crowded environment.
If you're feeling up to it, but still think you need a little training, check out this post about how to broadcast on Facebook Live, how to analyze your live video's performance, and the top tips and tricks for getting the most out of the platform.