Facebook announced yesterday that it will be overhauling its News Feed that will once again shift the type of content users see first, and most often.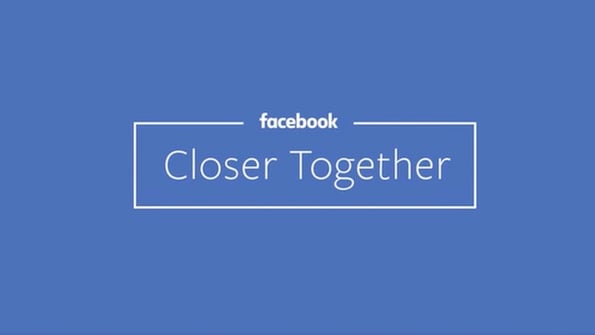 According to the official statement, Facebook will "be making updates to [its News Feed] ranking so people have more opportunities to interact with the people they care about" -- as in, their friends and family, instead of Pages.
The news first broke by way of a post from Facebook CEO Mark Zuckerberg.
What Facebook's News Feed Changes Mean for Marketers
Brands Can Expect to See Less Engagement
Facebook has been quite transparent about the fact that marketers and brands will be impacted by this change -- and not for the better.
"Pages may see their reach, video watch time and referral traffic decrease," the official statement reads, which is especially true for Pages with posts that don't see a ton of engagement -- by way of shares, or discussion on the post itself, including when users share them with their networks.
That means posts sparking the greatest amount of discussion among users — especially when shared — will likely rank better. But marketers should proceed with caution: Creating content for engagement for shareability and conversation does not translate to including such language as, "Tag a friend!" in posts. Facebook calls and interprets that type of content as "engagement bait," and actually penalizes the Pages that use it in their News Feed rankings.
Facebook has made several modifications to its News Feed algorithm over the years, some of which have carried more permenance than others. Marketers might recall, for example, that last October, Facebook introduced its "Explore Feed," which was meant to serve as a new, entirely separate feed where nearly all Page content would live.
This latest shift is different, however. As Facebook put it, "Page posts will still appear in News Feed, though there may be fewer of them."
And if Facebook does actually stick with this change -- which, given its history, could be debatable -- it will most certainly present a new challenge for marketers. Content will have to be even more shareable, in a way that doesn't classify it as "engagement bait," and also organically promotes conversation among users.
Why Facebook Is Doing This
For a while now, Facebook has been making extensive efforts to communicate an ethos that it is "not a media company." That was likely the result of the scrutiny it's received since it was discovered that the network was weaponized to influence the 2016 U.S. presidential election.
"Facebook has clearly put a stake in the ground that user experience is more important that the brands that pay them," says Marcus Andrews, HubSpot's senior product marketing manager. "By making this shift they clearly prioritized one over the other, and are potentially a bit nervous about the current (really negative) narrative about the negative impact of social media on society."

That helps to explain this move to shift the focus from branded content to the kind that is more personal, and closer in terms of each user's own network. More content from friends and family, versus news from official or branded outlets = "not a media company."
"Organic reach for business pages on Facebook has been under assault for a long time now," Andrews says. "This is not new."
What Marketers Should Do Now
With all of that said, not all is lost for social media marketers. There are certain types of Page content that are said to promote more shares and organic conversation — like live videos, which Facebook says get 6X the engagement as non-live ones.
"What Facebook seems to tell us is that content with a lot of engagement and conversation will be prioritized. This means comments and replies," Andrews explains -- and live video is one type of content that tends to receive a higher amount of that type of engagement.
But with so many rules around what the News Feed seems to prefer -- authentic content that isn't misleading or baiting engagement and clicks -- it's easy for marketers to become confused about what, exactly, they can do to please its algorithm.
"While it's easy to see brands as the losers here, what we're really seeing is an opportunity for brands to pivot their content towards driving a meaningful conversation," says Henry Franco, HubSpot's social and campaign strategy marketing associate. "Facebook's new algorithm will prioritize posts that drive authentic engagement in the comments, rather than passive likes or shares."
Which brings us back to a marketing principle that we've certainly touched on before: listening to users.
"Brands should take this opportunity to listen to their audiences," says Franco, "and create content that's catered to their interests and that will drive meaningful interaction."
One additional, important thing to note is that users will have the option to modify settings to see content from certain Pages in their News Feeds (the aptly-named "See First in News Feed Preferences" feature).
Many users, however, might not know about this feature. That presents an opportunity for marketers to create engaging ways to let their audiences know about it, by way of sharing something like sales, one-time promotions, and the like with such language as, "Want to be the first to know about our sales? Make sure you see us first in your News Feed." (Try using something like the image above to help explain how this works.)
Be careful, however, not to overload or patronize audiences with this type of information -- and maintain your focus on creating the quality, applicable, and personalized content that Franco speaks to. The user has to benefit somehow from it, and feel motivated to share it in a way that remedies the negative impressions of social media that Andrews points out.
What's your take on things? Feel free to reach out with your thoughts and questions on Twitter.
Featured image credit: Facebook