According to a study by Hearts and Wallets, there is a significant gap in trust between consumers and financial institutions.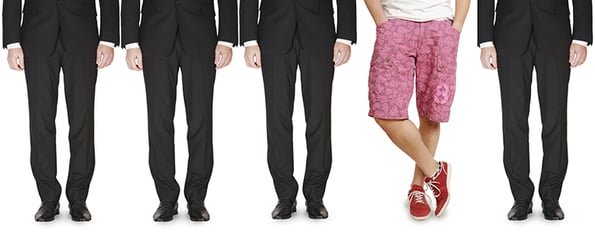 In fact, only one in five investors reported that they actually trust their financial advisor.
While it's easy for personality and passion to get lost in financial jargon and disclaimers, it's clear that advisors need to refocus their approach if they want to attract and keep clients.
In an effort to communicate their trustworthiness, a few brave advisors are carving out a new path that embraces uniqueness and authenticity while remaining compliant.
With the help of online platforms like LinkedIn, Twitter, Facebook, and blogging, these advisors are creating opportunities to build more meaningful relationships with current and potential finance clients.
To learn more about this approach, check out these five tips and tricks for using online communication to prove that you're a financial advisor people actually want to do business with.
5 Tips to Help Financial Advisors Stand Out Online
1) Drop the financial speak.
Often times, the standard financial terminology found on advisor websites and brochures is more likely to alienate potential clients than attract them. So while you may think that "financial speak" will help you come across as knowledgeable, it's important to note that it actually puts you at risk of sounding stiff and unapproachable.
The simple truth is that consumers don't want to feel stupid. When it comes time to discuss their retirement and wealth management, they want to do it in layman's terms to avoid confusion or potential missteps.
With that said, you should focus on bringing warmth to the conversation through more personal engagements. This will help you to make an emotional connection, build trust, and differentiate yourself from everyone else.
"Think about this truth: Our customers don't care about our products or services; they care about themselves. If we buy into this, then we must also accept that the majority of the information we produce for marketing purposes cannot be about ourselves," explains Joe Pulizzi, founder of Content Marketing Institute.
"Our content must be based on fulfilling our customers' needs and interests, so that they come to build a trusted and emotional connection with our brands."
Takeaway: In your outreach to clients, both current and potential, tell them something about you -- your passions, purpose, and what makes you unique. When you show that you're willing to open up a bit, it will be much easier for them to trust you.
2) Make a great first impression online.
Like it or not, these days your first impression is happening online. In fact, five million affluent investors use social media to research financial decisions, according to a study done by Market Strategies International.
This means that your presence on social media -- LinkedIn, Twitter, Facebook -- is now being evaluated by your potential clients. And if they're turning to your social accounts before responding to your email or answering your call, a bland presence could hurt your odds of hearing back from them.
With 70% of investors having reallocated investments or changed relationships with investment providers based on content found through social media, this isn't something that advisors should be taking lightly.
Takeaway: Investing in your personal presence online is a great investment in your business.
3) Don't sacrifice personality to stay compliant.
When developing your personal presence online, it's important not to let compliance fears depersonalize your language. While you want to be sure that you're not raising any red flags, the following tips are designed to help you avoid complications while communicating with personality.
Avoid Making Recommendations on Facebook, Twitter, and LinkedIn.
One of the most overlooked social media risks that financial advisors need to watch out for is "endorsing" content. This includes liking on Facebook or LinkedIn and favoriting or retweeting on Twitter.
FINRA's Regulatory Notice 10-06 states that these actions could constitute an endorsement, which means that the advisor adopts whatever is being said as his or her own. To avoid any confusion, some advisors have included disclaimer information on their personal social media accounts that clearly state that content shared or actions taken on their account do not necessarily reflect the views of their employer.
Archive Everything.
If you intend to communicate through social media sites, you must first ensure that you can retain records of those communications, as required by FINRA Rule 3110. Similar to how you retain emails, you must archive all social media activities and avoid deleting any interactions. While there are currently no official regulations for how long the records need to be kept, many firms archive their content for a minimum of three years.
If you're looking for an archiving software, HearsaySocial, Socialware, PageFreezer, or Smarsh are all great places to start. However, you'll want to spend some time to find the one that works best for your needs and budget. (When you partner with Creelio to create custom content in your voice for your blog and social media posts, we also archive every piece of content that we develop and post for you.)
Include Proper Disclaimers When Promoting.
It remains a fundamental requirement that all of your communications are fair, clear, and not misleading.
All promotions for financial investments must be identified as such (this is commonly done with an "#ad" designation). Also, be sure to include the related disclaimers and risk warnings when appropriate. You want to treat any promotion on social media the same as you would a traditional print promotion.
Takeaway: Use your common sense -- if you wouldn't say it to a client, you probably shouldn't publish it online. It's better to be safe than sorry. Besides, your potential clients may not want to read about your promotion anyway.
4) Be authentically you.
Now that fear of compliance is out of your way, you can get started on the fun part: learning how to convey your unique personality online. To help you get a handle on how to position yourself in an online setting, make note of the following advice.
Share Your Story.
According to a study by GroSocial, 82% of consumers trust a brand more when their executives are active on social media.
Social media provides you with the opportunity to connect with your community of current and potential clients on a more personal level. By helping them see that you are real person with real interests, motivations, and passions, you start building real trust.
If you're looking for a social media role model, Manisha Thakor really gets it. Her passion for educating women to become financially literate is evident in her blogging, speaking engagements, and consulting work. Not to mention, her personality shines through in her 10 Things to Know about 'Personal Manisha' sidebar.
Be Yourself.
Most people in the financial industry are worried about saying something that alienates potential clients. But here's the thing: When you attempt to appeal to everyone, you wind up appealing to no one.
The best thing you can do on social media is just be yourself. Being authentic means being a little bit vulnerable and telling the story of who you are and what you value. This kind of storytelling creates an invaluable dialogue with your community.
Josh Brown is an excellent example of someone who is unabashedly himself online. His Twitter feed ranges from updates about his kids to harsh indictments of fraud. He is enthusiastic, excited, and passionate about his work, and that's all people need to know to follow him. (With more than 100,000 followers, he's clearly doing something right.)
Engage With Your Followers.
Social media was built for, well, being social. Finding, connecting, relating, and providing value to people should be your goal -- not just advertising yourself.
Just as you might take the time to have coffee or lunch with a prospective client, take time to engage and talk with your social media followers. In time, they'll become some of your most avid clients and brand ambassadors.
Jude Boudreaux is another one who understands that social media is not just about you. His rule of thumb comes from Chris Brogan's book, Trust Agents, which states that for every one thing you share about you, you should have 19 other interactions -- whether that's responding to somebody else's tweet, sharing news unrelated to your business, educating with must-read articles, etc.
Takeaway:
The only person who gets to be you is YOU. Don't be afraid to show your followers who you really are, as this will help you build more authentic and long-lasting relationships.
5) Just get started.
If you're worried about getting started with social media and blogging, rest assure that the first step is the hardest. Once you put yourself out there, you'll find that it's easy to gauge the performance of your posts and uncover feedback regarding whether or not your message is resonating. From here, you can adjust your strategy accordingly until you feel comfortable with your interactions.
Since you're likely already using LinkedIn to connect with your professional network, it serves as a great starting point. The professional platform allows you to tell people who you are and share content in both short and long-form posts. The ability to write longer posts (500-750 words) is especially helpful for those who have not yet started a blog or a website. Not to mention, you already have a built in network to share your thoughts with.
Once you master LinkedIn, we at Creelio recommend that you tackle Twitter next. It's a great networking tool, and you can tag other Twitter handles and utilize hashtags (e.g., #FinancialServices, #WealthManagement) to lead more eyes to your content. In an effort to get the content you share noticed, be sure to focus on making connections and promoting other people's content as well as your own.
Takeaway: Baby steps are fine when you are getting started with online communication. Take your first step, get some feedback, and then take your second step. Follow this advice and you'll have the hang of it in no time.
The Bottom Line
Taking the first step towards an engaging online presence can be difficult, but the benefits far outweigh the risks.
Adding content that reflects who you are to your social profiles and your website will allow you to express yourself in a way that sets you apart from the crowd.
Remember: Don't be afraid to put your authentic self out there and let the world know that you're smart, personable, and ready to help. If you do this, we think you'll be surprised at the following you develop and how these online mediums can help you create invaluable relationships.
If you're a marketer in the finance industry, you'll love HubSpot's Little Book of Inbound for Finance Marketers. Download it here for more tips and tricks tailored specifically to the finance industry.