At events like CES -- where all week, News & Trends by HubSpot has been covering some of the latest tech trends discussed and predicted at the largest annual consumer electronics event -- one of the most common things attendees might see is a brand activation.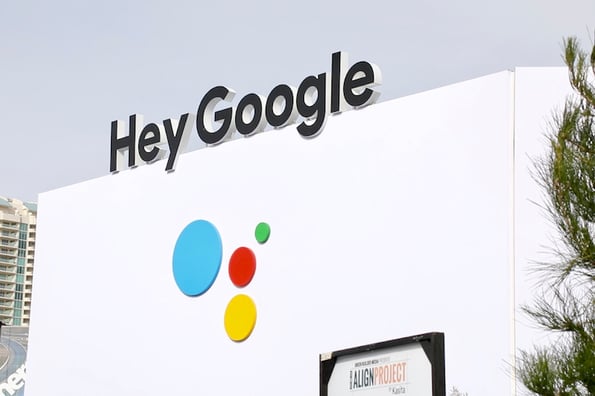 Known to many as one form of experiential marketing, a brand activation refers to building a real-life, tangible display that allows consumers to interact with a brand in an engaging way. And at CES 2019, Google may have been one of the biggest brands to build such an experience, with its Google Assistant Playground.
In addition to some of the Playground's features that could fundamentally be described as "cool" -- numerous mock-up home settings to showcase how many things can be controlled with Google Assistant (the brand's voice assistant), a mini roller-coaster, and a filming studio -- Google unveiled a few new things at CES 2019.
Here's a look at six of Google's biggest CES 2019 announcements, and be sure to check out the video at the end to see this year's Playground in action.
1. Assistant on More Devices With Google Assistant Connect
This week, Google announced a preview of Google Assistant Connect: a new platform that will allow device makers to put Google Assistant onto more hardware products in what it calls "an affordable and easy-to-implement way."
One example of how manufacturers and developers could use Assistant Connect: creating visual displays for the Google Home Hub, and enabling voice commands on smart devices with Assistant.
Overall, Assistant Connect appears to be part of Google's likely efforts to just have more hardware and connected devices Assistant-enabled -- in part, to help it level up with the number of smart devices equipped with one of its chief competitors, Amazon's Alexa.
That plays into some of the new Assistant-enabled features unveiled at CES this year, such as certain appliances made by Whirlpool, and smart microwave made by GE. (For context, Amazon launched an Alexa-enabled microwave last year.)
Google says that access to the technology won't be available until "later this year," but manufacturers and developers can learn more by filling out this form.
2. A Smart-Display Clock Made With Routines in Mind
Google also unveiled the Lenovo Smart Clock this week: a four-inch, smart-touch-screen-enabled clock that uses artificial intelligence to learn about user routines and suggest alarms. It also helps users wake up more "gently," with the help of the same auto-adjusting screen brightness available on the Google Home Hub that responds to the lighting in the device's environment.
Source: Google
And, of course, it wouldn't truly be a Google device if it weren't equipped with Assistant -- which users can prompt to control other smart home devices from the Smart Clock, available this spring for $79.
3. Google + Sonos = 🎶
In the tradition of making its voice-powered capabilities available on more devices, Google has partnered with audio hardware company Sonos to bring Assistant to the latter company's smart speakers -- namely, the Sonos One and Sonos Beam.
Now, users will be able to tell Assistant to play music and podcasts on these speakers, speaking hands-free commands (read: no picking-up-your-phone-required) for what they wish to hear.
The Sonos partnership appears to be part of Google's play to integrate Assistant into more entertainment-focused areas, which also includes its partnership with Samsung, which will allow users to speak voice commands to turn the TV on and off, adjust the volume, and change the channel.
4. Assistant Comes to Maps
Rolling out this week, Assistant now also has additional capabilities for Google Maps, on both Android and iOS mobile operating systems.
Here's where the system starts to get a bit clunky, however, and shows tsome o the hiccups that iOS users might run into when using Assistant -- namely, trying to execute commands that involve contacts stored on their iPhones.
As is indicated on both Assistant for iOS and devices like the Google Home Hub, syncing one's iPhone contacts with Google commands is a less-than-seamless process, and Google often can't complete commands by voice alone if a user doesn't have certain people stored specifically in their Google contacts. For instance -- as per the video below -- when I used Assistant to get directions on Maps (which I was able to do successfully), I couldn't share my ETA with a certain contact, despite having her phone number stored in my phone.
5. New Travel Tools
Google also said this week that users can now more seamlessly plan and keep up-to-date on travel itineraries using Assistant.
According to the company's written announcement of these new features, users will soon be able to check in to flights (started with United Airlines domestic flights only) and pull up boarded passes through Assistant, on both iOS and Android devices.
When I tried to test the Assistant's current capabilities for this feature, it appeared as though they haven't begun to roll out yet -- as it couldn't seem to find any record of my flight back to Boston from CES (yikes!), or check on its status.
6. Interpretation on the Hub
Google has historically found creative ways to showcase the capabilities of its Translate tool -- as it once famously did with an engaging video to show how lyrics to the song "La Bamba" could be translated by hovering a mobile phone over written words, in a variety of formats.
Now, Google is bringing its translation capabilities to the Google Home Hub with the device's new Interpreter Mode, which users will be able to use "over the next few weeks" to enlist Assistant's help with conversing in another language.
For example, with the voice command, "Hey Google, be my Spanish interpreter," the Home Hub will shift into Interpreter Mode and display real-time spoken and written translation of a conversation into Spanish. The feature was piloted at CES this week at the concierge desk in Las Vegas hotel Caesars Palace, as well as San Francisco's Hyatt Regency and New York's Dream Downtown.
Source: Google
Want a peek at some of the things inside of the CES Google Assistant Playground? Check out the video below.