"Unriddled" is HubSpot's weekly digest of the tech headlines you need to know. We give you the top tech stories in a quick, scannable way and break it all down. It's tech news: explained.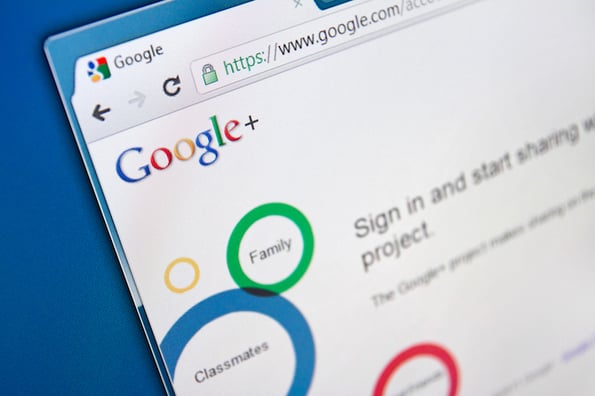 The Great Google+ Shutdown
Last fall, the Wall Street Journal reported that a bug discovered in March 2018 may have granted access to the private data of nearly half a million Google+ users.
Google+ is search engine giant Google's social network, which since its 2011 inception was often the butt of jokes for being a largely unused attempt to copy Facebook. Following the WSJ's report, the company said it would sunset its social network, after years of seeming willfulness in doing so.
But rather than chalking up this shutdown to the breach, Google emphasized what a low rate of usage was experienced by the app among personal account users. And as of last Tuesday, the company has formally been shutting down and deleting Google+ personal accounts.
RT @MikeIsaac: dark comedy: google plus PR spent five years trying to dissuade writing about the network's absymal usage numbers now that it leaked everyone's data, google can't get enough of telling people how no one used it https://t.co/sZMOK1t1MD

— Fred Vogelstein (@fvogelstein) October 9, 2018
In addition to rolling out new security measures, Google said at the time of the WSJ report that it would pivot to rebuilding Google+ as an enterprise network, noting that "Google+ is better suited as an enterprise product where co-workers can engage in internal discussions on a secure corporate social network."
According to the Google+ official support page, full deletion of content from consumer Google+ accounts "will take a few months," leading some content to remain visible during the process. Once complete, the page says, Google+ will only available for G Suite accounts through workplaces or schools. Read full story >>
A U.S. Midwest Launch for 5G
U.S. mobile service carrier Verizon said last week that it launched "the first commercial 5G network in the world that works with a 5G smartphone" -- starting in the midwestern cities of Chicago and Minneapolis, on the moto z3 phone model, which has to be combined with the 5G moto mod to work properly.
5G the fifth generation of wireless connectivity. Currently, 4G powers cellular connectivity like LTE. The goal of 5G is to support the rising number of mobile internet users, by providing better speed, handling more data, greater responsiveness, and connectivity to smart devices.
Verizon tells me that the 5G indicator only appears when there's an active data connection. If you're standing in a 5G area but your phone is idle, it'll show 4G.

Sure, let's just radically change what the network icon in the status bar has always meant!https://t.co/zMxaeczgIT

— Chris Welch (@chriswelch) April 5, 2019
Initial reviews of Verizon's 5G network say that, indeed, the speed is "blazing fast" -- but that coverage is almost impossible to find. Read full story >>
Okay Google, We're Going Grocery Shopping
Box store chain Walmart announced that it will soon allow customers to order groceries through Google-Assistant-powered devices, starting this month. The service could become available through other voice assistants later this year.
Using the voice prompt, "Hey Google, talk to Walmart," users can add grocery items directly to their Walmart online shopping carts. The feature also uses data from the user's previous Walmart purchases to understand the context of those items; e.g., "whether you drink 1 percent or skim milk without having to specify," writes Matthew Boyle of Bloomberg.
Walmart Voice Order is probably the only thing that could make #GroceryPickup easier. Except maybe auto-refilling refrigerators. We'll work on that. 😉 pic.twitter.com/MOOohmG3zd

— Walmart (@Walmart) April 2, 2019
The move comes after Walmart removed its presence from Google's shopping platform earlier in 2019, and aligns with its efforts to compete with Amazon for ecommerce market leadership. Read full story >>
Introducing: The Smart ... Lamp
Sonos and Ikea have teamed up to launch the Symfonisk: a $179 rable-lamp-speaker hybrid that comes equipped with sound quality and features that some say are comparable to that of the Sonos One smart speaker.
The launch also comes alongside the unveiling of a $99 bookshelf speaker that's also equipped with Sonos technology -- and both items will reportedly ship in August.
However, the lamp doesn't include, of all things, a lightbulb, so users will have to furnish their own upon setup. Read full story >>
Slow Your Follow Roll
To help prevent spam- or bot-like behavior, Twitter has historically placed a cap on the amount of activity users can complete in one day -- for instance, how many accounts they can follow and how many replies they can send.
Now, Twitter has lowered the number of accounts that a single user can follow in a single day -- from 1000 to 400.
The change, writes Sarah Perez of TechCrunch, comes among a number of efforts to curb the abuse of "tools that allowed their customers to automatically follow a large number of users with little effort [and] to mass unfollow the Twitter accounts of those who didn't return the favor by following the bot back."
Yoel Roth, Twitter's head of site integrity, published a lengthy thread on the platform to go into further detail on what went into the decision to further limit account-following activity.
Today, we lowered the limit on the number of accounts you can follow per day from 1000 to 400. Some people are wondering why we picked 400. Well, I'm glad you asked. Nerdy thread on rate limits and anti-spam technology 👇... https://t.co/DZTkqo2dqi

— Yoel Roth (@yoyoel) April 8, 2019
"In Defense of Snapchat": How Marketers and Analysts View the Future and Value of an Unsung Platform
Marketers, advertisers, content creators, and users alike all have a lot to say about Snapchat. Here's what they think about the platform's value -- and its future. Read full story >>
How One Company Is Trying to Make Tech More Inclusive, Starting With Coffee
At SXSW 2019, there appeared to be an underlying theme to many conversations and brand activations: How can we make technology more inclusive? Here's how one company is answering that question -- with the help of a coffee shop. Read full story >>
As Digital Ad Spending Outpaces Traditional Formats, Smartphone Ecommerce Is on the Rise
Around the world, digital ad spend is on the rise -- and in the U.S., that's especially true for mobile ads, which could be causing an uptick in smartphone ecommerce sales. But with growing scrutiny of Big Tech ad practices and competitive behavior, what does the future of digital ads look like? Read full story >>