Ah, the holidays. It's a holly, jolly time of year that's full of egg nog, seasonal foods, and -- in a word -- chaos.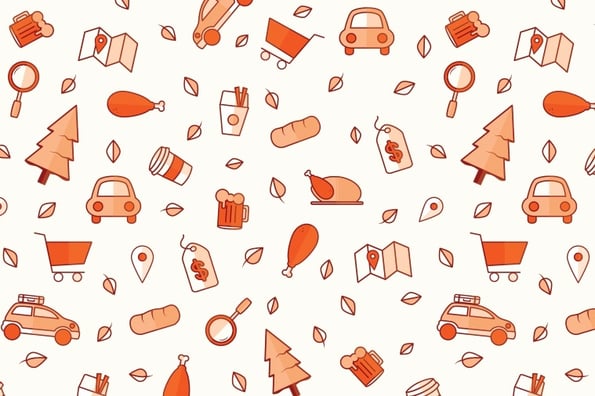 Here in the U.S., the November holiday of Thanksgiving marks the start of the holiday season, with millions of people hitting the road and airports to visit relatives and partake in turkey feasts, parades, Black Friday shopping deals, and similar merriment.
To help us navigate it all, Google has released a study using (none other than) its very own search data.
Leveraging Google Maps data from the time surrounding last year's Thanksgiving holiday, Google compiled a report designed to help guide users on holiday-specific ins and outs -- the most popular travel destinations, the best times to visit them, and the most optimal (or sub-optimal) times to be on the road this year.
Below you'll find our favorite tidbits from the seasonal study.
Holiday Search Trends
Gaming Galore
First, let's have a look at the U.S. national search trends in the days leading up to and following Thanksgiving.
The data shows a pattern of shopping for video games during this time period, suggesting many people take advantage of seasonal sales leading up to December holidays -- with particular enthusiasm for gaming.
What specific category of video games people might be shopping for is another story. However, it's worth noting that virtual reality (VR) headset manufacturer Oculus is launching a major, star-studded ad campaign in the days leading up to Thanksgiving. Perhaps the trend toward video game shopping signals a major step in the direction of the company's lofty goals to make VR a mainstream technology.
Localized Search Trends
It wouldn't really be a true-blue Google study if it didn't drill down into micro search trends, too. That's why the report also features an interactive tool that allows viewers to see searches by state.
Google also rendered a visual representation of the most popular Maps searches according to each state during the Thanksgiving holiday period. Here in Massachusetts, the trend points toward "cultural center," whereas in California, the most popular search seems to be for "city courthouse."
The Hottest (Holiday) Spots
Solving for the user first, if you're Google, also means letting users know how to avoid crowds and traffic.
To address that first item, Google looked at Maps search data to determine the most popular business categories during the Thanksgiving holiday season, and when those establishments are the busiest.
Food and drink reign supreme here, with bakeries and grocery stores topping the charts on the afternoon and evening before Thanksgiving.
Then, there's road traffic, where Google again provides a general chart breaking down when traffic congestion peaks during the Thanksgiving holiday in select metropolitan areas. The company's findings also incorporate a localized, drop-down menu to help users determine the best times to hit the road.
So, why do these search trends matter to the rest of us -- like marketers or small-to-midsize businesses?
Well, as is the golden rule with creating quality work, having this information can help marketers plan and develop content that pertains to these seasonal trends, and adapting them in a way that makes them relevant to your key audiences.
Go forth and get festive with your strategy. And from our little, data-nerd family to yours, we hope all those celebrating Thanksgiving have a wonderful holiday.