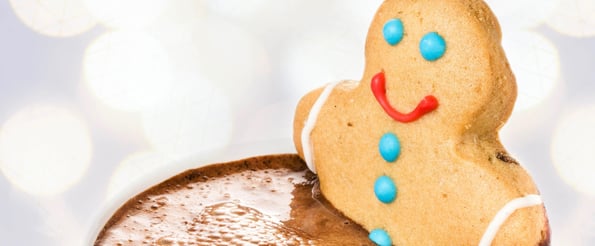 Marketers work hard, amirite? But there are still some people in our lives -- ahem, Mom -- who seem to think that we just write stories and draw pictures on the internet all day.
I mean, we don't do that every day. We work hard, and we have a great appreciation for things that are creative and clever. It makes sense, then, that we also like our season's greetings to share those traits. And when it comes to holiday cards, just make us laugh.
But if you've been described as "impossible to please," or having an "abnormal appreciation for puns," have faith -- you're not alone. That's why we put together this guide of great holiday cards for marketers.
From punny to downright clever, these cards certainly have us in stitches -- We hope you'll enjoy them, too.
11 Hilarious Holiday Cards for Marketers
Leave it to Someecards to capture the holiday snark that lives in all of us, at least a little bit.
Holidays are a busy time for marketers. We have to plan content for the season -- which is remarkably easier with a social media content calendar -- and make sure it continues to thrive, even if we're elsewhere, donning ugly sweaters and drinking eggnog.
Naturally, this fitting sentiment made us laugh.
Someecards makes it super easy to send these greetings, too. Just visit the link, click on the picture, and choose when you want it to be delivered.
In a past holiday season, Capterra compiled a list of 10 B2B holiday greetings that were so clever, we're kind of jealous that we didn't come up with them.
It's hard to pick just one, but here are a few of our favorites -- like this one, which puts a marketing spin on the classic carol "Up on the Housetop."
Or this one, which turns social sharing buttons into dreidels.
Of course, we couldn't leave out a good CTA color pun, either.
We love all of SadShop's holiday cards for their deadpan greetings, like "You are not bad" for Valentine's Day, and "You are too old to say yolo" for birthdays.
So when it came time to find the perfect holiday sentiment for the marketers in our lives, we knew that SadShop would have something fitting. And if you're the type of marketer who works so hard before the holidays that perhaps you never quite make it to the "cards" line on your December to-do list, this one might be for you.
4) Holiday Zen, by ThePaperArtShoppe
Then, there are the marketers who do manage to get it all together -- work, cards, and maybe even a box of homemade cookies -- but you wish he or she would take a minute to breathe. (Or maybe, you know, that describes you. We can relate.)
There's nothing like some holiday yoga to keep calm and market on during this season. A little bit of laughter wouldn't hurt, either -- What better way to get a chuckle than with a tree-posing reindeer?
As marketers, we really love our apps, especially if they help us relax or become more productive. So when it comes to wishing us a happy holiday, it's quite fitting to make it more of an "appy" holiday.
This adorable card puts that pun to work by taking four app icons -- weather, mail, messages, and music -- and attaching tiny arms and legs to them. However, depending on who you ask, those arms might look like little reindeer antlers. Festivity is in the eye of the (appy) beholder.
If you're as lucky as we are, your boss has a great sense of humor. In that case, he or she might appreciate this greeting -- which is actually meant to be a birthday card, but still works as a holiday one -- which simply reads, "You are terrifying."
Once the card is opened, the humor continues with, "You are a terrific boss. I am really enjoying the comfortable work environment you foster." Be sure to add your own warm, hand-written greeting, though, to make sure it's all in good fun. We suggest, "For one of the best marketers I know. Happy holidays," or, "I mean it. Thanks for such a great year, and happy holidays."
Someecards strikes again with this great greeting that calls out marketers on, well, the language we might throw around during the holidays.
But hey, don't fault us -- we really do wish you hope, peace, joy, and successful marketing.
8) #FFFFFF, by NerdyWordsGifts
Where there's marketing, there's often branding. And where there's branding, there's a style guide. That usually comes equipped with official rules about which colors should be used in marketing collateral. Those colors usually have their own html codes that lead with the # symbol.
As you probably guessed, #FFFFFF is the html color code for white. This card puts a branding and design spin on the famous carol lyrics, "May all your Christmases be white," replacing the word "white" with the digital symbol. In that case, we hope your holidays are anything but #0468E0.
QR codes are hardly a new marketing concept, but when used correctly, they can still be effective. Case in point: this card with a QR code letterpress.
But the greeting doesn't end there. Once the code is scanned, the recipient is taken to this adorable video of a yorkie's holiday adventures -- and who doesn't love marketing with a healthy dose of dogs?
Warning: The video is a bit corny, but we can't think of a better time than the holidays for some cheesy cheer.
10) #Presents, by NewtonAndTheApple
No matter how you feel about a personal use of hashtags, there's no denying their importance in marketing.
The makers of this card leveraged that idea to capture a hightlight of the holidays: #presents.
But if the marketers in your life are feeling a bit grinchy this season, fear not -- there's another version made just for them.
There are also editions available for #lights, #Rudolph, and #tree. Might we submit a request for #cookies and #wine?
Consider this one our gift to you. I mean, Beyoncé and a pun? Nothing says "happy holidays" to our favorite marketers like a play on popular song lyrics.
Happy Holidays From Our Marketers to Yours
Between all of the chaos and planning, it seems like there's one big thing we forget to do during the holidays -- laugh. That's what the season's greetings are for, after all. And if that festivity and joy happens to come with a good dose of marketing humor, we hope that makes you all the merrier.
Have you come across some great holiday cards for marketers? Let us know in the comments.