Nowadays, reviews matter more than ever. In fact, over 85% of U.S. adults say they trust online reviews as much as personal recommendations.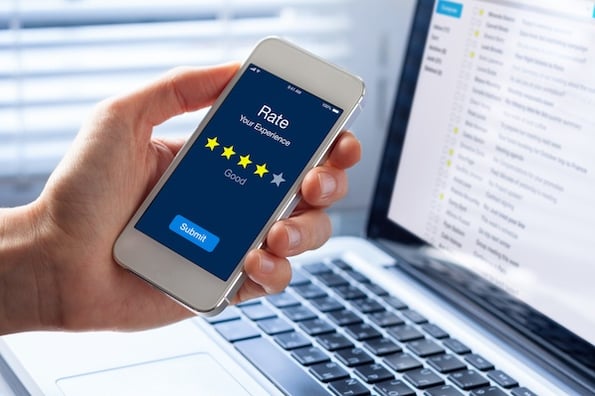 The good news is that your happy buyers want to help you. 77% of consumers shared positive experiences with their friends, or on social media/review sites in the last year.
At HubSpot, we know reviews are important for driving leads to our product in the first place. But we're starting to recognize the importance of reviews at the end of a buyer's journey, as well.
Review websites rank super well on Google for purchase-intent software terms we care about, like "crm software", "best crm software" and "crm systems".
People searching for terms like these are ready to buy CRM software and as a result, are highly likely to turn into customers.
You can hardly blame Google for serving this content first. With over 500 providers of CRM software, it's tough for customers to hop from vendor to vendor to choose the right CRM. They need a single resource that lists top CRM software. A number of sites have capitalized on this opportunity.
With these review sites dominating search for almost every CRM keyword with commercial intent, we needed to improve our presence on these websites and grow our customer reviews.
Here, we'll walk you through our experience choosing the best channels to collect reviews, designing review request emails for optimal growth, and developing a strong review acquisition strategy that elevated our company to the top three on CRM software review sites.
The Best Channels for Review Collection
We tested out a number of different channels for collecting reviews. Ultimately, email, events, and triggering reviews based on product usage proved most effective.
1. Email
Email is a staple at HubSpot, and we often communicate with our customers via email. This seemed like the obvious channel for us to ask for customer reviews.
We were able to identify core groups of users who would be a great fit to ask for reviews.
The first group we emailed for reviews were our NPS promoters -- a group of people who rate us highly when asked how likely they are to recommend us to a friend.
The second group we emailed for reviews were people who had recently experienced delight from using our product. For example, when someone closed a deal in our CRM (ding), that was a good time to ask them to write a review about us.
These two groups of people, and the channel of email, were critical to successfully collect reviews on an ongoing basis, since those people were deriving value from our products.
2. In App
Using your software to ask users to review your product in-app is another great way to gather reviews. You can test out asking people to review your product at different times based on their actions. At HubSpot, we asked people to review us on occasion after they closed a deal in HubSpot CRM. Instagram also does this occasionally after someone has posted a photo to boost reviews in places like the App Store.
3. Events
Events were another core channel we used to grow our reviews. Each year thousands of HubSpot customers attend our INBOUND event in Boston. We suspected this would be another great place for us to collect reviews, as there was a high amount of foot traffic from HubSpot customers.
125 Positive Reviews in Three Days
Leveraging our INBOUND event, where we have a ton of happy customers and partners, turned out to be a successful avenue for collecting reviews. We knew getting a lot of reviews in a couple of days would could close the gap between us and those we compete with within the CRM space.
During the course of three days, we collected customer reviews on Capterra and G2Crowd using iPads in an area of the event where HubSpot customers congregate.
As a result, we collected 125 reviews for HubSpot products. This enabled us to surpass Zoho and Nimble's review numbers on Capterra.
We became the third most-reviewed CRM on Capterra, despite being much later to the CRM space than many of our competitors.
Three Things We Learned About Asking for Reviews
When asking for reviews, we didn't just vary the channels we used to reach customers -- we also varied the design and copy of our requests.
There are three critical lessons we learned from extensive A/B testing. As a result of our efforts, we saw an exceptional increase in the amount of people willing to write a review.
If you want to ask your customers for a review, you'll want to take note of the following three lessons.
1. Rewarding people for leaving a review works wonders
We ran an A/B test via email to find out if rewards would make customers more likely to review us. For the enabled group, we offered a $10 Amazon gift voucher to the first ten people who reviewed us. For the control group, we used the same design and almost identical copy, but removed mentions of the reward.
The chance of a small reward boosted our review numbers by a staggering +733%. Despite the huge increase in the quantity of reviews being left, the high quality of reviews being left did not change.
Normally, our conversation rate for review email sends stands at 3%, but when a reward was offered, it jumped to 25%. Mentioning the reward in the subject line did not peak people's curiosity (open rates were the same).
Some rewards might resonate more with your customers than others and improve your results. We recommend testing out different rewards to see which ones gain the best results. Potential rewards include Amazon, iTunes, Panera, Target, or a Virtual Visa international gift card. Rybbon integrates with HubSpot to make this process seamless.
One thing to note is that many review sites don't allow you to reward customers for providing a review. This is a controversial issue in the review space. Before offering customers a reward in exchange for reviewing your company, it's best to check out the review guidelines provided by that particular review website.
2. The format of the ask matters
We wanted to find out what type of emails work best when asking customers to review us. To do this, we pitted multiple emails with fancy design and copy against each other.
Despite our best efforts at copywriting and design, nothing worked as well as a plain and simple email without cheesy copy or attractive design. It was the plain text email (left) without design or extravagant copy that won the hearts of our customers.
3. You have to make it easy for people to review you
Bringing customers through the right flow for review collection is critical for a high conversion rate. Through A/B testing, we evaluated whether sending people to a profile page or review collection page would influence their likelihood to leave a review.
We brought one group of customers to our profile page on a review site (Flow A, below). Here, they had to click a call-to-action before being asked for their review of our software. We sent another group of customers right into the review collection process (Flow B, below). Once people clicked through from the email, they were able to leave their review right away.
We found having the least possible steps was most effective for review collection. The extra step in flow A lead to a drop-off rate in the region of 90%. It's super important to make it easy for people to leave a review, otherwise they won't do it.
We learned a lot about how we should collect customer reviews from running these experiments. The rewards one alone boosted our conversion rate from 3% to 25%. But, even with everything we learned from our experiments, we realized using email for growth wasn't enough.
Having a freemium product worked to our advantage. We acquire a lot more users than many of our competitors because our CRM is a free product. This is very useful when it comes to collecting reviews, as you have a much bigger pool of users to ask.
Asking our customers to review us didn't just contribute to customer acquisition, it also helped our sales team close more deals and grew our website traffic.
We ran an SEO experiment where we added review schema markup to our product pages, and this increased clicks to those pages by 10%.
Having a review acquisition strategy was hugely beneficial for us at HubSpot. Hopefully, you can use some of our learnings to boost your own customer reviews.