Twitter announced last week that it has reintroduced the reverse-chronological feed.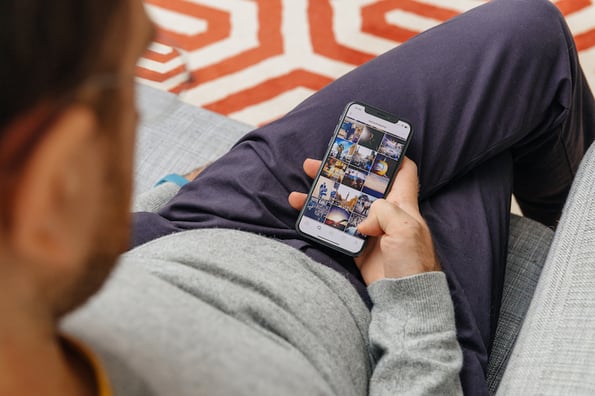 That means all users have the option to view their Twitter feeds in the order that puts most recent tweets first -- a response to "the fact that Twitter is often most useful in real time, particularly during live events," writes Casey Newton for The Verge.
Source: The Verge
The reverse-chronological feed is the new-but-old again alternative to the order of tweets that users have known for four years: the one in which Twitter uses an algorithm to rank content based on popularity. Many users will recognize it as tweets that fall under a heading that reads, "While you were away" after returning to the app after not using it for a while.
But now that Twitter has returned to its original, reverse-chronological feed, we wanted to know: In what order do people really want their social media feed content?
Here's what we found out.
In What Order Do People Really Want Their Social Media Feed Content?
We asked 824 people across the U.S., UK, and Canada, "Which type of social media feed do you prefer?", providing 11 different options according to post chronology (newest first, oldest first, or neither), content type (friends or brands), and a combination of both.
Friends, Family, and Brands
The top three responses we received indicate that people value content from both their personal networks and brands, with the largest number of users -- 43% reporting that they prefer a social media feed orders content from both brands and friends in chronological order, starting with most recent posts.
When it comes to the order of posts, it seems that most prefer to see the newest content first. While the second-highest number of respondents indicated that they like to see what they missed from both friends and brands at the top of their feeds, the third-highest -- about 9% -- prefer content from friends only, leading with newest posts.
The findings align with not only Twitter's move to restore the reverse-chronological feed order, but also changes made by other social networks in 2018. Nearly a year ago, for instance, Facebook made major changes to its News Feed algorithm to prioritize content from users' friends and families over that from Business Pages.
"Page posts will still appear in News Feed," wrote Facebook's then Fead of News Feed, Adam Mosseri, in a statement, "though there may be fewer of them."
Pointing to Personalization
When it comes to a personalized order of content in social media feeds, it seems as though that's less important to users as the chronology of posts -- and whom those posts are from.
Only 7% of respondents -- the fourth-highest amount -- indicated that they prefer a social media feed that shows them a personalized order of posts that they may like the most, no matter who it's from, and regardless of chronological order.
From there, the number of respondents indicating a preference for a personalized order or combination of social media feed content continued to decrease.
Looking Ahead
Given the rocky year that social media has endured, it's possible that we have not yet seen the last of their algorithm changes.
And as user preferences evolve, platforms tend to respond and adapt in response. The year ahead may continue to see further adjustments, or at least options, to the type of content we see in our feeds -- and the order in which it appears.