There's something to be said for a truly remarkable experience. Whether it's a great party, the trip of a lifetime, or a particularly hilarious comedy show, having lived through it makes us want to talk about it.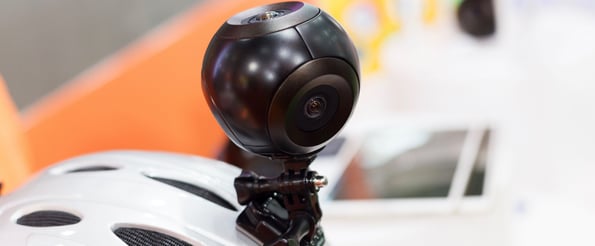 We share these experiences. We tell our friends about them, post the pictures and videos we've captured on social media, and -- when they're really good -- try to relive them. It seems that we're starting to prefer living those experiences over having material possessions. No wonder that 360° video is becoming so popular -- it virtually creates those experiences for us, right from the comfort of our online devices.
But 360° video -- which could be described as a form of virtual reality that creates immersive visual content without additional hardware other than a screen -- isn't as easy as buying a new camera and uploading your video online. Like any other visual content, it has to be created and shared strategically. Not sure where to begin? We've got you covered with these five steps.
How to Create 360° Video: The Ultimate Guide
1) Have a good reason to shoot it.
"When you share a 360° video, you're asking the viewer to take a larger role in experiencing it," says Matthew Watkins, HubSpot's senior video editor and animator. "The content has to support that."
For that reason, he says, there are very few situations when creating video in 360° is actually "necessary." But there are occasions when it's useful -- for example, if you're trying to create an enhanced, but virtual experience of a certain setting.
That could be why many of the most popular 360° videos pertain to travel or unique experiences -- see below. Those are the types of situations that are enhanced by this particular video format.
Watkins also encourages potential 360° video creators to understand how much of an undertaking it can be. When I asked if I could borrow his GoPro to tinker around, for example, he warned me, "Getting it set up, shooting, and actually looking at the footage will run you most of the day." So when you film a 360° video, plan it like you would any other full-day project, and consider building in extra time, depending on how much footage you film.
2) Pick your content.
When we spoke with Michael Rucker of OmniVirt, the makers of 360° video content delivery technology, he cautioned against creating something "lazy."
"People just stick a 360° camera in the middle of the room and hit 'record.' That actually detracts from the viewer's attention," he explained. Instead, he says, he finds the best content that allows the user to look anywhere or everywhere, "but there's something specific that grabs my attention."
Take this video of a cooking competition, for example. We're able to view everything and see what every chef in the kitchen is doing, but our eyes are drawn to the chef that's currently speaking.
It's videos like these that Rucker says give the user a "sense of autonomy" -- one that provides an immersive experience, but still puts the viewer in control. He challenges brands to ask, "What are those experiences?"
But he also notes that "the sky doesn't have to be the limit" when creating these experiences -- they can still be somewhat simple in concept, and B2B marketers can also use them to their advantage. Local car dealerships are one example, and Rucker says they can create content in many of the same ways that big-name automotive brands do.
"What's it really like to sit inside of that used Toyota?" he asks. That content simulates a test drive experience for users, without making them leave the house -- much like local realtors, for example, can create immersive 360° virtual tours of property listings that the viewer can control.
In other words, the real value of this kind of content is to give the user a sense of what it's like to use your product or service. So when you set out to create your 360° video, figure out what that experience looks like -- and remember, don't be "lazy" about it.
3) Get the right camera.
When selecting a camera, there are a few items to consider, like what you want to use the video for, and where you want to share it.
"It also comes down to budget and comfort level," says Watkins, noting that beginners might want to start with something like a RICOH, which is a single unit and only has two sensors -- the behind-the-lens technology that captures the image -- producing lower-resolution results than something more advanced.
Rucker agrees. He tends to recommend cameras like the RICOH that serve as an "out-of-the-box solution" and don't require a supplementary rig, which is essentially any additional hardware that supports the camera.
While there are times when that additional hardware can generate more robust image quality, Rucker says the additional hardware doesn't usually come with a great ROI -- "mainly because the 360° technology will only yield an experience as engaging as the story being told," he explains. "So the more accessible and versatile the recording device, the better chance that a good story can be captured."
But for the sake of perspective, Watkins recommends looking at the quality of two different videos -- first, this one, shot with RICOH THETA S:
And this one, shot with a GoPro Omni™ -- which uses six different sensors (which are actually comprised of six synced GoPro Hero 4s):
But in addition to maximum resolution -- 5376 x 2688 for the RICOH, versus 7940 x 3970 for the Omni™ -- there's a major difference in price point. The higher-quality option comes with a hefty price tag, at $4,999.99 for the Omni™, as opposed to $269.95 - $349.50 for different THETA models.
Remember how we said you should have a good reason for creating 360° video in the first place? Make sure you also evaluate how much you want to spend on a higher resolution.
Meanwhile, different sites like YouTube and Facebook have their own recommendations for the best cameras to use -- reviewing those lists might be helpful if you plan to share on a specific platform.
4) Stitch the footage to create a single video.
Once you record your video footage, the adventures with hardware aren't quite over yet. You'll need a lot of power, due to the higher resolution of most 360° video files, which tends to require a higher RAM.
The complexity of stitching depends on how many different scenes you want to include in the final video. And that depends on what you're filming -- some content, like elephants in the wild, only require setting up the camera in one place and letting it run continuously.
Compare that to the GoPro Omni™ example from above, which stitched together several scenes and was likely a bit more complicated to edit.
As for editing software, many camera manufacturers also have their own proprietary software, "so typically, you're buying a workflow when you buy a camera," says Watkins. Otherwise, here are some recommendations:
Rucker suggests Adobe Premiere Pro -- $239.88 per year | Monthly payment plans available | Available for Mac or Windows | View supported file formats
Kolor Autopano Video -- $319.89 | $640.84 for Pro | Available for Mac or Windows | Works with mp4, mov, and pano input file formats
VideoStitch Studio -- $295 | Available for Mac or Windows | Works with mov, mkv, avi, mp4, wmv, mpg, mpeg, mp2, m4v, 3gp, ogv, ogg
5) Select where the video will be published.
Social Media
More social media outlets are supporting 360° video -- like Facebook, YouTube, and Google's Cardboard technology -- making them a top choice for where this content is shared. These platforms make it fairly easy for marketers to publish their 360° videos, but choosing where to share it still requires some strategy.
First, it's important to know where your target audience spends its time online -- that way, you'll be sharing the content on the networks most likely to be viewed by your personas. And in addition to social media, find out what kind of device your audience is using, since "the most fun way to view these 360° videos is on a phone or tablet," according to Watkins.
Rucker adds that you might want to have this usage data in mind before you create the content. "Make it right for the platform," he echoes.
Device
That advice is corroborated by data collected by VRLab Partner Fernando Tarnogol, who explored the average length of time spent watching individual 360° videos, according to device and operating system. Over half of the viewers were using mobile, confirming Watkins' hypothesis that the experience is better consumed there. On top of that, 48% of them were using Android devices -- which could be explained by the fact that, according to Watkins, 360° video isn't supported on Apple mobile outside of the app where it's hosted.
In order to view it on iOS devices, he explains, "You must use the YouTube app on an iPhone, or the Facebook app, if it's uploaded there."
That could be why so many marketers are unsure of how 360° video can be used outside of social media, Rucker says, which is when OmniVirt's technology becomes helpful -- it allows 360° video to be distributed across the web. Have a look:
Source: OmniVirt
As with all content strategy, data is your friend. Pay attention to where and how your audience is consuming 360° video, and create the experience for them while they're already there.
The Big Picture
When it comes to creating and distributing 360° video, there are three basic pillars:
Don't be lazy.
Create content that allows users to experience your product or service.
Be strategic about where you share it. Make sure it's reaching the right audience, in a place where it can be optimally consumed.
But don't be too strict when it comes to that second pillar. You can do more than just create the experience of a test drive or an apartment tour -- in the case of the latter, for example, 360° video can also be used to help potential renters or buyers explore the neighborhood. While the content should be relevant, it doesn't have to be linear. If you're not having any fun creating it, your audience probably won't have much fun consuming it.
So while the sky doesn't have to be the limit, it most certainly can be. With the right amount of strategy and selective technology, you'll be on your way to creating 360° videos that are attention-grabbing, sharable, and -- with enough practice -- remarkable.
Want more tips for creating video content? Check out these soundless video examples.