For many of us, New Years Resolutions likely include less social media, more time with friends, or a renewed focus on health and wellness (which is probably why my gym is packed throughout the month of January ... ).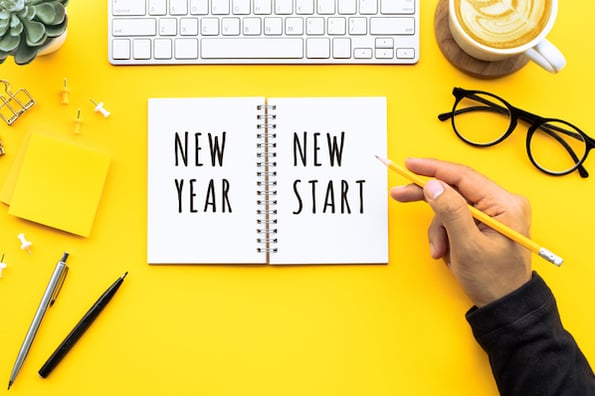 And, as it turns out, there's another popular New Years Resolution for many people in 2020 — a career shift.
In fact, a new study from Fiverr and YouGov shows over half of American workers (59%) want to make changes to their careers in the new year.
Among other things, these changes include location shifts, industry shifts, the ability to work remote, or a desire to pursue a passion.
If you're one of the 6 out of ten interested in a career shift, you're in luck. Here, we've interviewed top Fiverr freelancer Charmaine Pocek — who's made over $3 million on Fiverr helping people with career moves — to determine her five tips for drastically changing your career in 2020.
Tip #1: Think long and hard about what you're passionate about.
"Our likes and dislikes change a lot over time, whether it's the food we eat, the music we listen to, or even the people we choose to hang out with. That's why before making a change, it's always a good idea to reflect on what you feel strongly about in your life and career. Think about what you like to do outside of work. But, also, think about the things you like about your job and how those could transfer elsewhere." Pocek advises.
She continues, "Do you travel a lot, does your company give you the opportunity to work remote, or do you get to pursue passion projects? Even if the company you work for or the work you do isn't something you want to continue with, maybe there are aspects about it that you enjoy and want to hold onto."
"It's also important to have a clear and meaningful purpose that you find emotionally engaging. What do you really need from your work? To make a difference? To become financially independent?"
"You should be able to answer these questions before pursuing a career change."
Think you might be interested in marketing? Take a look at HubSpot's Ultimate Guide to Marketing Jobs.
Tip #2: Meet people, network, and ask for help.
Pocek says, "After you've identified your passion and thought about what you really need from a job, it's time to network, network, network. But it's not always about going to meet-ups and expensive conferences. For instance, let's say someone has decided they want to move into the world of photography. A great way of networking for them would be to direct message influencers they follow on Instagram, and ask them how they got started."
Alternatively, if you're interested in pursuing a career in marketing, Pocek advises, "Reach out to someone that works at your favorite company on Linkedin, or via email, and introduce yourself. In many cases, people will appreciate the extra effort you've put in to connect with them 1:1 and are more likely to be willing to share advice, tips, etc."
Tip #3: Set small goals for yourself and reward yourself when you meet those goals.
Pocek suggests, "Let's use the photography example from above. You may not be able to quit your job and travel the world taking photos just yet — but that said, if that's what you're looking to do, make an effort to travel more and take photos on the weekends. Whatever your end goal is, whether it's to change the company you work for, increase your flexibility at work, or work remote more often, every time you muster up the confidence to ask your boss to work from home, or every time you send out your resume to a new company, reward yourself."
Additionally, Pocek adds, "One thing I did for myself this year was to buy myself a Pandora bracelet. Throughout the year I have set small goals for myself and whenever I meet a goal, I will buy a charm for that bracelet. It might take me years to fill it up, but once I do I can tell you, it'll be the most rewarding feeling."
Tip #4: Don't be afraid to step outside your comfort zone and just do it.
"You do or you do not. There is no try. Those words were spoken not by Socrates or Aristotle, but rather Yoda (or, really, George Lucas). Ultimately, this quote reminds me that you can prepare yourself all you want to make a change, but you're not going to know how it will turn out until you just do it."
"That's always the hardest part. Whether you're starting a new diet or writing a book, it's always the first day, the first page that's the hardest. But you did it. You committed and you need not try, you just have to do."
Tip #5: Always remember why you wanted this change in the first place.
Pocek concludes, "I realized that something needed to change in my work-life / financial situation when my husband and I decided to adopt. We wanted to grow our family but didn't have the means to do it. That's when I started working on Fiverr helping people with their resumes. I remember this daily and am so grateful (and proud) of the family we became."
"Remembering why you started something or opted for a certain change can revitalize your passion in what you're doing, and save you when you're feeling down. I work just as hard now as I did when I started working in this field, if not harder, to make sure this little family that we've built creates more memories that last a lifetime."