At INBOUND 2019, more than 26,000 people came together to learn how to deliver remarkable customer experiences in today's digital environment. How do you coordinate marketing, sales, and service teams across your company to attract, engage, and delight your audience? How do you accelerate that virtuous cycle of word-of-mouth — or, word-of-keyboard, as the case may be — to win more customers and make them happier customers?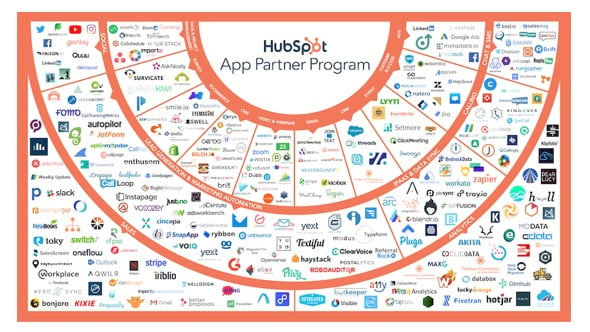 Increasingly, a key part of the answer is: an integrated ecosystem for your tech stack.
Software has eaten the world, as Marc Andreessen predicted eight years ago. Every company now uses a collection of cloud-based apps to run nearly every facet of their business. The term "tech stack" has entered everyday business conversations to describe these collections of tools.
And these stacks are growing, even in the SMB space. According to data from Blissfully, businesses with 101-250 employees have an average of 99 SaaS app subscriptions.
It's not enough to have the wondrous capabilities all these different apps offer, especially if each is locked in their own silo. To run your business effectively and to give customers a coherent and compelling experience across all the different touchpoints they have with you, all these different apps need to work together.
This is why HubSpot is committed to building an open platform that serves as a "hub" for the myriad apps across your business that all contribute to improving the customer experience. We want to make it easy to orchestrate these apps to better serve your customers, and to help you grow better.
To further facilitate the integration of hundreds of apps with seamless two-way syncing of customer records, HubSpot recently acquired PieSync, one of the most highly-rated iPaaS (integration-platform-as-a-service) providers in the space.
At the beginning of the year, we shared our progress on this mission from 2018 and celebrated the many new and growing partners in our app ecosystem. We're excited to give you an update on our platform ecosystem so far this year...
Growth in App Partners and App Adoption
We now have over 350 app partners, based in over 30 countries, providing an incredible range of capabilities that you can plug into your HubSpot portal. Here is just a sample of the categories our partner ecosystem powers:
Event management
Employee advocacy programs
Account-based marketing tools
Call system integrations
Webinar production
SMS messaging
Accounting integrations
Interactive content
Loyalty program management
Influencer management
RFP response management
Content translation
Videoconferencing
Revenue forecasting
Data cleaning and de-duplication
Reputation and reviews management
Direct mail automation
Gift card delivery
Affiliate program management
… and so much more.
Even within these categories, our ecosystem includes a wide range of apps to provide choice and depth in these capabilities. Recent additions to our App Marketplace include: Xero and Freshbooks for connecting your CRM to accounting systems; integrations with Scribeless and Handwrytten, to automate handwritten notes to prospects and customers in workflows; an integration to connect Facebook Messenger with HubSpot Conversations; an integration with the popular calendering app Calendly; B2B subscription management with Yonium; and so much more.
App adoption is on the rise, as we're seeing our customers taking advantage of the range of capabilities available in our ecosystem. Of our 68,800+ customers, 94% have installed at least one app or integration. On average, customers install five apps each, and some customers have more than 10 integrations. Across our entire user base, including those working with our free products, 700,000 apps have been installed.
A Brand New App Marketplace Built for Scale
We launched a brand-new App Marketplace at INBOUND that makes it easier for HubSpot customers to find, understand, and install apps. (Read the announcement here.)
We want to make it easier for customers to find the right apps to grow their businesses and support "informed choice" — understanding the different features and pricing of several alternative products. Here's what's new:
We've organized apps into more granular categories and subcategories, so it's easier to find what you're looking for.
We've added more collections of apps that are hand-curated for different types of business and users, so you can discover new apps to help you grow better. These collections include:
3. We used your feedback to make app listings more helpful. The new listing pages significantly expand the information app developers can publish in our marketplace. This means you can see everything important details about an app in one spot, such as subscription requirements, shared data protocols, pricing, and demo videos.

4. For developers, the new app listing flow makes it easier than ever to create and list an app with HubSpot. If you're an existing app partner, making updates to your app's listing page has never been more frictionless. Real-time previews help developers understand how information is presented on listing pages. And now, your whole team can now access your tier status, install progress, and app listings all from one account -- no more waiting for monthly emails.
We've loved hearing the response from our app partner community:
The Most Popular Apps in Our Ecosystem Today
We always find it useful and interesting to see which apps have been widely adopted by HubSpot users, revealing trends about the capabilities businesses are adding to their tech stacks.
Through July 2019, these were the top 20 most popular integrations in the HubSpot ecosystem:
Gmail -- email service
Outlook Calendar -- book meetings
Zapier -- integrations automation
Facebook Ads -- targeted social ads
Google Calendar -- time-management and scheduling
Twitter -- microblogging and social networking
Mailchimp -- email and marketing automation
WordPress -- free content management system
LinkedIn -- social network for professionals
Facebook -- social media and networking
Slack -- collaboration hub for work
Google Search Console -- website indexing and optimization
HubSpot Video powered by Vidyard-- create and manage videos
Google Ads -- online advertising
SurveyMonkey -- survey collection
Databox -- KPI dashboards
Eventbrite -- event management and ticketing
Salesforce -- CRM
LinkedIn Ads -- targeted social ads
GoToWebinar -- video conferencing
Many of those integrations were built by HubSpot to connect with apps that are already widely adopted, such as Gmail, Facebook, and Twitter. We also want to recognize the top 20 most popular integrations built by our app partners to highlight the broader set of capabilities in our ecosystem:
Databox -- KPI dashboards
MagneticOne -- business card reader
Automate.io -- integrations automation
Typeform -- online form and survey-building
Hotjar -- heat mapping
PandaDoc -- docusigning
Zendesk -- support ticketing and customer service software
Unbounce -- landing page building
Import2 Data Migration -- data migration tool
PieSync -- integrations automation
Intercom -- customer messaging
HelloSign -- docusigning
ManyChat -- Facebook bot creation
Klipfolio -- business dashboards
AdRoll -- ecommerce marketing
Teamwork Projects -- team collaboration
Instapage -- landing pages
Drift -- chat software
Wistia -- video hosting
Import2 Wizard -- seamless data sync
Finally, here are our "rising stars" — the fastest growing apps by total net installs since January 1, 2018:
Congratulations to these app partners on their growing success. We're happy that so many HubSpot customers are getting value from their solutions.
Boosting App Partner Growth at Founders' Day
We continually seek ways to help our app partners grow their businesses beyond technology. That's why our founders, Brian Halligan and Dharmesh Shah, hosted an exclusive Founders' Day event at INBOUND this year.
All founders in our app partner community — from early-stage startups to public companies — were invited to join a day of closed-door discussions about what it's really like to launch and scale a SaaS business.
Topics covered included:
The future of B2B buying
What breaks on the journey from startup to scaleup
Friends, frenemies, and coopetition in the age of platforms
Beyond the Valley: taking advantage of starting (and growing) elsewhere
The event featured a series of candid, off-the-record panels with successful SaaS pioneers. Many app partners said it was one of the most valuable event experiences they'd ever had, addressing the challenges of growing a SaaS business in frank conversations with those who had traveled the road ahead of them.
Want to Build Your Own App With HubSpot?
If you're an app developer — or aspire to become one — we warmly invite you to join our platform ecosystem. Tens of thousands of HubSpot customers around the world are eager for new and innovative solutions that will help them manage, streamline, and integrate their business activities. And we're committed to doing our very best to deliver an excellent experience to developers and customers to help them connect and grow better together.
Just getting started? We recently launched the first two lessons in the Introduction to HubSpot APIs course in our Academy to help enable developers to build on the HubSpot platform. The new course will help familiarize developers with the steps of building on HubSpot, from creating a developer portal to leveraging API documentation to make their first call. To help developers build better apps without having to start from scratch, we are also launching Sample Apps, a collection of example apps for popular actions. Popular use cases can quickly be replicated by copying and pasting a sample app -- giving developers more time to build value without having to start from scratch.
We're excited to find ways to make building on and growing with HubSpot easier than ever. As our CEO Brian Halligan said in our public earnings call in August:
"This year we're adding fuel to the platform fire... Through our partners we'll be able to do more and, our customers themselves will be able to do more. We're just getting started here."
Learn more at developers.hubspot.com.