The ecosystem of app partners who integrate with HubSpot's platform continues to grow. With dozens of new partners joining us in the first half of this year, HubSpot customers have access to an ever wider selection of specialized capabilities that they can add to their portals.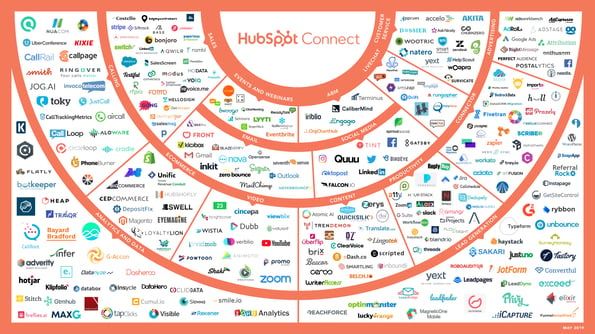 What are some of the recently added apps that are gaining the most traction in our ecosystem?
Once a quarter, we recognize the fastest-growing apps built by partners who are new to our platform ecosystem. We'll include for consideration any apps that entered our app partner program in the previous quarter (for this post, Q1 of 2019), and measure their standing by growth in the following quarter (Q2 of 2019).
We're excited to announce that the following five apps were our fastest-growing in Q2 of 2019 — check them out:


1. CRM Perks' Wordpress Plugin
WordPress Contact Form 7 Plugin by CRM Perks sends form submissions from Contact Form 7 and many other popular contact form plugins to HubSpot CRM. With this integration, you can easily map any Contact Form fields to any HubSpot object fields, create new objects in HubSpot, or update old objects by setting a primary key field.
Learn more about
CRM Perks' Wordpress Plugin and add it to your HubSpot instance here.

2. ManyChat
ManyChat is a visual bot builder for Facebook Messenger with broadcasts, analytics, scheduled posting, and more. The ManyChat integration with HubSpot CRM allows you to submit data to a form, create/update contact properties, and receive new contact properties to HubSpot. You can then better organize, track, and nurture your leads and customers.
Learn more about ManyChat and add it to your HubSpot instance here.

3. JotForm
JotForm is a software that enables users to quickly create and publish online forms. Using this integration, form responses submitted through JotForm will seamlessly populate your HubSpot account with the information you need.
Learn more about JotForm and add it to your HubSpot instance here.

4. Import2 Wizard
Import2 Wizard syncs all your business info from your favorite apps into HubSpot in no time, and with no technical knowledge required. With this integration, you can import or export any object: contacts, companies, deals, timeline activities, notes and much more to or from HubSpot.
Learn more about Import2 Wizard and add it to your HubSpot instance here.

5. Integromat
Integromat makes it easy to connect HubSpot to any cloud service and automate even your most advanced workflows. Create integrations known as "scenarios" between HubSpot CRM and one or more cloud services or APIs using an intuitive visual builder and zero code. No-coding required.
Learn more about Integromat and add it to your HubSpot instance here.

Come to INBOUND and meet our ecosystem!
If you're interested in learning more about these integrations and the other 300+ Connect Partners in our platform ecosystem, our upcoming INBOUND event is a great place to start. INBOUND is an action packed industry event with over 25,000 sales and marketing professionals, HubSpot customers and partners, keynote speakers and breakout session presenters, and more. It will take place in Boston from September 3rd through September 6th.